In our investigation of Manti Te'o and his nonexistent dead girlfriend, Lennay Kekua, published yesterday, we mentioned the media's role this fall in amplifying the hoax. Here are all the ways they got the story wrong:
When was Lennay Kekua born?
Most sources reported she was 22. The Jan. 4 Goshen News says she was 21.
Did Lennay Kekua attend Stanford?
At least 10 print sources reported she was a Stanford student. The Oct. 12 South Bend Tribune and the Oct. 14 New York Times stated she was an alumna.
How did Lennay Kekua and Manti Te'o meet?
Nov. 28, 2009, according to the Oct. 12 South Bend Tribune. It reported the following:
Lennay Kekua was a Stanford student and Cardinal football fan when the two exchanged glances, handshakes and phone numbers that fateful weekend three seasons ago.
"They started out as just friends," Brian Te'o said. "Every once in a while, she would travel to Hawaii, and that happened to be the time Manti was home, so he would meet with her there. But within the last year, they became a couple. "And we came to the realization that she could be our daughter-in-law. Sadly, it won't happen now."
G/O Media may get a commission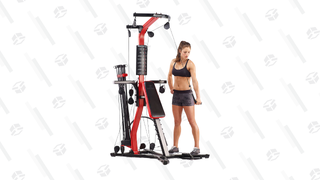 31% Off
Bowflex PR3000 Home Gym
When was Lennay Kekua's life-threatening car accident?
Pete Thamel's Oct. 1 Sports Illustrated article says the accident happened on April 28. An ESPN.com article on Nov. 13 says it happened eight months before her death in September, which would put her accident in January. The South Bend Tribune says it happened "around the time they became a couple."
When was Lennay Kekua diagnosed with cancer?
How long is a long battle with cancer? Is three months a long battle? That's for you to decide, but that same Oct. 12 South Bend Tribune says she was diagnosed in June. The New York Post, L.A. Times, Sporting News, and CBS This Morning all described it as a "lengthy" or "long" battle with cancer.
When did Lennay Kekua die, and did she die before or after Te'o's grandmother?
Here's the most wildly diverging and most insanely contradictory element of the entire Te'o-Kekua scenario. Lennay Kekua's death was reported as having happened on Sept. 11 (per the Sept. 21, Sept. 23, and Sept. 29 South Bend Tribune and the Oct. 26 New York Times), Sept. 12 (per the Sept. 16 and Oct. 13 South Bend Tribune as well as Thamel's SI article and most other sources), Sept. 13 (KHON-Honolulu on Sept. 14, and KITV-Honolulu on Sept. 15), Sept. 14 (the Dec. 30 New York Post), and Sept. 15 (ESPN on Dec. 7, the Associated Press on Dec. 7, and CBS on Dec. 6).
Meanwhile, there was somehow debate over which woman died first. The Oct. 13 South Bend Tribune reports that Lennay Kekua had sent a text message to Manti's parents, Brian and Ottilia, "expressing her condolences over the passing of Ottilia's mom, Annette Santiago." But according to the South Bend Tribune's reporting on Sept. 21, 23, and 29, Lennay was already dead:
Te'o's girlfriend, Lennay Kekua, had been valiantly and successfully battling leukemia but died Sept. 11. His grandmother died the next day.
Te'o's girlfriend, Lennay Kekua, died Sept. 11 of complications from leukemia. His grandma, Annette Santiago, died after a long illness less than 24 hours later.
Te'o lost his girlfriend, Lennay Kekua, Sept. 11 to leukemia and his grandmother, Annette Santiago, the next day after a long illness.
Where was Lennay Kekua's funeral?
The AP reported Oct. 4 that her funeral took place in the non-existent city of Carson City, Calif. The Jan. 4 Palm Beach Post said her funeral took place in Hawaii.
Perhaps the Post figured Kekua's funeral was out there, because Brian Kelly gave Te'o the game ball after the Michigan State win and told him to take it back to Hawaii, to Lennay. Asking a question might have parted some of the fog. And they would have found more mystery.