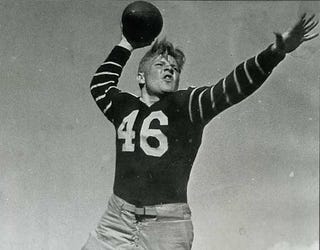 Reddit user "drepicgames" posted a letter belonging to his great-uncle Harold "Butch" Gutke. Dated April 30, 1943, it invites Gutke to come try out for "the New York Football Giants."
It's signed by John V. "Jack" Mara, son of founder Tim Mara and uncle of current CEO John Mara. It offered Gutke, then a quarterback at Utah State, a $150 per game paycheck if he made the team, but he'd have to provide his own shoes. (I have no doubt the NFL would still have both those rules in effect if not for unionization.)
The letter makes reference to "being called for the colors"—in the early 40s, the nascent NFL was decimated by losing players to the war. (1943 was the year the Eagles and Steelers were merged because neither team had enough players to field a full roster.)
That's what happened to Butch Gutke, too. According to his 1999 obituary, he never tried out for the Giants, instead being drafted by the Navy.
[Reddit]