Former NFL player and MMA fighter Herschel Walker stopped by Highly Questionable today to talk about his playing career and other topics, and Dan Le Batard brought up the story that Walker once played Russian roulette at his lowest point after his football days. Walker clarified that the game happened "more than once."
When Walker, who has dissociative identity disorder, first told the story to Nightline in 2008, he described himself as alone with a gun:
But shortly after retiring from football, Walker descended into mental mayhem. At one point, Walker says he sat alone at his kitchen table and played Russian roulette with a loaded pistol. Walker told Woodruff, "To challenge death like I was doing, you start saying, there's a problem here."
His explanation on Highly Questionable made it sound like more of a competition with other people:
If you came to my home, and you wanted to challenge me at everything—anything—I didn't think you were worthy enough, because I work out like a madman. I still work out today, all the time. And I think some people don't put the time in. So, I would take a bullet it, put it in the cylinder, spin it, and tell you to pull it. People said, "Herschel, you're nuts." They'd walk away, I'd take that gun, put it to my head, and snap it. That's how it was. I was so fired up with—that I could overcome anything, and I think that's what it was. I didn't realize it was from that anger, all that anger that I had, that I didn't like myself. I was not even happy with who I was.
G/O Media may get a commission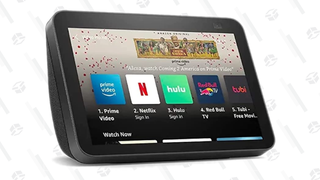 The guy sounds like he's in a better state of mind these days.