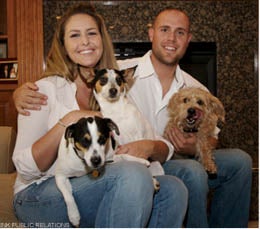 Now you, too, can have a career in professional lacrosse. Just marry the owner! It's easy, and will result in absolutely no ribbing in the team locker room for years to come.
The LumberJax of the National Lacrosse League have achieved an unusual "first" in professional sports: The team owner is marrying a player. Angela Batinovich, majority owner of the second-year franchise, is engaged to Adam Bysouth, a player for the indoor team. "We kind of had to decide if this was going to be something we really wanted to try or if this was just something we needed to just end and not let it complicate our lives," Batinovich said. "And we decided we wanted to keep going."
I have no idea what that quote means, but here's to hoping that we see more of this kind of thing in professional sports! No, um, wait ...
Batinovich And Bysouth Married [NLL.com]