Sadie Lundquist (not pictured) launched from the rose window of St. Paul's iconic cathedral, some 40 feet above ground, dropped in and started building speed. A tiny check at the top of a 10-foot cliff and she was over the edge, hitting the ice with a crunch, fighting for balance, blurring through every dimension possible, hockey blades biting into the steep undulating surface, absorbing bumps with loose knees as the four-foot walls of the first hairpin turn came at her at 20 mph.
First eight seconds on the Red Bull Crashed Ice course.
Ice cross downhill is one of those concocted cocktails Red Bull specializes in—an amped up adult dose of hockey, boardercross, and downhill skiing contested on a custom built, twisting, steep chute of ice by risk-takers kitted out in full-on hockey gear. And because this is an event that might not exist if it wasn't shared, most helmets have a camera sprouting out the top. Riders navigate cliffs, gaps, hairpin turns, rollers, ramps, and big air at speeds reaching 40 mph. A series of individually-run time trials whittles the field, with the final 64 men and 16 women hurtling down the course four at a time, so both the clock and head-to-head competition determine the last man, and woman, standing.
Crashed Ice is like the circus coming to town. In January. In Minnesota. Blades of colored lights rake the ski and paint the cathedral like a fun house. Jumbotrons explode with gigantic action, cameras glide along cables, scaffolding towers, music thumps, banners billow, ambulances idle. It's bright and fast and free and crazy—crazy that anyone would throw himself down this splatter-prone chute, and crazy that pragmatic Minnesotans are partying outside as if it was 40 degrees. Like the circus, giddy spectators could care less where the show goes from here, or even it does. It's here now, and it's stupendous!
(Deep breath, step away from the hot chocolate. The 2015 Crashed Ice series goes from St. Paul to Helsinki, Finland to Belfast, Northern Ireland to its final stop in Edmonton, Canada. Since ice cross downhill is performed on specially constructed, and then destructed, tracks, it's more of a pop-up event rather than a sport that young hopefuls can spend hours practicing. But that's changing. Some ice cross devotees have talked ski resorts into pouring water down a hill to make a more permanent ice course. That was okay by Red Bull and they called it the Rider's Cup. Some very enthusiastic riders would like to see ice cross bypass the X Games and proceed directly to the Olympics. But then there'd be all kinds of hassle about whether to have two red bulls or five colored rings on the inflatable arch. Enough thinking, bruh—back to the show!)
G/O Media may get a commission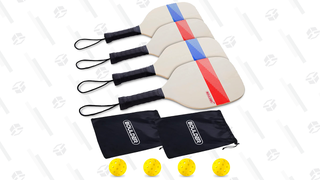 It's Pickleball
Pickleball Sets
What if you could have tried out for the circus when it came to your town? What if you could have been one of the performers in a wonderfully gaudy ensemble, the announcer booming your name as the spotlight followed your death-defying performance? Well, girls and boys, dreams do come true, as long as you sign the Red Bull waiver. Crashed Ice conducted qualifiers for everyday daring performers in St. Paul, Duluth, Denver and Chicago.
Sadie Lundquist, 23, is living the dream, for three days. She joins other average citizens with above average tolerance for excitement, mostly from hockey backgrounds, and a core group of pro dudes who follow the circuit around the globe. They'll have their moment, not under the big top, but on live TV in front of family and well-oiled friends tonight.
Sadie grew up snowboarding and playing hockey in Cloquet, Minn.; played hockey in high school and college too. In 2013, her senior year of college, her older brother, Sever, qualified for the St. Paul stop of Crashed Ice. Watching the event sealed the deal for her—the competition, the intensity, all a good fit. Gender, hers being in the great minority, was a non-issue.
"I'll be honest, it was daunting. I wasn't sure I could make the jumps," she said of her virgin ice cross experience in 2014. "But you gotta do it because everyone's watching. I wasn't worried about breaking bones, I mean, I was done with college hockey. But I definitely checked my health insurance before I did it."
Of 10 women in the 2014 competition, Sadie finished, in one piece, in the top four. This year, she ramped up her already commendable fitness routine to ensure her place in Crashed Ice's first women's division.
"The stronger I am, the less chance of getting hurt I have," she said. She busted out her college hockey workouts before work—plyos, split squats, lunge squats— and skated or hit an indoor skate park in the p.m.
"There were so many people at this skate park, they asked, 'Is Crashed Ice coming up?' It's rollerblades, but you can get the feel of dropping in and getting air and speed."
Sadie uses her regular hockey equipment, and eschews the GoPro, but she says some of the guys will wear slightly sleeker lacrosse shoulder pads, briefs and shin pads, and some use longer, flatter bandy blades rather than curved hockey blades.
"Bandy blades have twice the surface touching the ice," she explained. "More steel touching the ice is beneficial for stride. You get more push off and they should glide further."
The guys—local boys, Canadians, Finns, Dutch, Russians—recklessly throw themselves down the course, the most aggressive completing the 1,410-foot course in 42+ seconds. The women are decidedly more careful, finishing 10 to 15 seconds slower. Part of this difference is musculature, part attitude and part weight, Sadie explains.
"On jumps and technical parts, smaller quicker people do well, but in the straight, a heavier rider will pull away. My thing is endurance. I still have my strong hockey legs. I hope that will help me."
Sadie and the 15 other women riders had their first practice on the Crashed Ice course on Friday, descending a section at a time, stopping for pointers—come into the 90-degree turn on the outside and cut to the inside, stagger your feet on the jumps for balance, keep your upper body still and let your legs do the work over the rollers, a series of quad-shredding moguls.
The crowds are gathering, giddy and shiny. The tents are set up with flags flying, and vendors' generators start to hum. Sadie, her dark hair falling out the back of her helmet, says she's got to go, smiling and stoked. They're calling her group; her act is almost on.
photo credit: Flickr