On April 23, 1999, Fernando Tatis set an MLB record that's as unlikely as it is pointless, hitting two grand slams in a single inning. It is, I feel confident saying, unlikely to ever be broken.
It was a perfect meeting of opportunity and execution; no other player has even come to the plate with the bases loaded twice in an inning. The play-by-play of that 11-run inning is unremarkable, except you keep expecting to see a pitching change. There was none until it was too late, and to me that's the most amazing thing about Tatis's feat: Both grand slams came off the same pitcher, poor Chan Ho Park.
"It was just a terrible day," Park told reporters. "I was concentrating on studying McGwire a lot before the game."
1999 would be Tatis's best year in the bigs—he had 34 homers and 107 RBI, and never topped 18 and 64 in any other season—but he bounced around MLB for a while, finally retiring in 2010.
The best tale of the day is that of the historic home run ball. An AP story from that night reports how one fan bought it off the kid who came up with it:
When Tatis' second slam landed in the lower seats of the left field pavilion, a mad scramble for the ball ensued. A young fan got his hands on the precious ball first, but Lerner negotiated it away from him with offers of $40, $60 and then $80.

"It was bedlam there. Everybody knew what was going on," Lerner said. "I got a few bruises.

An usher who was on the scene wrote something on Lerner's ticket stub to authenticate it, then escorted Lerner and his party to the Cardinals' clubhouse, where the ball was placed inside a bag. It was then taken up to the stadium security department, where it was locked up until the end of the game.

After the final out, in front of a horde of media, Tatis autographed the uniform shirt he wore in the game and handed it to Lerner as a reward for the ball. Six baseballs were then brought out to Tatis, which the Cardinals' third baseman also autographed in front of Lerner and his sons, Kevin, 7, and Randy, 13.
G/O Media may get a commission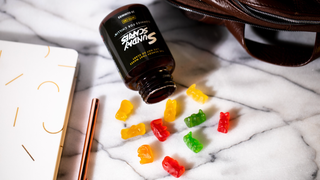 10mg CBD Gummies (22-Count)
The day's big winner, after Tatis? The unnamed child who made 80 bucks.