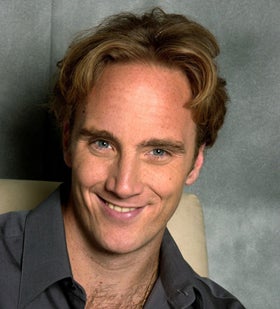 Unsilent mentioned this briefly over the weekend, but in case you missed it; Jay Mohr is back with his weekly column, and just in time for football season! You may remember Mohr from his cable series with ESPN (canceled) and column with SI.com (dropped), and for such films as Community Service. Well, now you can get your regular Mohr fix at the Fox Sports web site, where his first offering is already up. Excerpt:
I find it hilarious that Los Angeles has a soccer team but no football team. Soccer sucks. Most soccer games end by a score of 2-1. If you played the entire game without goalies, it would end 9-8. ... I think the jump ball in basketball is useless and moronic ... All NBA referees are on the take. They all stink ... The WNBA is the biggest waste of television time since the last Spurs game ... Jerry Seinfeld is overrated...
Yes, you too can be a Fox columnist. Here's the formula: Take Larry King's old USA Today column format: "Is there a better cracker on the market today than Ritz Crackers?" ... make it about sports, and reverse it! You get: "Is there a worse sport today than hockey? My answer is no, unless you're talking about women's basketball." Look, I'm not saying that Mohr's columns are totally unreadable; it's just that at some point you have to ask yourself why you are reading them. How are we informed by them? How are we enlightened, or even entertained? At what point does Fox admit that they gave a guy a column just because he was in Pluto Nash?
Meet Jay Mohr: Judge For Yourself [Fox Sports]
Well, He Can Always Post Pics Of That Big Fat Guy [SportsbyBrooks]
I Am Fucking Insane [The Onion]