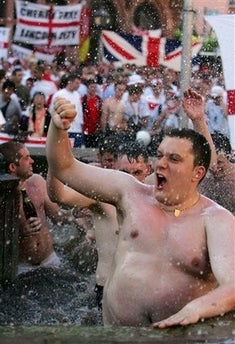 Portugal got the win over Angola in the late game today, 1-0. Credit Angola for making it a close game. They played well and competed hard, but at times, you could see the looks and their faces that said, "Dammit, I wish we were as talented as these guys." Pedro Pauleta scored Portugal's lone goal after Luis Figo undressed an Angolan defender and then slipped a nice assist over to Pauleta.
Poland got more bad news, as they learned that Kamil Kosowski, starting midfielder, may be forced to miss Wednesday's game against Germany. It hasn't really been a good week for Poland. If they lose on Wednesday, they're done.
And finally, here are a couple of different viewpoints on England's 1-0 win over Paraguay yesterday. Jose Luis Chilavert, a former Paraguayan goalkeeper, said of his own team's performance, "They lost against probably the worst English national team in their history."
The English fans, however, didn't seem to mind, and celebrated the win like it was the end of World War II. Said some drunk English fan, "Three points are three points and we know the team can play a lot better. When (Wayne) Rooney's back, we can even beat the Brazilians." As I said... drunk.
Portugal 1-0 Angola [Soccernet]
Poles sweat on Kosowski [Sky Sports]
Chilavert blasts 'worst-ever' England display [Soccernet]
English fans turn win into 'home' match [Yahoo! News]