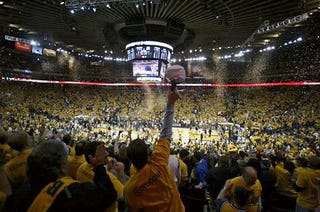 The NBA season tips off tonight, and we should all take heed: It'll be the last time anybody cares about an NBA regular season game. Enjoy!
Three games are on tap tonight, but we're most excited about Utah at Golden State. Not only will that joint be rocking again — if perhaps not quite at May's level of intensity — but also the gang at Golden State Of Mind, the great Warriors blog that escorted us through that playoff run, will be invading the Oracle Arena. It's like the Islanders Blog Box, but somehow less pasty.
Yep, NBA's here: The long lurch beings now.