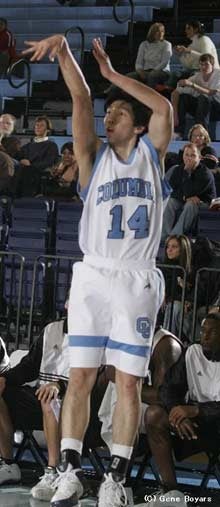 The College Basketball Closer is written by the gang at Storming The Floor.
By now, most of us have come to terms with the fact that Dr. Naismith's game has gone international. A collegiate bench without an Aussie, Russian, Brazilian, or Senegalese player is a rare sight indeed.
Lost amongst all of those towering specimens are the vanguard of a very unlikely Asian invasion - K.J. Matsui and Taishi Ito are the only Japanese-born players currently suiting up for Division I teams. Matsui arrived first, following coach Stu Vetter to Maryland's Montrose Christian prep school after the educator taught a series of Nike-sponsored basketball clinics in the Far East. A year later, point guard Taishi Ito came along as well, and eventually teamed with Kevin Durant and Grievis Vasquez to create a rampaging Godzilla of a high school team.
Since then, the two have been a bit more like Godzukey. The six-foot-two Matsui is in his junior year at Columbia, where he averages 8.4 points per game while starting at two guard. A continent away, Ito has had a very rough sophomore season, missing several early games while attending his father's funeral in Japan, and clanging a buzzer-beater that gave Eddie Sutton his lone win at USF.
Basketball players may always lag behind video games, comic book illustrators, and affordable compact cars in terms of popular Japanese imports. But when Matsui and Ito have consumed their eligibility, I'm predicting that America will be hungry for more.
Soon.
Pullen the Upset. Kansas State 84 - Kansas 75. Definitely the most exciting Gamecast I've ever watched. This game was on ESPN Plus, so the vast majority of America missed a clash of Titans that served notice that Kansas is no longer alone atop the Big 12 North. We saw Beasley and Walker coming, but fellow frosh Jacob Pullen dropped 20 as well, helping the Wildcats counter the four Jayhawks in double figures.
Can't Touch This. Memphis 89 - Houston 77. The Cougars were ahead for ten glorious minutes, before the Tigers methodically marched back and dismembered them without remorse. The Tennessee game on February 23 looms large, but for now the Tigers are undisputed heavyweight champs. Big ups to the underrated Congolese Democratic Republic Chris Douglas-Roberts, who led all scorers with 30, and to Joey Dorsey, snatching loose basketballs like they were biplanes and he was King Kong. He ended the game with an incredible 22 boards.
Rebel Yell. Ole Miss 74 - Vandy 58. The best thing about this game was that one of these previously unbeaten teams was going to end the slide, and it was no surprise that it turned out to be the home team.
Domination in College Station. Texas A&M 80 - Texas 63. This is why I don't write a gambling column. Yesterday I said "make mine burnt orange, please." Ha. Josh Carter went for 19 points and 10 rebounds, even making four out of seven treys.
Mid-Major Spotlight. Drake 75 - Creighton 65. Josh Young was six-of-eight from downtown Omaha, notching 24 points and helping his team to a season sweep of the Blue Jays, who have been amongst the cream of the crop in the MVC for years.
Seton Hall also slapped down Rutgers by a score of 84-71 in OT, but the real story of the night was the setting of a new Guinness World Record. The CBB Closer would like to congratulate Rutgers and the city of Piscataway for breaking the long-held mark for most Zubaz pants at a sporting event, previously held by the 1991 Chiefs/Raiders Wild Card playoff game.
Tonight's Big Game
Indiana (17-2) at Wisconsin (16-3).Yes, there's more than one good game on, but this is definitely the most interesting, just based on the style differential. Throw in national rankings, and the drive for each team to rebound from recent losses, and this should be a goldmine. Plus, I just like saying Krabbenhoft.
Eric Angevine writes about college hoops at Storming the Floor, and is a regular contributor to Chicago Sports Weekly. He can be reached at stormingthefloor@gmail.com.