This Massachusetts high school baseball game happened last week, but the central story—trying really hard to let someone else have what should be best for them, only to watch them fuck it all up—is timeless. Old Rochester defeated Notre Dame Cristo Rey by a score of a 82-0 (eighty-two! a baseball game!), but the winning team's head coach wants you to know that his kids did their darnedest to stop scoring, they really did. The other team just sucked too much for that to happen.
From the Boston Herald:
"I'm sick to my stomach over this," Old Rochester head coach Steve Carvalho said. "We really tried everything possible. We told the kids don't take extra bases, no sprinting - we even had kids bunting and they couldn't make the routine plays. We had kids hitting balls 300 feet and jogging to first.

"We even asked that they stop the game after four innings and they said no. Believe me, we exhausted all options in our power."
This seems like it's supposed to be a kind gesture from Carvalho; really, though, it feels like drawing more attention to what was already a pretty brutal own to being with. It's not that we were trying to win like this, but we just couldn't help it! This is reiterated in every single quote from Carvalho here, and they're all a delight:
"I thought it would be a good cultural experience for our kids," Carvalho said. "As soon as we got off the bus and we saw them, I was concerned."
G/O Media may get a commission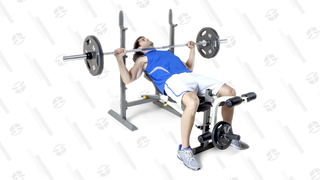 10% Off
Marcy Folding Weight Bench
Okay, so the game was only on the schedule because of a misunderstanding, and traveling to play the much smaller school provided a different experience for your team. Yes, that's what this says, but also: my God, this is savage. A good cultural experience in, uh, exposing them to kids who are so bad at baseball that their lack of skill oozes out of their bodies. The bad news is, this is going to happen again:
The schools are scheduled to meet once again on May 19 at Old Rochester. Carvalho has already taken a major step to ensure a repeat performance doesn't happen once again.

"No way am I using my varsity," Carvalho said. "We will play the game with our junior varsity."
That 41-0 win will be much better, for sure.