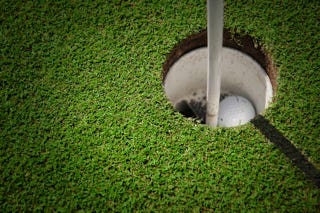 If you've ever played one of the various iterations of the Tiger Woods video game, perhaps you know the power of the cart path. Or, you know, if you ever make it outside you may have seen the crazy acceleration a golf ball has when bouncing off pavement. Either way, the cart path has special powers. After hitting near identical holes-in-one in a team tryout, two freshman at Fargo Davies high school in North Dakota also know the power of the cart path.
Freshman Davies golfers Brandon Winter and Collin Larson each hit holes-in-one off the higher green of the 140-yard, par-3 hole No. 4 at Rose Creek Golf Course using 9 irons during a qualifying round of team tryouts.

That's two golfers, two holes-in-one, same hole, same club selection and same day.
That alone is a wild coincidence but the incorporation of the cart path really seals it.
Each golfer had their shots go short and bounce off the cart path onto the green before finding the bottom of the cup.

"When I saw it bounce up and start rolling, I was just hoping I would get close," Larson said. "Then when it dropped in, I couldn't believe it."

Winter's shot was equally as bouncy and exciting.
The local pro said the course averages 15 holes-in-one per year, but only once in his tenure as course pro have two come on the same day. Wonder if they made the team.
h/t Robert H.
Hole-in-one hit twice within minutes during Fargo school tryouts [West Central Tribune]