David Hirshey writes regularly about soccer for Deadspin.
I suppose if you're one of those knuckle-dragging, mouth-breathing jizzbags who actually support Man U or Chelsea, you came away from yesterday's all-too-predictable 1-1 draw (for the record, both Cardillo and I called the score before kickoff and the 17 beers that were to follow) with relatively few complaints. Oh sure, if you're a Devil worshipper, it might have been nice had Rooney and Ronaldo hit something other than air from six yards out to score a second goal and put you six points clear. And if you bleed Blue, you have to wonder if you might not be sitting smugly in your old Prem penthouse had Mourinho started with Robben on the flank instead of his fellow Armani clotheshorse and $50-million washout Sheva up top.
But what about the rest of us, who showed up at the Second Weekly Deadspin Premiership Drunkathlon hoping to see a match pulsing with skill — did anybody happen to catch Ronaldinho's bike against Villerreal on Saturday? — and drama; perhaps a leg hacked off or an eight-game suspension for punching the referee? Even just Fergie getting smacked with a flying pizza in the tunnel? What exactly were we left with, other than a three digit bar bill, thanks to the 10 Deadspinners who made the trip to Kinsale Tavern from as far away as DC, and the sad realization that, barring a cataclysmic change in global warming or Rooney's facial hair, it's a two horse's ass race for the Prem title. Everybody else — and I include my beloved Gunners here — can go home, and don't forget to turn off the lights before leaving.
There are, of course, images that will linger from yesterday's match that will be hard to shake no matter how many Stellas you imbibe to numb the pain. Most notably, there was the homoerotic sight of Rio and Ashley all but sticking their tongues down each other throats after the game. Let me state uncategorically, just in case Cole's lawyers are reading this, that I never bought into those disgusting tabloid rumors about Ashley, preferring to think of Mr. I Can't Feed My Family On $85,000 A Week as simply a greedy, lying sack of shit rather than a guy who's light in his cleats. And just because last month Ferdinand called a local radio DJ a "faggot" live on air doesn't mean it was anything more than just another unfortunate example of the stupidity he memorably showed when he "forgot" to take a drug test and was suspended for eight months.
Nonetheless, it was a bit weird to see the two England defenders kissing post-match and no doubt comparing sales figures of their recently published autobios (happily, Cole's tanked). That said, Cole was Chelsea's best player yesterday, three times closing down Ronaldo at the edge of the box with immaculate sliding tackles before finally kicking a lump out of the Portuguese winger and forcing him to limp off near the end. That has to be a concern for Fergie, given that ManU, for all their attacking flair, has a Victoria Beckham-thin bench, and it's tough to win championships when you bring on the likes of Darren Fletcher and John O'Shea for Ronaldo and a hobbling Saha. ManU can ill afford to lose Saha, who, as Deadspin's resident soccer historian and undisputed Pilsner Urquell champion Karel Choteborsky pointed out, scored both goals yesterday. The first, racing onto a killer thru-ball from Rooney and then swerving just enough to freeze Carvalho and Terry, he put into Chelsea's net as Cudicini — his view perhaps obscured by his defenders or simply lacking the long arms and quicksilver reflexes of Petr Cech — dove a nanosecond too late. The second, he headed onto the underside of the ManU crossbar after Carvalho outjumped and outmuscled Heinze to crash the ball goalward.
Mourinho, who had been in a dark brooding funk for the first half when ManU was clearly the more fluent team, preferred to view the goal as a sign of Chelsea's resilient character, but you could tell he was not his normal arrogant, paranoid self. There were no egregious outbursts of emotion, like his war dance in Fergie's face two years ago at Old Trafford or his knee sliding celebration at the Nou Camp this year after the 1-1 tie with Barca. On the contrary, Mourinho was, for once in his life, a gracious competitor, going so far as to present Fergie with a $300 bottle of Portuguese wine after the match. Perhaps he realized that unlike the last two years when the pretenders disappeared from the rear view mirror halfway into the season, Chelsea is now locked in a battle of fierce wills with a worthy opponent who, barring injuries, will be nipping at their heels until the last day of the season.
G/O Media may get a commission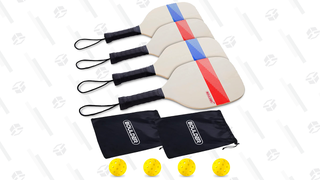 It's Pickleball
Pickleball Sets
Then again, if I were Sir Alex, I would have one of my assistants take the first sip of that fine wine. Or, as Michael, the Deadspinner on my right at the bar who can be forgiven for supporting those Tottenham scum because he buys rounds of Guinness for Arsenal fans, pointed out: "One man's dodgy lasagna is another man's Portuguese wine."