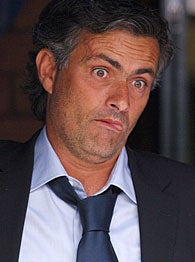 David Hirshey writes regularly about soccer for Deadspin.
So in the space of a very un-Christmasy 48 hours, two of the greatest entertainers of our time, James Brown and Gerald Ford, shuffle and stumble, respectively, off the mortal coil while Jose Mourinho continues to walk the streets a free man. Does God have a strange sense of holiday cheer or what?
Ok, so Ford was 93 and unforgivably gave Nixon a full pardon after Watergate and the Godfather of Soul was 73 and once had the audacity to wake me at 7am by bellowing into the phone "Get on up, you big sex machine" (don't ask, it's a long story) but still.
How did Mourinho get a pass? Has HE not been paying attention to all of the Mourinho's mewling howls of anguish lately as Chelsea struggle to keep pace with ManU in the title race? Only last week, facing possible legal action for defamation, he was forced to apologize to Everton for calling Andy Johnson "an untrustworthy player who chased penalties" and that was a match Chelsea won! Then, when ManU stumbled against West Ham, the cocky Portuguese prick guaranteed that his Blues would be top of the Prem by Boxing Day, only to have to eat shit yesterday when Chelsea fell four points behind the Devils with a comical 2-2 tie against Reading.
Of course, Mourinho was quick to point out that all that kept Chelsea from first place was a rash of unfortunate injuries as if no other team in the Prem has lost players this season and there was some sort of conspiracy afoot to deprive him of his key defenders at this critical stage . "We're thin at the back," Mourinho told the Chelsea web site and he wasn't referring to Arjen Robben's balding crown. Don't you just love hearing Mourinho, in the wake of injuries to his twin defensive pillars, Terry and Cech, moan about a lack of depth, given that from Day One he has stockpiled at least two world-class players at every position and over the summer shelled out ten million dollars for the Dutch butcher Boulahrouz as cover for Terry? Oh, how delicious the irony that ManU, a team that everyone said was too fragile to withstand the rigors of the Premiership season with a bench boasting O'Shea, Fletcher, Richardson, Brown and Silvestre, is all of a sudden the deeper squad?
Sir Alex, who was playing mind games with opponents back when Mourinho was soiling his Armani diapers, left five starters out of his lineup yesterday against Wigan as a testament to the kind of swashbuckling confidence ManU is playing with these days. He knew that if Wigan proved troublesome, as it did in a scoreless first half, he could bring in his studs after intermission to kill them off.
And let's face it there's no bigger stud this season than Christiano Ronaldo. His transformation from bellyflopping metrosexual show pony who helped get Rooney sent off at the World Cup to Premiership MVP has been startling to behold. Whether Ferguson threatened to have Rooney stomp his testicles if he didn't cut out all the gaudy stepovers that bamboozled defenders but stopped the flow of ManU's attack, Ronaldo has dialed back on his trickery and relied more on his searing pace to create chances. He has also, in the process, developed into more of clinical finisher, as he proved yesterday with his two goals.
He will never be as ruthless in the box as Drogba whose brace yesterday gave him a league-leading 19 for the season but that is the difference between blunt force trauma—Drogba's first header was so powerful that the ball almost knocked over the defender standing on the line— and pure skill and speed. Robben combines those two talents to a lesser extent and though he rescued Chelsea with a superb strike at the death against Wigan on Saturday, neither he nor Drogba could save the Blues from Ashley Cole's own goal against Reading.
Could there be a better Christmas present for an Arsenal fan other than perhaps another 14 points in the standings than watching Cole panic in the box and kick the ball off Essien's hip into the net? Well, yes. It might have been more satisfying had Mourinho, a scowl of Vesuvian proportions on his face, whipped off his brand new blue cashmere scarf, raced onto the field and garrotted Cole. But then that wouldn't have been very festive and besides, it would have made Chelsea even thinner at the back.