TAMPA—Sometime around midnight after the Frozen Four final, I found myself a few blocks away from the Tampa Times Forum, jumpstarting a former Ferris State player's car under the distant watchful gaze of a hockey writer who was afraid I was going to be beaten or murdered.
Although the game had been over for only two hours, the outcome had been pretty certain for days already. Questions had instead turned to whether Tampa would do right by the NCAA, as a host city. By all unscientific accounts, the city had passed, in the kind of welcoming and uncontroversial manner that families with small children seek when choosing vacation destinations. Everything was, frankly, nice. So when a stranger approached me outside a bar and asked me to walk to an unlit parking lot and just, you know, hang out with my car unlocked, that seemed like the accommodating civic-minded thing to do.
* * *
The game itself happened about as you expected. There wasn't much doubt that Boston College would win; it was mostly a question of how the Eagles would adapt to do so. And that diverse opportunity for play made any metaphor for them seem possible. B.C. goalie Parker Milner at times dove like a defensive artist, at others responded to the puck with a Borg-like efficiency, and at others he was seemingly a monolith: Sudden breakaway opportunities would materialize, and shots that should have been electric winners diffused into passive, ambient despair. Meanwhile, you saw a gifted and well-coached team still whip up something like vengeance. After Ferris State tied the game at 1-1 in the first period, Yahoo's Ryan Lambert invoked Nelson Muntz with:
Five minutes later, B.C.'s Paul Carey scored what proved to be the game winner. Lambert was right. For those five minutes, B.C. appeared to play with an intensity and animation that immediately waned after the go-ahead score, ceding the initiative to Ferris State for the rest of the period and much of the second.
But you knew this. The game itself was a foregone conclusion. Away from the ice, though—on the concourses, across the street at The Luxury Box and down the promenade in Channelside's open plaza—the story was less about how the game would go in Tampa but rather how Tampa would handle the game. In a way, this Frozen Four was a referendum on Florida hockey and on Florida sports in general.
G/O Media may get a commission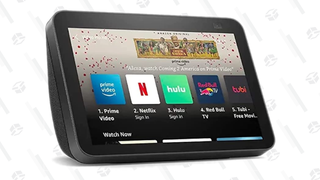 * * *
For a state that has probably passed a Kill a Carpetbagger law, tourists are awfully forthcoming about mocking it to your face. I've lived in Florida long enough to hear all the Northern jokes about it—both of them. But let's face it: Florida is always an easy target. Occasional incidents of "death by alligator," retirees stroking out behind the wheel and sending their giant Cadillacs leaping across medians into oncoming traffic, the fact that in 1997 the state set a man's head on fire in the electric chair, Rick Scott—it's nearly 66,000 square miles of set-ups awaiting their punchlines. But pro sports fans are especially unforgiving.
Aside from the Dolphins and Buccaneers, Florida's franchises are at best a generation old. The Tampa Bay Times Forum's occupant isn't technically old enough to buy beer yet. Florida's expat community worsens things; émigrés bring old fandoms with them, siphoning voices and seats from the local start-ups. This provokes howling derision from Northern fans, when they can point to cheers for their teams equaling those of the locals. (Lost in the crowing is the implied counter-question: Why are you being so superior about places that evidently thousands of people leave annually?) The assumption is that no non-SEC Florida sporting event will escape a vortex of suck, because nobody in Florida cares about sports, despite all the Northern sports fans who keep moving here (over the objections of all the natives who aren't members of the Chamber of Commerce).
Milling around, though, it seems as if Tampa pulled it off. The city set an attendance record for a first-time host. Locals in Lecavalier, Stamkos, and St. Louis jerseys abounded, representing local rooting interests, but a sampling of shirts and accents showed a majority of fans from the Midwest and New England, with an especially strong Maine contingent. More importantly, the overwhelming number of groups were multigenerational.
One dad muttered to a mom that he was glad a trip to Busch Gardens had tired out the kids so they wouldn't be so fidgety during the game. Other people were delighted just to see sunlight and beaches or take the trolley up the road to the aquarium. The area's family-friendly offerings conspired with college sports' tendency to bring generations of alumni together to ruin the prospects for anyone looking for a regional-hatred cultural narrative. Instead, the atmosphere inside the arena was knowledgeable and respectful—bursts of applause for great passes and shots regularly came from those wearing opposing colors.
Yes, there were Massholes, the young, gold-chained white guys who can't afford Fenway and regularly Air-Tran it down to Tampa, split a hotel room four ways, and then spend the weekend feeding on the Gwyneth Paltrow Master Cleanse, but with Killian's instead of lemonade. And while there was a huge clutch of B.C. supporters who evidently came down on a chartered bus, they were mostly giddy and unintentionally funny. Their most vocal leader kept flashing a double-fingerpoint at anyone wearing B.C. merch and shrieking, "YOU ARE IN MY COLORS!" before wandering into the weird chanting that happens whenever nerds try to get rowdy. "THE CAMARADERIE! THE SPIRIT! TO HAVE BEEN HERE!" Whatever you say, Henry the Fifth.
But families dominated, and it was easy to see why. Kids under 10 sported Disney shirts that you could tell were brand new because they didn't have Pangaea-like globs of half-eaten meals arrayed on them in detergent-defying intensity. If you didn't know you were in Florida, the abundance of sunburned faces would lead you to believe you were at Mortifi-Con, America's annual event for the perpetually embarrassed. Basically, anybody in the North who liked hockey embraced the excuse to take the family somewhere to celebrate being able to wear shorts outside.
This is how Tampa worked as a host and why it will always work as a host. In a national contest, especially one of interest to fans from the frozen North, there will never be a shortage of people ready to get the fuck out of Hoth.
For all the tired jokes about Florida, you never hear one about any individual place, outside of Miami. While you might want to read that as a lack of character, it also presents a clean slate. Tampa has Mons Venus and stupid bars that play Jimmy Buffet specifically to placate Canadian and Yankee dipshits, but it also has Ybor City, the former cigar capital of the United States, home to architecture and a mixed culture that calls to mind New Orleans' French Quarter. (You can take the kids on a history tour or get shitfaced and smoke Arturo Fuentes on a balcony while peeping coed cleave like the dirty old swine you are.) Besides, it's sunny out. The only people who don't like that either have a stick up their ass or porphyria.
Even the peripheral attractions can render Tampa a universal non-place, depending on your desires. Busch Gardens is a chain amusement park. The aquarium focuses on local ecosystems and species, but, you know, fish is fish. The biggest attractions close to the stadium, Channelside Drive, not only have nothing to do with Tampa, they have nothing to do with Florida at all. They're expensive shops from Anywhere, U.S.A., which is exactly why they're comforting. You're in a strange place, but you've essentially been here before: The kids will be OK.
* * *
Oddly enough, I found the local color by attaching myself to an out-of-towner. Having had no killer insight about the game itself, I followed Grantland writer and Deadspin alumna Katie Baker after the game like a tall puppy dog, hoping a morsel of hockey insight would fall off the table. I had arranged an audience with Katie, thinking: "Human cheat sheet. Score." I had envisaged asking meekly, in The Presence: "Tell me everything you know about hockey. Except icing, I know that." Which, all things considered, is a pretty sharp plan—like being the new guy on the D.C. beat and being able to ask David Broder, "Tell me everything you know about Washington, except for the bicameral legislature thing. I'm on that shit like white on rice, D-Bro." Instead, rather than learning from her about college hockey, I babbled like an idiot about college in general—which is like interrupting David Broder's Pierre Salinger anecdote to show him your Facebook album of ironic duckface profile pictures.
Note: David Broder is also dead, but that can't stop me.
After the game, Katie and I wound up at a bar up the block, where a bartender—who didn't, and had no reason to, know who she was—delivered an impromptu and excited celebration of Tampa Bay hockey, Steven Stamkos, the Forum, and the 2011 playoffs, then boasted of the number of games he'd seen this season.
He wore an authentic Carlos Peña jersey, to honor the slugger's five-RBI homecoming game, and passionately advocated for the local fans. Without prompting, he divulged the ugly secret of Florida pro sports doldrums—infrastructure and location. He outlined all the strikes against the Rays: stuck way the hell out in St. Petersburg, no subway, no train, "driving an hour home after they lose." Then, standing in the center of the city, he pointed down the block at the open secret of the Lightning's success: that, incredibly, a sports stadium in Florida is proximal to other entertaining things to do, while also essentially equidistant from every regional city, town, or demographic that might care about it. In a familiar Florida "native" origin story, the bartender was originally from New Jersey.
Around this time, as if my pretensions to being a journalissimo weren't shabby enough, all the hockey I'd been looking for walked right up to me. I didn't recognize it.
A guy in a maroon zip-up athletic jacket approached our patio table and asked for a jump. His car was just over there, see, and he was stuck and needed to get somewhere. The guys we were with, two funny former college hockey players Katie knew, were parked blocks away. I could see my car from where I was sitting, so, hey, feeling a civic spirit of hospitality, I said I'd get my car. l looked at Katie, and she had an anxious expression that greeted my natural "am I going to be beaten and left for dead?" inner wariness with a "I genuinely worry that you are going to be beaten and left for dead" look. Baller.
After figuring out how not to electrocute ourselves, the guy and I folded our arms across the tops of our cars, the way neighbors do with fences, and talked while waiting for his car to build a charge. That's when I finally noticed his jacket. It turned out his name was Todd Pococke, and he'd played 34 games at right wing for Ferris State last year. He'd driven up to see his former teammates play.
We talked about Johnny Gaudreau's goal, which put the game away with about three minutes remaining. I'd been rooting for Ferris State, despite the city of Boston's legendary drought of recent championships. I told him I was sorry to see what happened, but "at least it was pretty. At least it wasn't some chickenshit goal." He suddenly looked very sad, and I wondered if I'd done something wrong.
"It's not that," he said. "I didn't think about it until you mentioned it, but almost the same thing happened last year to the same guy." Apparently, the same defenseman whom Gaudreau deked on the way to his 3-1 goal was also victim to a similar great play in Ferris State's elimination last year in the CCHA Quarterfinals. It was hard to watch, Pococke said, because the guy, Brett Wysopal, was normally an extremely talented defenseman. He just had two bits of bad luck in the two worst, most permanent ways.
"The other guys won't beat him up about it," Pococke said. Nobody would lay blame; it wasn't that kind of team. Still, he couldn't imagine what Brett must've been feeling. I asked him how he felt, and he described sitting with that game's scratches instead of on the bench. He felt very far away. It heightened the sense of powerlessness—to be near many of the same guys on the same team, just a year later, and to be completely unable to hop onto the ice and stop something horrible he could see start to unfold.
By then his car was good to go, and I felt all right leaving him. He said he had to get to a Ferris State party anyway. I did a double-take. Yeah, he meant to say party. Loss or no, the team culture he remembered wasn't the sort that'd forget to celebrate how far everyone had come.
He drove off, and I walked back to reassure everyone that I'd survived. Earlier, I'd asked Pococke what he was doing down South, watching a game when he was no longer traveling as part of the team. That question had occurred to my companions as well. I told them what he'd told me: He had moved to Fort Myers.
"Mobutu Sese Seko" is founder of the blog Et tu, Mr. Destructo? He writes a column for Gawker called America's Screaming Conscience, and he has contributed to GQ.com and SomethingAwful.com. You can follow him on Twitter.