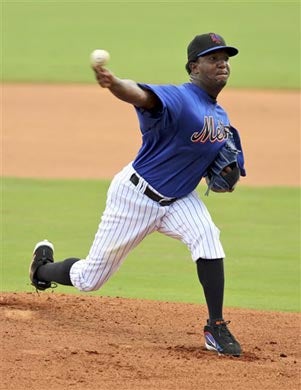 Whatever your thoughts about the Mets, or little people, or any of it, we have to say, it just seems right — and exciting even — to see Pedro Martinez making his way back. It doesn't quite feel like baseball is in order without him.
He pitched a simulated game today, and didn't look too shabby.
Pedro Martinez threw 5 1/3 innings of a simulated game against a combination of players from the St. Lucie Mets and Gulf Coast League Mets Thursday. With Mets general manager Omar Minaya watching, Martinez allowed four hits and two runs, one earned, and struck out three batters with no walks. He hit one batter, but threw 50 of 67 pitches for strikes.
With the Mets trying to hang on for the playoffs, the mental image of Pedro pitching on a freezing October night is a pleasing one. Here's hoping the Mets play the Dodgers again, and Grady Little tries to pull him, at last.
Martinez Pitches In Simulated Game [TCPalm]