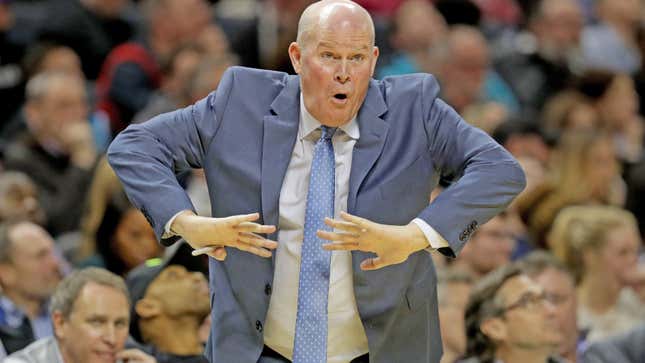 When Kenny Atkinson ultimately passed on the Charlotte Hornets head coaching job, the thought was at least Mike D'Antoni will keep LaMelo Ball, Miles Bridges, and the rest of Buzz City entertaining. After the former Houston head coach's meeting with part-owner Michael Jordan this week, it seemed all but done.

Grant Hill looks to repeat Team USA's 2004 "success"
Then fate intervened. Steve Clifford sent out a few "You up?" texts and, like a late-night heart-to-heart with an ex who was nice to you but wasn't the one, the Hornets decided to reunite with their former head coach. The hire feels like when Hubie Brown coached the Grizzlies or Joe Gibbs came back in the early aughts and guided Washington. Only if those coaches were dramatically less successful.
During Clifford's first run with the Hornets from 2013 to 2018, the team made the playoffs twice and lost in the first round both times. Their defense finished in the top 10 in points-allowed three times, but the Kemba Walker-led offense only cracked the top 10 in points-per-game once, in 2018, which was Clifford's first final season with the franchise when Charlotte finished 36-46.
In the past two seasons, points haven't been an issue. It's not just Ball and Bridges as Terry Rozier, Kelly Oubre, P.J. Washington, and Gordon Hayward (when healthy) have all shown they can be contributors to a top-four offense. That earned them the final play-in seed, and I'm using "earned" loosely because it's hard to say one's play merited anything when it gave up 115 points per contest.
So logic says bring in a defensive coach, keep the offense in tact, and hope increased effort and an enhanced scheme will be enough to, I don't know, avoid a play-in game.
Unless LaMelo develops some Lonzo-type defense and Mitch Kupchak finds a way to flip Hayward's creaky corpse into a player as good as a healthy Haywood, a first-round exit is as far as the best coach was always going to take them. And that's assuming they match the truckload of money that restricted free agent Bridges is going to be offered this summer.
Clifford is known for wringing as much moisture out of the towel as possible, so it's feasible that he'll be able to get more of his players' hands up. They added some size and rim protection, drafting Duke big Mark Williams on Thursday to back up/replace current Duke big Mason Plumlee.
The best-case scenario is finding a schmuck of a team to trade them a two-way star for pennies on the dollar, which isn't happening because that player and that deal don't exist — at least not yet. The most realistic way this unfolds in a non-depressing fashion is a redemption story like Terry Stotts with Portland before he was fired for plateauing.
That's the catch with mediocre coaching. The ceiling is eventually found and only the most creative coaches can find that buckling support beam and address it.
The good news is neither Atkinson or D'Antoni were going to take the Hornets to the Eastern Conference finals. The bad news is Clifford isn't either.
Lightning hope they can strike a couple more times
The Stanley Cup Final that looked like it was going to be an all-timer — and then wasn't — took a step back toward the all-timer distinction Friday night, with the Lightning scoring a late third-period goal to break a 2-2 tie and send the series back to Tampa for a Game 6. It was Ondrej Palat who knocked in the game's decisive goal, negating Cale Makar's equalizer that came in the first three minutes of the final 20.
Avs' fans could never quite reach full frenzy because the home team never led and blew a couple opportunities that could have altered the outcome of what they hoped would've been a Cup-sealing win. Nathan MacKinnon had a chance to tie the contest in the final minute of the first when he found himself one-on-one with Andrei Vasilevskiy and beat him via five hole. But the shot didn't split the second opening, and the puck slid a few inches wide of the goal. Makar also found himself with a chance to tie the game and only the Lightning goalie to beat late in the second, but Vasilevskiy was able to get his stick on the puck before the Colorado defenseman could get off anything of consequence.
Tampa's climb back from a 3-1 deficit continues Sunday in Florida, and they'll have to protect home ice to force a Game 7 and avoid elimination again.