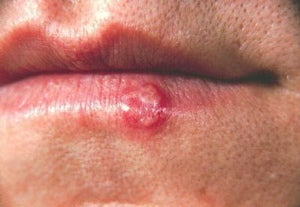 A racehorse at Payson Park training center in Florida died last week, and authorities are concerned that the horse's disease could spread. The disease was, um, well, let me have an expert, Dr. Mary Scollay, the track veterinarian at Calder Race Course, tell you:
"Autopsy results on the horse who died last night at Payson will not be available until Tuesday at the earliest, but considering all the symptoms and conditions surrounding its death, it would be naive to assume this is anything but another case of equine herpes."
I wasn't aware that horses could get herpes, but more importantly, I wasn't aware that herpes could be fatal. My doctor told me it's really nothing to worry about, and that lots of people have it and live healthy lives. When I asked about a friend, I mean.
Note: Searching for an appropriate photo with this post was an experience I'd rather not re-live. I wish I had just gone with Michael Vick or the guy in the "HERPES" jersey.
Herpes Suspected in Death [Daily Racing Form via ESPN]