In the last two weeks, while racking up more total yardage on his own than 86 teams, Denard Robinson, Michigan's dreadlocked, dual-threat quarterback, emerged as the early favorite to win the Heisman Trophy. The longer his campaign lasts, the more it could revolve around one student's photograph.
Sam Wolson is less of a football diehard than a photography buff. He is a senior at the University of Michigan, the co-managing photo editor of its student newspaper, The Michigan Daily, and he has been a photographer his entire life. Yesterday, without much prompting, he talked about the technical aspects of photography the way Rich Rodriguez might discuss the zone read. He mentioned the challenge of finding the critical play, about capturing, as he put it, that exact moment. On Saturday at Notre Dame Stadium, he did just that, and within a matter of hours a student journalist had become the accidental propagandist for an even more accidental Heisman campaign.
The moment came in the fourth quarter; the play itself, Wolson can't recall. He was behind an end zone, surrounded by 80,000 fans, a pack of other photographers, and the swarm of Notre Dame's band. A leprechaun stood next to him. He was clicking away on his camera—a Nikon D300 with a 300-millimeter lens, perched atop a monopod—when Robinson broke free, running step for step with Manti Te'o, Notre Dame's best linebacker. Robinson stiff-armed him with his right arm, fingers spread, and cradled the football with his left arm. His right leg traversed his body, and his left leg stiffened straight, foot perpendicular to the grass. Wolson kept tapping away—too busy, like everyone else, to notice Robinson's mimicry of the Heisman statue's iconic pose.
After Robinson got up and eventually lifted Michigan to an improbable game-winning drive, Wolson and his Daily colleague, Max Collins, retreated to the press room and sifted through about 1,000 raw photographs. Each picked five to feature in an online slideshow. Two frames, in particular, appealed to Wolson. Both depicted Robinson the same way. He published one and didn't think much more about it. "When you shoot a football game, you're not really conscious of the good shots you have," he said. "You might look through and think, oh, that's cool. But this wasn't something where I shot the photo and I was, like, oh, shit, this is going to be huge!"
G/O Media may get a commission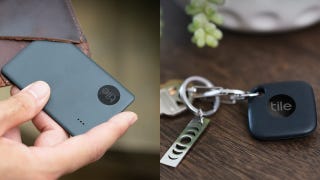 Up to 35% off
Tile Item Trackers
So they filed around 9 p.m., packed up their equipment, and walked to the car for their return drive to Ann Arbor. Before they reached the parking lot, Collins's phone rang. It was one of the Daily's football writers, demanding to speak to Wolson.
"He was, like, 'Dude, you've got to put this photo up on the AP,'" Wolson said. "And I said, 'Why? It's a cool photo, but it's not anything fantastic.' And he said, 'No, you don't understand. It looks exactly like the fucking Heisman pose!'"
They stopped at a Starbucks on the road, quickly edited the photograph, and e-mailed the revision to an adviser, who sent the image to the wire service. "The next day," Wolson said, "the photo was all over the Internet." By Monday, when the Daily plastered it on its sports cover, Wolson's shot had already been published far and wide, the perfect way to illustrate the weekend's revelation: With one marvelously timed photograph—and, of course, two marvelous performances—Denard Robinson had become the darling of the Heisman punditry.
In part, that's a function of a Heisman field that, for once, looks wide open. The reigning winner, Mark Ingram, hasn't played a down yet and some consider him a lesser candidate than his replacement, Trent Richardson. Terrelle Pryor was something of a reluctant favorite before the season, perhaps because Ohio State, while No. 2 in the country, remains a gray sweater vest of a team. Then there's Kellen Moore, whose accomplishments will never get their due because of Boise State's schedule, and Ryan Mallett, who put up his big numbers against the likes of Tennessee Tech and Louisiana-Monroe. It makes a strange sort of sense that the temporary frontrunner was a training-camp backup on a team that started the season far outside the top 25, someone who is nicknamed Shoelace because, you see, he does not tie his shoelaces, someone who got the equivalent of a 10-story, $250,000 Times Square billboard in the form of a digital image, one out of 1,000, that caught a student photographer's eye. And as long as it lasts, Robinson's candidacy will be accompanied by Wolson's journalism, both notable for their serendipity in a time when we can supposedly predict everything before it happens.
None of which means Robinson will win an award that, we were reminded this week, is nothing more than 25 pounds of cast bronze. On one of these runs, maybe, the stiff-arm won't be stiff enough, or a shoelace will catch a cleat and that foot will go from perpendicular to the wrong kind of parallel. It is all a longshot, just like—well, you know. "No one in their right mind can make that photo if they want to," Wolson said. "You had this really unique moment of time, when Denard is very popular and really good, and he happened to do this thing, and I happened to capture it."
"I don't pay attention to none of that," Robinson said this week, referring to the onslaught of hype. But even before he got calls from Michigan athletics officials asking for prints, Wolson has reason to believe Robinson might have paid attention, just this once. "I read somewhere that someone showed Denard and RichRod the photo," he said before pausing, quickly, no more than a moment. "They both liked it."