We already knew LSU cornerback Tyrann Mathieu was a pro. Forget his onfield play; dude already had an awesome nickname and a failed drug test. But yesterday turned out to be the ultimate rite of passage for Mathieu, as he knocked two major accomplishments off his star athlete checklist in one day: get nominated for a Heisman and have his penis plastered all over the internet.
How Tyrann Mathieu's "football sized jank" ended up on MediaTakeOut (link probably NSFW) is a cautionary tale of college dating, stardom and social media. In the days before Saturday's SEC Championship, Mathieu decided to go Twitter-public with his relationship, and repeatedly tweeted his love for his girlfriend. This apparently rubbed some spurned women the wrong way: One put Mathieu on blast, saying he was "fucking half of Baton Rouge." But Twitter can talk, and most of the time no one listens. Mathieu's big mistake, then, was to try and fight back.
Mathieu engaged one of the girls who claimed he'd had a relationship with her, calling her a liar and a hater. She responded with a photo of the two of them together. On Sunday, MediaTakeOut ran that photo, plus photos of Mathieu with two different women, neither of them his girlfriend.
Mathieu should have let it go there, but he couldn't. He claimed the pictures were from high school, and reiterated to the world his love for his girlfriend. Considering that was what had started the mess, it was the exact wrong move. There's nothing a side piece hates more than being told she's a side piece. The next day, photos of a shirtless Mathieu, along with a purported picture of his penis, made it onto MediaTakeOut. The girls celebrated. Mathieu went quiet, finally.
G/O Media may get a commission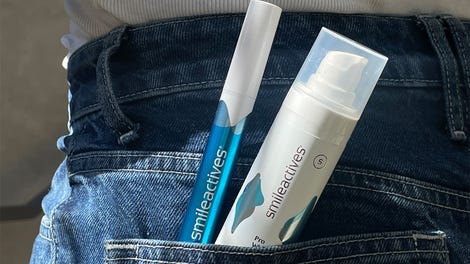 58% off
Whitening Powerhouse Pen & Gel Duo
It was just a simple, petty fight between spurned former lovers that played out, from initial shots fired to full-on cock exposure in just two days. That's almost exactly how every athlete dong shot makes it to your computer. The difference here is that it involved teenagers, who don't grasp just how public every move and cameraphone snap and Tweet can be. So this time around, we were able to watch the entire thing play out in realtime. It can be fun to see how your dong sausage is made.
It'll be just a blip in a long career for Mathieu, as people will forget all about it in a few days. It might end up being the highlight of the vengeful girls' lives. But Honey Badger don't care. He's already shown us all that he's NFL-ready.