The Boca Raton magicJack should have been the most marketable franchise in Women's Professional Soccer. The squad, formerly the D.C.-based Washington Freedom, was bought before the 2011 season by millionaire Dan Borislow, who renamed it after his own telecom product and moved it near his Florida home. The roster had some of the WPS's most recognizable names: Hope Solo, Abby Wambach, Christine Rampone, Shannon Boxx and Meghan Rapinoe, all briefly famous after their run in the Women's World Cup.
But on Wednesday, in a terse 51 words, the front office of WPS announced it was terminating the magicJack franchise.
The announcement ended a perversely entertaining six-month battle between Borislow and the league. Borislow appeared to be just what the WPS needed—a wealthy, macho businessman with a spirit of involvement similar to Mark Cuban's—but he didn't cooperate. The result was as if Cuban had taken the top-shelf talent and sent the Mavericks to play in a high-school gym in Lubbock, for his own entertainment.
In a soccer organization that's still trying to piece together a successful business model, Borislow was oddly indifferent to the basics of marketing and promotion. Despite having earned his fortunes by creating a product that makes phone calls over the Internet, he refused to set up an official website for magicJack.
Borislow did essentially nothing to market the team. The magicJack not only did not have a website; it also had no front office. And in a league that is, by necessity, always concerned with ticket sales, he maintained that he was not concerned with selling tickets (although thanks to his roster, and to the size of magicJack's "stadium," he really didn't have a reason to).
G/O Media may get a commission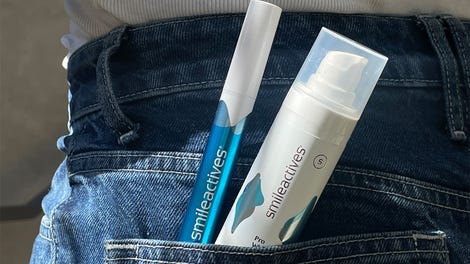 58% off
Whitening Powerhouse Pen & Gel Duo
Back in May, Borislow staged the magicJack's first three home games without displaying sponsor boards or submitting game video, as required by the league. This led the WPS to release its very own burn book on the owner, via a press release. And it set off a series of sanctions, which he refused to pay.
That's some background. But really, this—from a May story in the Palm Beach Post—is all one needs to know about Dan Borislow:
Borislow's way is to arrive at practice on a Batmobile-like motorcycle, a stealth black machine with three wheels and four stereo speakers ("My primary mode of transportation," he said). He wears cleats because he often scrimmages with the team.

"Yeah, I like to have fun," Borislow said. "There's two things I like to do, and I don't know which one I like to do more. One is make money. And the other one is spend money."
The "Batmobile-like motorcycle" can be seen above.
He also inexplicably fired head coach Mike Lyons, who'd lead the team to a 3-0 start, and made his players take on double duty as coaches. Sometimes, before the league realized he didn't have the proper license, he'd coach himself.
But in July, the league banned Borislow from the field after the WPS Players' Union filed a grievance against him. When Bill Littlefield of NPR's "It's Only A Game" attempted to contact magicJack for a story in August, the line was disconnected:
Via a pleasant but curiously impersonal recording, a woman told me the number had been disconnected.

[...]

"There's no website, there's no phone number, there's no front office, there's no ticket office, and there's no way to get a hold of the team," [Miami Herald reporter] Michelle Kaufman told me.

[...]

"I get lots of calls from people who want to reach the team," she told me. "I got a call from the vice president of the Miami Dolphins, who was trying to get a hold of magicJack because the Dolphins wanted to honor the players who were in the World Cup at a Dolphins game, and they couldn't even get through."
Essentially, Borislow behaved like the (multimillionaire) class clown who'd do anything to get thrown out of fourth period, and then acted as if he'd had no idea what he'd done wrong. This wouldn't fly in any league—but especially not in one that, as Littlefield put it, "needs all the publicity it can get."
Borislow tried filing a motion to demand that the league go to court before terminating his team, but it didn't go anywhere. So yesterday, the league kept it short and sweet:
After careful consideration, the Board of Governors of Women's Professional Soccer (WPS) voted on Tuesday to terminate the Boca Raton based magicJack franchise.

WPS will continue to deliver to its players and fans the world's top women's soccer league, with plans to make 2012 the most competitive and successful season to date.
Borislow, eternal optimist and oblivious soul, said that he had plans to stay involved in women's soccer. Specifically: There's "something I think would be a lot better for me and a lot better for soccer and the community down here."