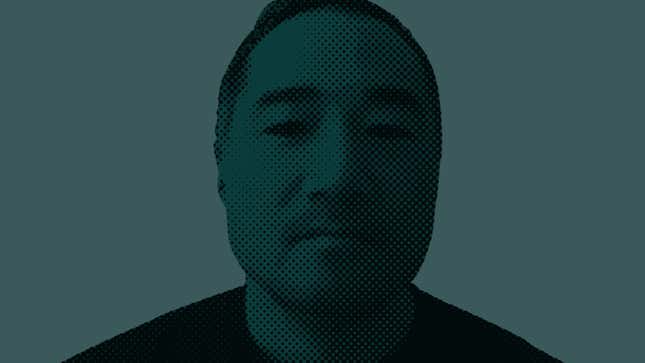 This May, Carolina Belmares traveled to Kansas City to attend the 2018 Fitness Summit, an annual conference that was co-headlined by nutritionist and author Alan Aragon. Belmares says she was looking forward to the event as a way to build relationships with other people in the industry, noting the "laid-back vibe" that helped business owners like herself network with their colleagues.

How running an NFL team is like running a restaurant | Chef Emeril Lagasse
Belmares and Aragon met for the first time at the conference, and while she says she had "heard warnings" that he could be "too friendly" when he'd been drinking, she says she saw "no reason to be afraid." She was just getting her own business started, while Aragon was a foundational figure in the "evidence-based fitness" movement. This was his turf.

Over the past decade, Aragon has earned himself a sizable following, and he regularly headlines conferences like the Fitness Summit. He's authored books and papers in peer-reviewed journals, written for Men's Health, developed nutrition plans for people like Stone Cold Steve Austin and Derek Fisher, and established himself as one of the go-to experts in the popular nutrition-science space because of his ability to break down complex scientific data in an easily digestible way.
At the Fitness Summit, Belmares showed up late to the Friday social and hadn't been drinking. "It was normal, it was a good time, everyone was laughing," she says. At one point, she exited the bathroom to find Aragon leaning against a nearby wall "completely away from everybody else." He beckoned her over to join him, where they had a "very normal" conversation that veered suddenly when he looked her in the eye and told her, repeatedly, "I so wanna smack that ass."

"I was so confused. Is my brain playing tricks on me? Is this reality? Is this actually happening? It makes no sense," Belmares said of the incident. Aragon laughed at Belmares's confusion, then brushed her leg and said "Did I just touch your cooch? Because I would, you know. I would totally touch your cooch right now." She fled, disgusted. "I knew what this was," she said. "It felt predatory."
---
On August 26, Belmares and several other women wrote Facebook posts about being sexually harassed by Aragon at various fitness conferences. First, science writer Yvette d'Entremont wrote about being harassed by an unnamed presenter at a conference in Chicago, at which Aragon was a featured speaker. Later that night, Belmares posted about having to relive "sexual harassment I was subjected to in Kansas City by a 'star' presenter at a fitness conference this past May." Both Belmares and d'Entremont confirmed in subsequent posts that they were talking about Aragon.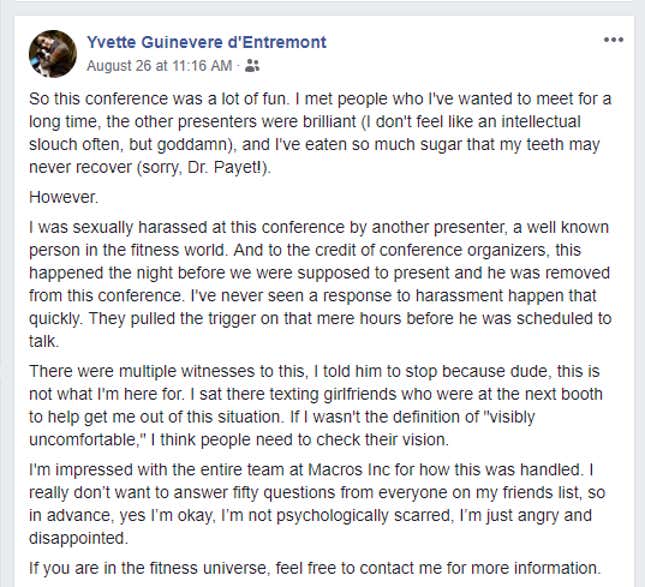 Jay Woith, the organizer of the Flexible Fitness & Nutrition Summit, which was held in Chicago last month, then called Aragon out on Facebook for "inappropriately touch[ing]" two of his staff members. That prompted Aragon to issue a public apology to Woith, Belmares, and d'Entremont. Meanwhile, at least two other women came forward in comments and Facebook posts to say that they had also been sexually harassed by Aragon at conferences and other events. Fitness writer James Fell blogged about the accusations against Aragon on August 29, writing, "We cannot fail the good people of the fitness industry by letting him back."
Just before d'Entremont and Belmares named him, Aragon wrote on Facebook that he was struggling with alcoholism, and would immediately be taking "massive action" because of some unspecified "destructive and hurtful things" he had done while under the influence. That happened shortly before Aragon referred to one of the women's stories as a "romance novel with big plot holes" in a private Facebook group. (Aragon repeatedly deactivated his Facebook as the saga unfolded, though a member of fitness Reddit community /r/leangains compiled screenshots.)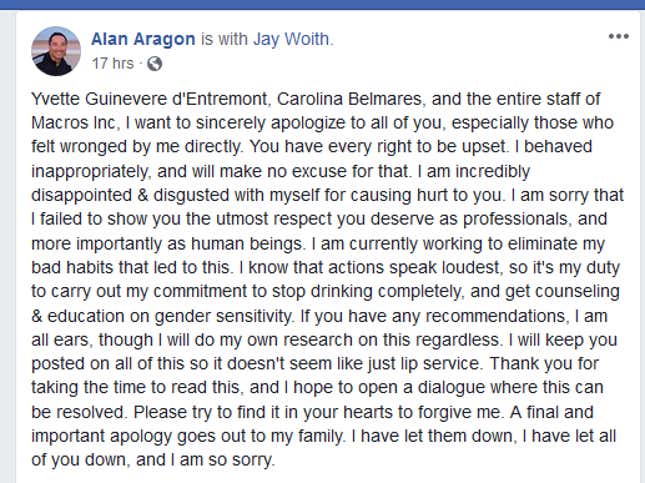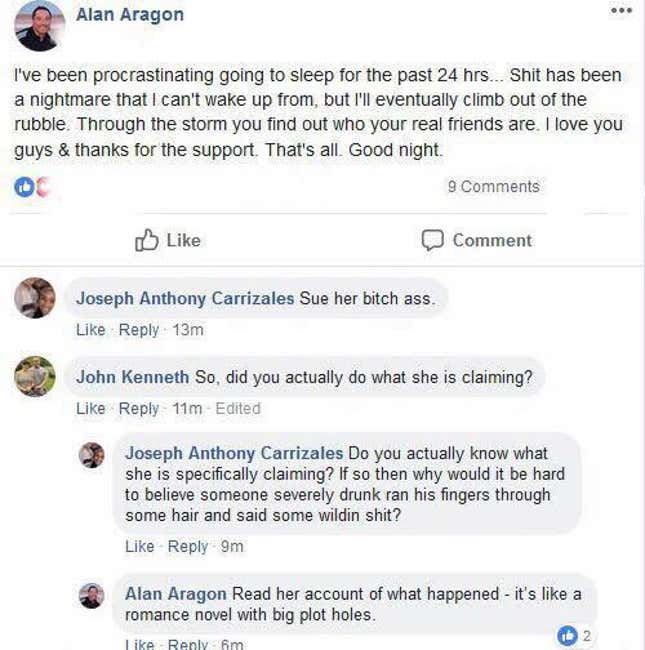 Since the revelations on Facebook, Deadspin has spoken to three people with stories about being harassed by Aragon. All agree that he has shown a pattern of harassing women, and has continually gotten away with it because of his status within the fitness community.
Aragon did not respond to Deadspin's repeated email requests for comment.
---
Katie (not her real name) is a young strength coach who attended the 2017 Kansas City Fitness Summit, at which Aragon spoke. Katie says she attended because of the conference's other marquee speakers, though she knew of Aragon's work. After the Friday social had wrapped up, the party moved to a hotel lobby, where Katie met Aragon.

Aragon kept his arm around her after hugging her, Katie says, and she felt uncomfortable even before he slid his hand down onto her butt. Katie politely told him to stop then moved away from him.
Minutes later, Aragon then sidled up to Katie "basically from nowhere," grabbed her again, and invited her up to his room. She once again told him no, but "he just kept going and going, and I remember being so disgusted." Katie wasn't sure how persistent he would be, so she kept an eye on him until she found someone she could leave the party with and get out without worry of being followed.
Katie didn't report the interaction, in part because she was concerned that she wouldn't be believed. Because Aragon drew hundreds of people to Kansas City to see him talk while she was just getting her start in the industry, she rationalized their interaction away as insignificant. "He's way more knowledgable, powerful than I am," she said. "I'm literally nobody." It wasn't until other women began to speak up about Aragon's behavior last month that she thought of what happened to her as being part of a pattern. She came to believe that he was taking advantage of his niche-celebrity status to get away with serial sexual harassment. "I think he was using his power to silence other women and do whatever he wanted to do," she said.
---
At the same Kansas City conference a year later, Aragon cornered and harassed Carolina Belmares. But unlike Katie, Belmares was willing to fight back, loudly. She says she immediately began telling people at the conference about what had happened. She says many attendees acknowledged they had heard about similar behavior from Aragon in the past. "They knew," she said. "This was not an isolated incident, and it became so clear that this was a pattern."
Belmares says Aragon approached her at an afterparty hours after he had harassed her, knelt down beside her and asked her to accept his apology. Belmares believed he was in "damage-control mode," trying to minimize the incident and his pattern of behavior so she wouldn't talk to others about him. "He was trying to get me to soften up, because that would change the narrative," she said.
"I'm never gonna be okay with what you did," she yelled in a crowded hotel lobby. "Who the fuck do you think you are? You think you can get away with it? Well this stops now." Aragon, she said, "shrank." She told Deadspin, "I'm not hiding from this."
Belmares said she told conference organizers, who were "extremely shocked" and angry. One official told her his first instinct was to pull Aragon—whose talk had yet to take place—from the conference, but he left the decision up to Belmares. "It put the responsibility of making the decision on me, and that's a little unfortunate," she said. "In hindsight, I wish they had made the decision themselves, because I was still very shaken, I don't feel like I was in a place to make the call. But I understand that they were doing the best they could with the information they had at the time, it's very difficult to prepare for this kind of situation happening at your event, so I don't blame them."
The Fitness Summit issued a lengthy apology on August 28, clarifying that they didn't know the full details of what had happened until after Aragon spoke. It confirms much of Belmares's account, and agrees with her sentiment that the conference didn't do enough. "I felt the action taken that evening was appropriate within the context of the entire situation. Was it enough? Given that this happened again, it clearly wasn't," lead organizer Nick Bromberg wrote.

While Belmares alerted a few others in the fitness world about what had happened after the conference, "I made a conscious decision not to name him publicly," she said. The most important thing to her was, "What is going to help me heal? I was extremely shaken, this really really shook me at a personal level. How am I going to survive this? I could not picture myself coming to a place of peace because I didn't want to be the one who 'broke his career.' I just wanted people to know so it didn't happen again."

After Belmares spoke out at the conference, though, Aragon started attacking her credibility. She says he called several mutual acquaintances and fellow conference attendees to give his version of events, cast doubt on her story, and portray her as, in her words, "an angry fangirl that was retaliating because I couldn't get with him that night." One fitness-industry professional confirmed to Deadspin that Aragon called him twice after the conference, claiming that he'd been misunderstood. "In a later conversation," the person said, "he seemed to go from defensive to almost angry, as though she was trying to ruin his career." She didn't find out about the conversations until months later, after the accusations against Aragon went public.
"Have I lost work opportunities because of this?" Belmares wondered. "Have people avoided me or overlooked me because of this 'drama?' I'm just getting started, and he tried to take me down." Belmares said she recently started smoking again—she quit for eight years—because of the stress of the past few weeks. She's suffered, emotionally and professionally, while Aragon remained famous and connected.
---
After last month's Flexible Fitness & Nutrition Summit in Chicago, Aragon finally began to face consequences, in part because this time he targeted someone with comparably large platform.
Yvette d'Entremont goes by "SciBabe" online, and she's built a successful career as a science writer over the past few years (perhaps her most famous piece of work is a 2015 takedown of Vani "the Food Babe" Hari for Gawker). She's been profiled by the Los Angeles Times, and appeared on the Joe Rogan Experience. d'Entremont knew Aragon through Facebook, though she says they hadn't interacted much. The first time they met in person was at an afterparty for the conference at a bar in Chicago. "I'd never heard an unkind thing about him from our mutual friends, I'd never even heard a rumor," she said. d'Entremont became interested in his work after they followed each other on Facebook, and, she said, "I was really looking forward to meeting him."
After the first day of the conference wrapped up, group of attendees went out drinking at the Park Tavern. The atmosphere was jovial, with everyone getting to know each other over beers and on the dance floor. At one point in the evening, d'Entremont left the dance floor and sat down next to Aragon. "Almost immediately," she said, "he starts getting very handsy, and starts whispering in my ear things he would like to do to me, and that he can't stop thinking about my body."
"I said to him quite clearly, 'Hey, you're a nice guy and all, but this is not what I came here for, so can you please stop?'" d'Entremont said. "He kind of looked a little perturbed by that and he backed off ... for like 30 seconds and then it started up again." He continued groping d'Entremont as she repeatedly told him to stop. She wrote on Facebook, "This was not being friendly. This was unwanted physical contact and telling me things he wanted to do to me sexually."
d'Entremont said that she brushed him off a few more times and managed to engineer an exit. When she got away, she told conference organizer Jay Woith what had happened. Woith later wrote on Facebook that Aragon also "inappropriately touched" two women on his staff, and d'Entremont wrote about seeing him being "somewhat handsy" with one of her friends at the conference.
Unlike the other times Aragon had been accused of harassment, he was pulled from the conference. "I was amazed," d'Entremont said. "I've never seen a conference dump the speaker midway through." Woith said between the three harassment accusations, he had heard enough to cancel Aragon's keynote speech. Woith told Deadspin that when he told Aragon why his talk was being canceled, "He looked me right in the eye and said 'What if she's lying, bro?'" It was clear to Woith that Aragon wasn't going to own up to anything, and Woith felt he couldn't give Aragon a platform after three separate accusations.
d'Entremont and Woith said many people expressed disappointed not to see Aragon give his keynote address. "People really did come to see him," d'Entremont said.
Since writing publicly about Aragon, d'Entremont said, she's been surprised that the nutrition community has supported her, though she has still had to deal with the emotional turmoil that comes with making an accusation and having to defend herself online. "This has made my life hell, having to deal with this, having to take a few days off to deal with the fallout," she said. "I go in knowing that I'm gonna have to convince someone, and not make them think I'm the bad guy."
Shortly after Belmares and d'Entremont went public with their allegations, Aragon deleted his Twitter and Facebook accounts, and he's been pulled from at least one additional conference. "Hopefully this will show other men with similar patterns of behavior in any other industry, you're going to get caught eventually, and it's not going to be pretty," Katie said. "So just stop."