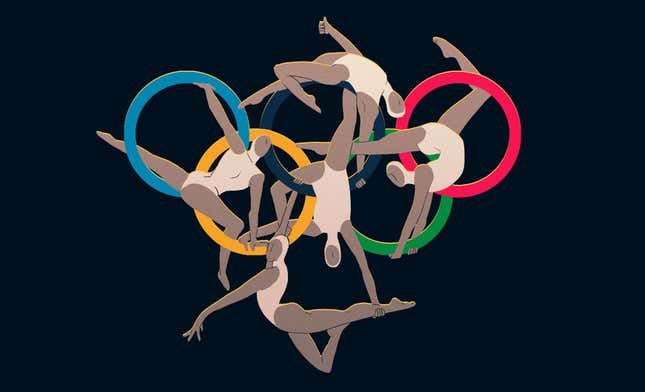 Even a casual viewer of Olympic gymnastics knows that the gymnasts they watch are young. It's the one thing that everyone knows about gymnasts, besides their being good at gymnastics—they tend to peak in their teens, and then leave the sport. This has been one of the main stories of the sport since Olga Korbut and Nadia Comaneci became household names in the 1970s. Once they tumble offscreen, they're gone, and new miracle teenagers take their place.

Except that they're not gone, of course. Of all the questions I've been asked during my years of writing about gymnastics, Where do they go is among the most frequent. What happens to them next?

I typically start my answer with the boring, factual stuff—that actually some elite gymnasts continue into their 20s and keep winning medals, that there's also NCAA gymnastics, which offers female gymnasts another four years of the sport, albeit at a different level and in a different context.
But even an elite career that extends beyond the teenage years will probably end by the early or mid 20s, which is also about as far chronologically as a college gymnastics career can take you. And then what happens? The vast majority of collegiate athletes never move onto the pros, of course, but basketball, football, baseball, and hockey players at least have professional leagues to dream about. Gymnasts don't even have that, and only a handful of the competitions available for elite gymnasts even offer a cash prize for top finishers. The big bucks are reserved for Olympic gold medalists, and those come through endorsement contracts and other marketing opportunities. But if going pro isn't an option per se, there are still a few career paths available for the acrobatically gifted.

Many former gymnasts make their living doing stunts for movies and TV; one of the most successful of that cohort is the aptly named Heidi Moneymaker, a former UCLA Bruin who was a member of their first national championship team in 1997. Others former gymnasts have found success in NBC's American Ninja Warrior franchise; former Towson University gymnast Kacy Catanzaro became a Ninja icon—it's a real thing—after she became the first woman to complete a city finals course on the show. Former Australian Olympian and Oregon State star Olivia Vivian has also pursued the Ninja Warrior path. Catanzaro recently announced that she was joining WWE, which is another potential career route. But if you're a former elite gymnast who wants to do gymnastics for a living for as long as possible, your best bet is joining the circus.

Or, more specifically, joining Cirque du Soleil. The Montreal-based circus arts company recruits heavily from the ranks of gymnasts, and will have a recruiter in St. Louis this weekend for the 2018 NCAA gymnastics championships, just as they do at most major gymnastics events. According to Cirque, about 35 percent their 1,400 performers come from sports disciplines, including competitive gymnastics.

That Cirque recruits former gymnasts makes sense, given that circus arts require many of the same acrobatic abilities that gymnasts spent many years honing. But gymnasts can't just flip off the mat and onto the trapeze, and the difficulty of that transition reflects the difference between what gymnasts do and what Cirque du Soleil is. Gymnastics, despite its judging and artistic pretensions, is a sport. Cirque, for all the use it makes of those tools, is something altogether different.

---
The first thing that Cirque du Soleil wants you to know is that the gymnasts, once they've joined the company, are artists. I noticed this from my first conversation with Stacy Clark, the casting director for Cirque du Soleil. I'd say "athlete" or "gymnast" in my question. She would, politely but very intentionally, say "artist" in her response.
We were eating lunch at a cafe in Montreal, about a 10-minute walk from the Olympic stadium where the 2017 world championships were underway. That the meet was being hosted in Cirque's home city was convenient but by no means the only reason Clark was there. She attends many competitions and events every year. We first met at the 2015 world championships in Glasgow, Scotland, where she was doing the same thing she was doing in Montreal—scouting gymnastics talent to funnel into Cirque shows.

Clark's not-so-subtle language shift—from athlete to artist—underscores what Clark is looking for when she watches a gymnast. Most of the gymnasts competing at a world championship have the requisite acrobatic skills to perform in Cirque du Soleil shows and the talent to pick up new elements as needed. What Clark and her team are looking for are the gymnastics who also demonstrate artistic potential in their performance.

"You quite quickly start making that differentiation once you start," Yvonne Tousek-Renne recalled. "Because as soon you walk through the door in headquarters, you're not referred to as a gymnast anymore." Tousek-Renne, a two time Olympian from Canada in 1996 and 2000, performed with Cirque for 11 years after her NCAA career ended in 2004. Now she works as an acrobatic casting advisor for the company. "I think that actually helps make that shift in mentality," she said of the vocabulary shift for the newly initiated. "That's one of the things that is quite notable when you first walk in the door. Everyone's an artist."

Of course, not everyone Cirque recruits is actually an artist when they walk in the door. But those who watched her elite gymnastics career in the mid to late '90s know that Tousek-Renne, at least, inarguably was. She was also clearly comfortable with Cirque-style weirdness, and attracted a cult for floor routines that were bizarre in the most delightful ways.
Kristen Maloney, on the other hand, didn't exhibit the same artistic chops during her elite career. A former two-time U.S. national champion and 2000 Olympic team bronze medalist, Maloney was known for her incredible athleticism and physical toughness during her elite career, but not her artistic expressiveness. But five years at UCLA under the tutelage of head coach Valorie Kondos-Field, a former professional ballerina, help turn the ace trickster into a polished and engaging performer. Kondos-Field is the choreographer of the human shows at San Diego's Sea World, and Maloney, along with Tousek-Renne, also performed in those during the summer after her college graduation.
It was Maloney's idea to audition for Cirque. Tousek-Renne, Maloney's UCLA roommate, was just tagging along on the trip to Las Vegas. "I wanted to keep flipping and performing but not competing," Maloney wrote to me in an email. "I thought this would be a good path for me."

It turned out to be a good path for both of them. When one of the casters learned that Tousek-Renne was also in Las Vegas, she reached out to the former Canadian Olympian and asked if she would like to audition. "I said, 'Why not?'" she said. "Kristen and I were one of the five or six people who made it through to the end of the audition day."

It was not Tousek-Renne's first exposure to Cirque du Soleil. That came at Gymnix, an annual international competition held in Montreal. "They brought us to the studios to have a tour and I was watching practices happening and I thought it was the neatest thing what they were doing," Tousek-Renne recalled. The tour that Tousek-Renne participated in as a young gymnast was, I imagine, similar to the one getting underway just as I arrived at the Cirque facilities. Most of the people there were wearing credentials that signified some kind of involved with the world championships—coach, judge, some other gymnastics official. I didn't see any competing gymnasts during my visit, although it was smack in the middle of the competition schedule.

It takes more than a shift in language to turn Cirque recruits into artists. When gymnasts arrive in Montreal, they undergo extensive training in various performance arts. "We do everything from voice class, singing to acting classes to clowning," Tousek-Renne said. "Everyone who comes in as a gymnast is a little bit hesitant, but by one month in you're already starting to be more vulnerable, be more flexible, open your mind to creating characters and stepping out of the box a little bit."

Caitlin Maggs, an acrobatic choreographer for Cirque, has worked with the gymnasts both in Cirque and outside the company, and noted that they tend to struggle with expression. "I've noticed that their [the gymnasts] emotions are very fixed," she told me. "They'll just go from having a happy face to an angry face to a sad face with no apparent basis, not connected to any real emotions. It's just facial expressions.

"[But] those transitions are really important," Maggs continued. "The trick they're doing, what is the emotion they're expressing through that trick and how is it connected to the whole act. What are they expressing? What's their character? For them, to think in those terms, in this trick I can actually still be the character I'm playing."

For gymnasts, choreography and expression is something that happens between tumbling passes and difficult technical elements; it represents a break in expressing. Dance and acrobatics are not continuous in a gymnastics performance. First you tumble, then you dance, then you tumble again. The acrobatics and expression, if they manage to pull the latter off in a credible way, are seen as quite distinct from one another.

"The acting part is physical expression and the acrobatic/gymnastics part is also physical expression," she said.

The gymnasts Cirque recruits may be a blank slate in an artistic sense, but they arrive in Montreal with decades of training on their bodies and all of the attendant wear and tear. It was particularly extreme in Maloney's case—this "as told to" in espnW goes into great detail about the number and extent of her injuries, which shoulder surgery and multiple procedures on a stress fracture in her leg. All former elite gymnasts have injury stories to tell, but for them to have a performing career after their competitive careers are over, they have to figure out how to make their bodies do what they need them to do for as long as they can. In that sense, the line between professional athlete and professional performer effectively disappears.

Maloney was cast in Alegría and spent about two years with Cirque. "I was having a lot of shoulder pain and knew I couldn't keep doing it forever," she told me. "They suggested surgery but I had already been through so many surgeries that I couldn't imagine going through surgery and rehab for a torn ligament again."
---
The story of a gymnastics competition, or any sort of athletic competition for that matter, comes down to an unpredictable outcome. We know who is favored to win before it starts, of course, but what's fun about watching sports is not knowing how something is going to end. Basketball player miss shots they should make and make shots they have no business taking. Quarterbacks throw near-perfect passes that get picked off and imperfect passes that turn into game-winning scores. Gymnasts fall, or don't. It's that suspense that gives a competition its narrative arc.
That's not how it works in live theater. No matter how difficult the elements, the audience doesn't expect to see falls in the way they do at a gymnastics competition. Mistakes do happen, of course, but they're rare. They're certainly not part of the appeal of watching a theater performance. The best theatrical performances have quirks and grace notes and other identifying marks, but by definition they don't have mistakes. There's more than one difference between sports and theater, but this is a definitional one.

I asked Clark how it was possible for the artists—I picked up her parlance eventually—to hit very complex technical elements day after day, without seeing the kind of misses we had just watched at the gymnastics world championships. (2017's competition was particularly splat heavy.) "What we'll do," Clark said, "is ride a very fine line between pushing as far as we can the boundaries of what it is our that our artists do onstage while ensuring that their actual execution is as predictable as live performance can be."

This isn't just a matter of practice and more practice. Cirque has folks who do risk assessment and performance coaches who keep track of which elements have high hit percentages versus other that may be more inconsistent. A gymnast might decide to put a risky skill in her routine because it's a worth a lot in terms of point value. But for Cirque, there isn't the same incentive to increase the difficulty of an act if it means a sacrifice in execution. In performance, each and every skill isn't quantified; there's aren't any bonus points for doing a triple back instead of a double. This is another advantage that theater has over sports in this area—the required elements are built around the performers, instead of the other way around.

"For us to actually put any new type of skill into an act, into a show, takes a very rigorous procedure to ensure that that artist is hitting that skill virtually each and every time so we don't take the kind of risks or implement the kind of strategy that somebody might in a competitive environment," Clark said. "We simply have an elaborate sort of system to ensure that everything onstage is 100 percent ready to be onstage."

But of course nothing—no sport, no theatrical performance, nothing that has anything to do with any human being—is perfect. Last month, Yann Arnoud, a Cirque artist, slipped and fell to his death during a show in Tampa. He was an immensely experienced performer, having been with Cirque for 15 years. One of the things that several of the articles on his death noted was that at the time he fell, he was performing a new act onstage for the first time. He was the second artist to die in Cirque's history. (In 2009, one Cirque artist died in a training accident at the Montreal headquarters.) The first happened in 2013 when Sarah Guyard-Guillot fell and died during a live show. Back then, the Guardian reported:

"Safety protocols and detailed risk analyses are a part of every routine's creation and there are a host of trainers, physiotherapists and even performance psychologists on staff to keep artists healthy. In a 2009 study published in the American Journal of Sports Medicine, researchers from six Canadian and American universities examined five years of data for Cirque, and found the company's injury rates less than those for college gymnastics."
This college gymnastics season, in particular, has been particularly devastating. According to this unofficial tally, 21 gymnasts ruptured Achilles tendons and 7 tore ACLs. These are season ending—and in the case of Florida senior Kennedy Baker, career ending—injuries. Being considered safer than college gymnastics shouldn't really be a feather in anyone's cap.
Guyard-Guillot's death was ruled an accident and Cirque du Soleil was fined $25,000 for several safety violations according to the Nevada Occupational Safety and Health Administration.

---
When I started working on this story, I was mostly interested in the ways that gymnastics diverged from the performing arts and how gymnasts had to change in order to fit into the world of Cirque. I was sure that was how it would work: that the gymnast needed to change. But sometimes the influence flows in the other direction.
Clark told me that what she looks for at competitions are not just individual performances but current trend lines in the sport. In particular, the transformation of an event like uneven bars over the last decade has been most advantageous to Cirque. If you go back and watch routines from the 90s and early aughts, the majority of gymnasts, save for geniuses like Svetlana Khorkina, tended to concentrate their elements on the high bar and only touched the low bar as often as the rules demanded and did very little of substance there.
This was the bar routine that earned the gold medal for France's Emilie Le Pennec at the 2004 Olympics. It was certainly a gold medal worthy routine—she performed an incredibly difficult rarely seen Def in combination with a hop full and double twisting double somersault dismount. But Le Pennec largely ignored the low bar in this performance.

Compare this to the routine from Russia's Aliya Mustafina, who won the Olympic gold on bars in 2012 and 2016.
In her routine, Mustafina works both bars, going back and forth between the rails. The low bar is more than a hurdle she has to clear with her legs when she taps for the giants.

It's not just Mustafina; many elite gymnasts are performing routines like hers. Over the last eight years, the event has become much more dynamic. And according to Clark, the gymnastics apparatus inspired a whole act in one of Cirque's shows. "Think of any beautiful bar swinger and we would love to have them on Amaluna where we have an act which is designed and inspired by uneven bars," she told me.
Though the artists in Amaluna are not performing transitions that are difficult as some of the ones Mustafina performed in her Olympic-winning routines, the act still features the same dynamics of moving from bar to bar. It also recalls an earlier period in women's gymnastics uneven bar history, from the late 1960s to early 1980s, when the bars were close enough together so that a performer could grasp the high while beating her hips against the low and rebounding up.

Tousek-Renne performed in the uneven bar act of Amaluna alongside other gymnasts such as Imogen Cairns and Marissa King, both Olympians from Great Britain. King, an alumna of the University of Florida and a member of their first ever NCAA championship team in gymnastics, still performs along with many former gymnasts. "In my act alone, eight out of the nine of us competed collegiately," King wrote in an email. "On top of NCAA careers, there are four Olympians, and former national team members just within the Amazons." (In this particular act, the female performers are playing the roles of Amazons, sans the breastplates.)

Like Renne-Tousek and Maloney, King had been trying to figure out a way to extend her acrobatic life after her four years of collegiate eligibility was used up. But she had one more year to go to finish her dual degree. "I decided to also help out with the gymnastics team to stay involved and give myself an opportunity to train for Cirque, as this was something I was really hoping to do next," she said. King said that she wasn't burned out on gymnastics the way some of her former elite peers were. Still, things didn't fall into place as easily for King as they did for Maloney and Tousek-Renne. "After sending many emails and video material, nothing opened up for me." King had to do what her non-acrobatically inclined college peers are forced to do—look for a desk job. She briefly worked as an associate producer for FloSports, at their gymnastics site FloGymnastics. After a few months, Cirque finally came calling. "Cirque offered me a contract for Amaluna," she wrote, "and here I am now."

---
This weekend's NCAA championships in St. Louis will mark the end of many young women's competitive gymnastics careers. The seniors—or the sixth year competitors in the case of Peng Peng Lee of UCLA, who was granted a sixth year of eligibility after being forced to sit out two full seasons due to consecutive ACL repair surgeries—will get one last turn, and then will have to turn to face a future away from the mat.
In 2010, former world champion turned Sooner star Hollie Vise was interviewed by Inside Gymnastics Magazine at the end of her NCAA career. Vise, who had gone from winning the 2003 world title on bars to not making the 2004 Olympic team—in a supreme act of cruelty, the team was named live on NBC so that the cameras could capture the anguish of teens who missed out on their dreams in real time—was reborn as a gymnast at Oklahoma. She went from being completely out of shape as a freshman to making lineups on all four events and helping the Sooners to their best ever finishes—second—at nationals. (Since then the Sooners have only improved, winning three NCAA titles and entering this weekend heavily favored to pick up their fourth.)

"I find myself thinking, 'When I go in the gym the next time, I'll try this,' and then it's like, 'Oh, there is no next time,' That's scary," Vise said shortly after her last NCAA competition. "As soon as it started getting really good, it's over." This is what hurts about endings, in sports and everywhere else. But, as Cirque's growing corps of gymnasts proves, what looks like the end might just be a change—from leotard to costume, gymnast to performer, and from one challenge to another.