Iran's soccer team may have found it difficult to concentrate on their World Cup qualifying match in South Korea today, since their country is, you know, engulfed in the cleansing flames of democratic awakening.
However, a few of the players found a way to send their thoughts back to their countrymen, by wearing green wristbands out on the pitch. This incredibly subtle form of protest works because green is pretty much the only color allowed in their country and you can't use your hands in soccer in anyway. After halftime, though, only captain Mehdi Mahdavikia still had his on, which I'm sure had nothing to do with the crazy dictators running their country.
"Soccer Team official: green wristband were due to religious tradition, we removed to deny any speculation and misunderstanding."
That could be true, I guess. It could also be true that they were ordered to take them off, because both the players and team officials knew the game would be on state television back home and many of the anti-government protesters have been wearing similar attire in support of robbed presidential Mir Hossein Mousavi. What the TV watchers probably didn't see, however, were the Iranian fans in the stadium in Seoul waving flags that read "Free Iran" and "Go to hell dictator." That might have sent some kind of message too.
By the way, Iran gave up the game-tying goal in the 81st minute and now needs North Korea to beat Saudi Arabia in order to stay alive for the 2010 World Cup. (Come on, Axis of Evil!) So I guess the whole country is having a rough week.
G/O Media may get a commission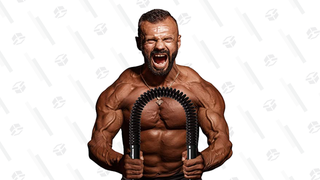 10% off
Zenooze Boa Power Twister
Iranian soccer players wear green protest bands [Fox News]
Iran Soccer Players Behind Mousavi? [CBS News]
Iran Updates: Live-Blogging The Uprising [Huffington Post]
Soccer Protest: Iran Players Show Support for Mousavi [Time]
Iran players don protest colours [Iran Focus]