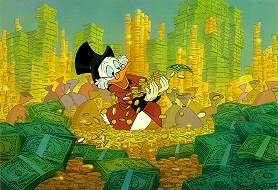 You might remember back, a few months ago, when we told you about the brothers Silna, the former owners of the ABA St. Louis Spirits who, to this day, get one-seventh of the revenue of all NBA television contracts even though they haven't owned a team in 30 years. Well, with the new NBA/ABC/ESPN contract signed yesterday, they're raking in even more free cash.
The Silna brothers, Ozzie and Dan, learned that they'll be paid some $ 136 million over the next eight years. The checks will be coming from the Denver Nuggets, the San Antonio Spurs, the New Jersey Nets and the Indiana Pacers.
CNBC's Darren Rovell wasn't able to get the Silna brothers to talk — they're busy eating $100 bill sandwiches — but he's still got a compendium of outstanding stories. These guys are geniuses, and David Stern surely can't wait for them to die.
Silna Family "Fortune" And The Draft [CNBC]
Nice Work If You Can Get It [Deadspin]