Last year, we spent a week with Greg Jackson, a top fight trainer, as he and his team prepared four athletes to compete in the Ultimate Fighting Championship. We were granted unusual behind-the-scenes access so that we could answer a fairly straightforward question: Just what does a great coach do, and why does it work?
Bass' ERA stinks, but not compared to who he is off the mound | Worst of the Week Countdown

Saturday evening, Jan. 26, 2013
There's a thin wash of blood seeping from a gash running along under Shawn Jordan's right eye, and the other corner—Mike Russow's corner—sees it.
"Tear it more," Russow's men tell him. "Make it tear more, understand?"
Over in Jordan's corner, across the cage in the United Center, his trainer, Greg Jackson, is telling him to take four deep breaths.
"Shawn," Jackson says, "we need to change the parameters of this fight a little bit."
Russow—a moonlighting Chicago police officer who comes in at about 250 pounds of lump and gristle—spent most of the first round bullying Jordan, a fullback on LSU's 2007 national championship team who's now in his 18th professional fight. He tied him up and threw loose, artless flurries, landing a right hook a minute in that set Jordan running and nearly put him down. Russow collared him, and tried to wrench him down to the mat, and when Jordan shook him off, he just hooked him again, opening up the gash.
"After you move your head, blast double," Jackson tells Jordan, who's breathing deeply. "Get him down."
As he says this, he's calm; Jackson is slowing things down, deadening the moment's urgency and reducing the fight to a series of concepts. I've seen this sort of thing before. Three nights ago, I watched him talk through the bout with Jordan in a hotel room where the fighter was working himself into a panic, worrying about how he'd trained with new partners over the last few months on a torn calf muscle that never really healed and conjuring all the bad things that had happened in his last fight, when he took on heavy hitter Cheick Kongo on short notice and lost a decision. Jordan talked himself out, slouching over toward where Jackson lay on his bed with his head on a pillow, listening. That was the coach's cue, and the balding, knot-eared 38-year-old began to murmur in the big man's ear. "He's going to shoot on you," he said in the hotel room, "and it's not going to work." Then he began to accurately describe everything that would happen in the fight. You could see Jordan unwind as he did, sure in his certainty that his coach was no kind of liar, and saw what would happen better than he could.
Now here's Jackson on Saturday, addressing him again in that same deliberate way right in the middle of the United Center, with thousands of fight fans baying and the man he's been thinking about for weeks simmering over in the far corner, where they're working themes of blood and urgency.
Parameters. It's a word Jackson uses a lot, and a good word for coaches to use, though you won't often hear them say it. It suggests an awareness that athletic performance involves expanding or limiting a set of possibilities; that a contest isn't a matter of willpower to be won only by overcoming yourself, but a problem to be solved, and that a competition is, more than anything else, about imposing a certain order.
Ideas in this line have won Jackson a reputation as perhaps the best trainer in the fight game and as a man who profoundly misunderstands the point of his sport, which has less to do with what you do than precisely how you do it. These aren't exactly irreconcilable positions.
When the fighters come out of their corners for the second round, Jordan is moving fluidly. He takes tepid jabs to get into closer range, and works hooks and uppercuts that barely connect but open up enough space for him to come in on Russow. In a loose stance, palms out, moving his head in and out, he throws a checked kick, moves his head, and shoots the double, blasting Russow down against the edge of the cage, where he nails him with wound-up fists and tight elbows.
Turtled up, Russow gives up his back for a choke Jordan can't quite sink, sweeps out from under, and ties Jordan up against the cage. It's all he has left to give, though, and with two minutes left, Jordan gets him down again, and moves from half guard to full mount and then takes his back, slipping elbows and hammerfists at every point of transition, laying them in until referee Herb Dean finally pulls him off. It's a second-round technical knockout at 3:48, and for a moment, at least, it seems that all the 16,000 people in the crowd have gone silent.

Wednesday afternoon, Jan. 23, 2013
The Ultimate Fighting Championship has taken over the Carbon & Carbide Building, and for the next four days, the corridors of the prettiest building in Chicago will be lined with fixers, hustlers, deranged enthusiasts, professional entouragists, proud parents, lovely girlfriends, and fighters, all of them in town for the Saturday night card at the United Center. Greg Jackson is working the lobby.
Jackson's team, run out of Albuquerque, N.M., in collaboration with the former kickboxing champion Mike Winkeljohn, counts among its members the light heavyweight champion Jon Jones and former interim welterweight champion Carlos Condit, along with a vast array of other contenders, prospects, journeymen, and nobodies. In all, it may be the deepest collection of talent in the sport.
The best testament to Jackson's skills might be that more than a third of the card's 11 bouts will feature his fighters. Shawn Jordan, who's coming off a loss and will probably lose his contract with another, is fighting in the third preliminary; Chicago's Clay Guida, a fringe contender beloved for his frenzied style, is in the sixth; Donald "Cowboy" Cerrone will get a lightweight title shot with a win in the semi-main event; and John Dodson is fighting for the flyweight championship in the main event, which will be seen on Fox by an audience of more than five million viewers.
In addition to his responsibilities to these men, Jackson has, his assistant Julie Kedzie (herself a ranked bantamweight) reminds him as he traipses about, a lot of other business going on. There are elaborate itineraries to plot out—Jackson leaves his family to corner fighters most weekends, and so it's important to figure out, i.e., the most efficient Albany-to-Dallas route—plus a woman who wants to join the team, newly imported Dagestanis, his upcoming role as a coach on UFC competitor Bellator's reality TV show, meetings being held at the gym, and the matter of contracts.
A fighter who wants Jackson to train and corner him is supposed to pay him 15 percent of his purse. These are often small, though, and after the manager's cut, living expenses, taxes and the rest are worked out, Jackson sometimes just sort of ends up not getting paid. So as he makes his rounds, getting treadmill work in, signing autographs, and bantering with all the other fight people who are just hanging around and waiting, Kedzie repeatedly alludes to the idea of having fighters sign binding agreements, finally asking at one point if he's actually going to do it.
"I am, I am," he says, but there isn't much more said about it. He's clearly more interested in heading upstairs and making the rounds with his fighters, first among them John Dodson, who's about 72 hours away from the most important fight of his life.
Twenty-eight years old, 5 feet 3 inches tall, Dodson—just back from a public workout—is the second-best 125 pound fighter in the world, and one of the very few his size who can knock an opponent out clean. It's an odd match of skill and temperament. Lounging around his room, pouring candy-colored powders into a gallon jug of water while wearing a John Romita Spider-Man shirt, he comes up and gives me a hug before we've even been introduced, and then goes back to explaining how annoying it is when reporters ask him to just up and dunk a basketball. (This apparently happens fairly often.)
"It's like, you want me to just dunk?" he says. "I need to stretch, man."
Dodson and part of his retinue—Jackson; Kedzie; her sister, Jennifer; striking coach Brandon Gibson; and team general manager Ricky Kottenstette, at present—are due at a Bulls game later, and waiting for now, which is mostly what goes on during a fight week. Dodson is talking about a poll a website held where fans voted on why exactly they don't like him. They settled on "Because he's so happy."
"I'm not the nicest," he says. "I'm just the happiest."
Kottenstette, who's walking around with his left ear crooked toward his shoulder due to neck problems, is wondering which fighter he should recommend to a CNN producer called up looking for one to feature on an upcoming show—"American? Russian? Brazilian?" Jackson wants to know; the consensus settles on Nick Urso, a young flyweight fighting on the local circuits—and Kedzie is reminding Dodson that he's not supposed to be worrying over anything right now.
"Anyone's in your hair, let me know," she says. "Your brother? His girlfriend? That's fine."
Dodson, though, is precisely as stressed as you'd expect of someone who managed to convince Pop Rocks to sponsor him. He's watching previews for bad movies, talking shit ("When I win the title," he says, "I'll be like Jon Jones. 'Skin my apple! You know I don't like the skins!'"), quaffing from his giant jug, and explaining how the key to smart fighting is an empty mind.
"When any fighter has to start thinking about more than two things, they're done," he says. "I like to just have key notes." This makes enough sense; during the fight, his heart rate will be up over 180 beats per minute, which makes conscious thought nearly impossible. For weeks, he's been committing patterns and sequences to muscle memory, which his corner men—Jackson, Winkeljohn, and Gibson—will cue by shouting out keywords during the fight. If he's trained properly, the whole thing should be almost automatic, a matter of strict reflex.
Demetrious Johnson, the champion, is a skilled wrestler who works angles to get close, land shots and exit without getting touched, so the plan is to move laterally and pound him with crosses and jabs. This should force him to move backwards and thus prevent him from getting off on his strikes. In theory, this should allow Dodson to clip him. The main thing for the challenger to do is control himself, so that he can carry out his plans.
"Breathing," Jackson says, "is the only way to bridge the sympathetic and parasympathetic nervous systems." Consequently a lot of what he does between rounds has to do with just getting fighters to calm down and breathe and get their heart rate low enough to reset and think and remember their cues. It works; so do other things. Dodson says that the best cornering he ever got was from a buddy who, right before a fight, gave him some real motivation.
"Little John, I need you to kill this motherfucker," the guy said. "My ex-girlfriend is training with him. Show him what's up, nigga!"
---
Sitting around with Dodson and co., bitching about how the guys in Chief Keef videos really ought to put some shirts on and how he's wrecking Steven Seagal if the man ever sets foot in his gym, Jackson doesn't come off as any kind of guru. That would surprise a lot of people, because he can be and often is reduced to a recognizable figure, something like the Phil Jackson of the fight game: the coach whose genius instrumentalizes his athletes and reduces them to the sum of their functionality, a thought leader destined for corporate lectures on how accounting for dependent variables made Georges St-Pierre the best welterweight in the world and what that can do for your social media strategy. This is the caricature Greg Jackson, who devises scientific game plans and imposes them on fighters as a way of demonstrating how smart he is, and actively counsels his charges to work slow, smart, safe, and boring fights so as to win by points. Implicit in this is the idea that his fighters are so many marionettes playing on strings, which is where it goes precisely wrong. Jackson's success has less to do with making fighters yield to him than it does with how he yields to them.
This is partly a matter of personal inclination, and partly of a background that placed Jackson outside rigid hierarchies. He grew up hard in Albuquerque, the son of Quakers who moved to New Mexico from Illinois and raised him to love music and wrestling and to practice an absolutist form of pacifism that didn't entirely take. After high school, he set up shop teaching Gaidojutsu, a ground-based martial arts system of his own devising, and began a continuing self-education in subjects like physics and military history, eventually linking up with Mike Winkeljohn, a world-class kickboxer who also taught in the area. The two drew up plans around what their fighters were capable of or enjoyed doing, and expanded those capabilities through such methods as having the fighters run up into the nearby Sandia Mountains, or spar to Beethoven, or go spelunking through the abandoned ghost towns that run out through the desert, as well as work precise drills that built their senses of space and timing.
The first Jackson/Winkeljohn trained fighters to attract national attention in the mid-aughts—Diego Sanchez, Rashad Evans, Keith Jardine—were, perhaps as a consequence, deeply idiosyncratic stylists, who weren't much like one another but certainly weren't like anyone else. At a time when top fighters tended to solve problems by doing whatever they were doing more and harder, what these fighters had in common—disruptive senses of timing, off-kilter movement, and rigorous commitments to their game plans—set them apart.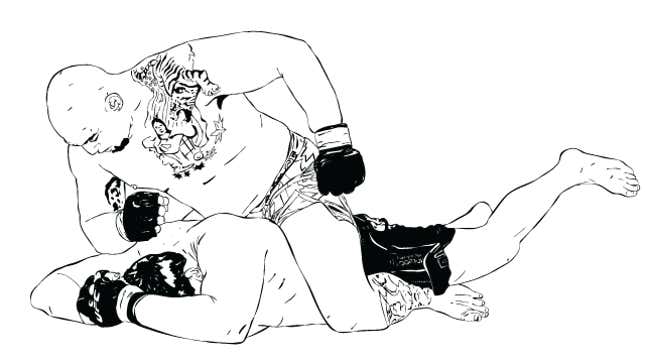 Because his fighters were unique, and because he's not just smart in the ways all good coaches are, but also in ways fairly few are—he listens to modern jazz and reads postmodern philosophers and enjoys explaining the relevance of counterpoint and game theory to the art of training—Jackson won a reputation best summed up by the fact that Sports Illustrated once called him "the Philosopher King of MMA." It hasn't been entirely good for him.
There is a broad, deep part of the UFC's fanbase that equates Jackson with the rise of what they call point fighting; embodied in some of Georges St-Pierre's more methodical bouts, it's the stylistic equivalent of a Red Sox working deep counts or a Spur working the block. It's risk aversion, basically—a set of tactics oriented less around the decisive sequence than around the accumulation of marginal advantage—and not necessarily what people want out of their cage fighting. One higher-up within the UFC's promotional machine, a good friend of Jackson's, tells me that fighting is best understood less as a sport than as a simulacrum of one, an aspirational entertainment in which the fighters compete less to win than to draw gates by serving as proxies through which fans nowhere near as fast or as tough as they'd like to be can live. (In that way it's like any sport, only more so.) Dana White, for his part, vigorously dislikes what Jackson represents. He once called him "a fucking sport killer," which at least lives on as one of Kedzie's nicknames for the boss.
"The guy is a fucking weirdo, man," White said in 2012. "Greg Jackson should not be interviewed by anybody ever again, except by a psychiatrist."
Narrowly, the critique is that Jackson scripts safety-first game plans, which lead to intricate bouts centered on defense that bore crowds because the fighters are trying to win rounds rather than win outright. This is demonstrably untrue: Jackson's fighters have an above-average finishing rate, and the likes of Jon Jones and Cowboy Cerrone are as violent as anyone in the sport. Facts are irrelevant, though, to the broader if generally unstated critique that Jackson fails to understand that fighting isn't actually about fighting but about putting on a show and, more than anything else, about getting paid. (White, if he were a trainer, would certainly get his 15 percent.)
The low point of this inside-fights debate came in August 2012, when a Jones opponent, Dan Henderson, pulled out eight days ahead of a light heavyweight title fight at UFC 151, and the promotion came up with a substitute challenger, Chael Sonnen, a trash-talking middleweight coming off a loss. Jackson and Winkeljohn advised Jones not to take the bout, partly because Sonnen, while not especially dangerous to Jones, was stylistically Henderson's precise opposite, and partly because much of what makes Jones so good is the way he works to be perfect in every fight. To put him in a position where he couldn't do that, because he would have no chance to train specifically for his opponent, would invite unpredictable long-term consequences.
So Jones declined the fight, and the UFC canceled the card, costing them millions of dollars and undoing all the work every other fighter on the card did to prepare for it. White, in talking about how Jackson and Jones had "murdered" the event and how Jones was a "diva" and so on, at times seemed a breath away from using the word uppity; Jones talked about how he felt like a "piece of meat." The whole thing was rooted in deeply conflicting views of the nature of the sport, with the Jones camp saying that to ask a finely trained athlete to unlearn what he'd spent the last three months working on and thinking about on a few days' notice was unfair, and the UFC saying that a fight is a show, and that shows have to go on. Everyone was right and no one was right, but the whole thing exposed a vast gap between what the UFC actually is and what it might be, and Jones and Jackson were on the wrong side of it.
Another way to look at this, though, would be as exemplifying a kind of idealism. By refusing a bout with a badly overmatched opponent and an attendant seven figure payday, Jones was showing a quite Jacksonian respect for the possibilities of a fight, and an awareness of what can happen when you haven't prepared properly. Another word for that respect might be fear, which is, more than anyone much acknowledges, what drives really great athletes. One of the things to like best about Jackson may be that he knows it.
"Cowboy, he's so brave," Jackson says. "That's what I like about him. He gets scared, and he overcomes it. Psychopaths, who don't get scared, they don't impress me. And people who are so damaged in their lives that the only time they're happy is when they're fighting. But people who overcome it, that impresses me."
Fighters talk about how when the cage door shuts, the whole world disappears. Everything gets quiet, and time moves differently, slower and faster at the same time. It leaves you as vulnerable as you can be, and as aware of your own failures, and consequently there is nothing more humiliating than a certain kind of loss. It isn't at all like missing a shot at the end of the fourth quarter, and just the possibility of it can eat away at you. So a lot of what Jackson does involves finding ways to keep his fighters thinking about technique and not fretting over everything that might go wrong. This involves paying close attention to the contours of their unique neuroses, and altering the way he presents his own personality as required, and above all keeping them fixated on what they can actually control.
"It's a process of keeping things light," he says. "You can't get complacent. And you have to be careful, because sometimes things play like records in their heads."

Thursday afternoon, Jan. 24, 2013
The UFC is holding a press conference at the United Center, where they announce the retirement of already retired welterweight great Matt Hughes and his appointment as vice president of athlete development and government relations. (As far as anyone can tell, this means that he'll occasionally give speeches to bored fighters about not making rape jokes in public.) There are few questions for the fighters, and the highlight of the event comes when an asshole poses this question to a somewhat unhealthy-looking Dana White: "Dana, with everything, all the moving facets of the UFC and everything, all the moving pieces and brands and assets, how do you manage your stress?"
Even by the general standards of the sports press, fight reporters tend to be useless and/or mildly corrupt, with many of those who aren't just amateur enthusiasts essentially serving as UFC public relations specialists. (A fair number take money, one way or another, from the promotion, and many of those who don't take its money at least take its direction.) The basic irrelevance of their questions, and the way the reporters persist in asking fighters to reduce themselves to a trait or two so as to aid in the selling of the bouts as great contests of personality—there are open discussions of playing heel, etc.—really wears on the fighters, reducing them to proxies for themselves, and alienating them from their own techniques.
Jackson is explaining this on a concourse overlooking the court, standing beneath the banner recognizing Jerry Krause's many contributions to the great Bulls teams of the 1990s, when an asshole—possibly the same guy who asked White about his stress levels—emerges from nowhere to interrupt our conversation.
"Hey," he asks, in a supercilious tone. "Do you know where to find Greg?"
"Greg who?" asks Jackson.
"Greg Jackson."
"Oh, I think he left," says Jackson.
"Alright," says the asshole, pleased with his own importance. "We were supposed to do an interview. I'll catch him tomorrow."
Calculating promoters and playacting reporters can turn a simple and yet vastly complicated art into something garish, less a spectacle than a parody of one, and it works Jackson's nerves during a fight week, as you'd expect. What calms them are his team—not just his students, but the coaches like Brandon Gibson and Izzy Martinez who do much of the actual repetitious physical work that turns a fighter into a better version of himself—and the game itself. At its best it's like a logic puzzle, a set of parameters operating against one another and creating problems to be solved through reason.
A fight, in the end, is a fight, people locked in a cage hurting one another for money, and Jackson's job is basically to figure out what will break someone and teach his students how to do it. At the higher levels, though, where fighters like John Dodson work, the techniques and the strategies are so strong that it all plays out as an intricate inner game, tactics operating against countertactics in service of competing ideas of order. It's a beautiful thing to watch from up close.
There's a great welterweight out of the American Kickboxing Academy in San Jose, Calif., named Jon Fitch, for instance, who will be fired in a few weeks, nominally for being supposedly dull and well-paid, and in truth because he's not quite good enough to make a run at the title and still good enough to truck most of the rising contenders. He once fought Georges St-Pierre for the championship and took a terrible beating, but never came close to breaking.
"Fitch," says Jackson, "is the master of the takeover. He gets you into this position where you're just cranking on him, you can't finish him, and then you go to reset—and that's when he's got you. When we game planned for GSP, I told him, 'You're going to get him to where you think you've got him finished, and that's when you go to 80 percent.' Because that's how he gases you out. He gets you into that position where you've got to psychologically reset."
The inner game isn't, though, just about that kind of trap and how to counter it, or about discipline or knowledge of tendencies. Most sports aren't like life; what you do in the bottom of the ninth inning or in stoppage time doesn't necessarily reveal anything essential about your character. Fighting, because of the intimacy and violence of it, is different. It really does reveal strength and weakness. Some people break easily, and some never do at all.

Thursday evening, Jan. 24, 2013
Jackson, Kedzie, Gibson and co. head over to the Art Institute, where they admire Magrittes and sculptures of Lincoln and, along with other bewildered patrons, puzzle over an interpretive dance inspired by Picasso's "The Old Guitarist." Later, they head to a plain conference room on the second floor of the Carbon & Carbide Building, lined wall-to-wall with blue gym mats, where John Dodson is getting ready to work the mitts. Right now he weighs in, per a calibrated scale, at 132 pounds, putting him on track to make his fighting weight tomorrow. As he winds up his hand wraps, he's less worried about that than about what better known fighters are allowed to get away with.
"When I punch people in the legs, it's a nut shot," he grouses. "When Ben Henderson does it, it's the best thing ever."
George Lockhart, an inked-up former Marine who honestly looks tougher than most of fighters, comes in to issue reminders. As team nutritionist, he regulates the weight cuts by dictating what and when the fighters eat and drink. Dodson, according to his algorithms, is to stick with potatoes, rice, quinoa, and barley after his weigh-in is done, which really isn't what a man who has to lose seven pounds over the next day and a half wants to hear.
"I can't eat pasta," says Dodson, "now I can't eat steak. Kiss my ass."
"He says you eat horse semen, you eat horse semen," says Jackson.
While Jackson sits down along a bay of windows overlooking the junction of the Chicago River and Michigan Avenue, Gibson gets ready. He's young, an Albuquerquean who's tattooed along the arms, lean, quick, and just a bit bleary-eyed. Dodson has, over the last two months, done his hard training, which ranges from lessons on certain strikes and positions to basically full-on fights in the cage—"You don't rise to the occasion, you sink to the level of your training," Jackson says, echoing some apocryphal military operator—and right now the point is just to drill and let his body remember what it's supposed to do. Gibson's job is to dictate pace and timing and take hits with two kinds of pads. The first are the size of small plates and are used to take punches. The others run the length of his forearms, and are used to take kicks.
They start in with slow, precise right uppercuts and straight lefts before moving to a cross combination. Dodson works it again and again, incrementally faster each time, throwing in little flourishes—a duck, a knee to the midsection—once he's hit the right speed. New sequences start to build: a double jab followed by a head drop, a lateral charge and another jab; a flurry followed by a straight charge and a knee, and a rapid five-shot combination that ends with a crisp hook.
"Well," says Jackson, "the man is in shape. Push him across with those hooks."
The buzzer sounds on Gibson's iPad, signaling the end of the first of five five-minute rounds, and when they come back to the mat for the second, the pace quickens substantially. Dodson is throwing right hooks that tilt up on 45-degree angles. "Double this jab," Gibson says. "Pop, pop, pop, out… One… He loves that counter hook. You're not gonna leave yourself open… Nine, nine, nine." The left knees come in; Gibson holds his right arm out straight, his left crooked up in front of his face.
"John," says Jackson, "I really love the way you're keeping your chin down."
"Yes, sir."
"Lateral motion, everything is looking good." Gibson wants a ten and a ten—a power hook, twice—and Dodson comes with it and then moves back to the slicing combination, which he's working at near cage speed, a left hook followed by a right followed by a left while driving Gibson back. It's sharp and fast, and he slowly traces ducking a punch then breaking into it, or into a short sharp hook, with a nice slip.
"I'm gonna do that switch in the pocket he does," says Dodson.
The sequences they're drilling are, in essence, the game plan; the corner will call out the numbers attached to the various shots Dodson is throwing, triggering all the patterns he's been practicing. As the clock winds down on the final five-minute round, Dodson begins to let it fly, so that his hands simply blur.
"The new flyweight champion!" says Gibson. "John 'The Magician' Dodson! I feel so good right now, because this guy's feeling so good."
As soon as Dodson is done, it's time for Shawn Jordan to get his work in.
"Alright bear, alright savage," says Gibson, as he keys up the workout, moving the mitts in toward Jordan. As almost a rhythm exercise, Jordan throws alternating crosses, with Jackson tapping out the beat he wants against a radiator, bringing the pace up until it's hammering and ringing through the room.
"That's the way you go, Mr. Shawn," says Jackson. "About halfway through the second round, you're really going to open those lungs up."
The moves are simple—a plain slip and a hook—but they're all Jordan really needs. What he's doing is less about an intricate strategy than basic placements: He has a habit of pulling his left shoulder up all the way near his ear, for instance, that tenses his entire body and throws off his rhythm. What he's doing now is working it out of himself.
"I like seeing the things we worked on the last three camps still there," says Gibson.
"That's my foundation," says Jordan. "I look silly as shit when I'm fighting, but I don't get hit."
"Getting hit," says Jackson, "is overrated."

Saturday morning, Jan. 26, 2013
Up in Jackson's room, he and Mike Winkeljohn are running through the vagaries of the New Mexico real estate market—Winkeljohn has significant investments in commercial properties—and the possibilities of Jordan's game. Yesterday, Jordan, who will earn the smallest purse of anyone on the team by far Saturday, almost apologetically turned up in Jackson's room and insisted on giving Winkeljohn a hundred dollars, to cover lunch. His coaches like him more than he may realize.
"You know," says Jackson, "what I like about him in this fight is he's—I don't want to say nervous, but edgy."
For his part, Clay Guida, says Winkeljohn, is amped. The night before, he was up bouncing on his bed at 1:30, reciting the locker room speech from Rudy: We're gonna go inside, we're gonna go outside, inside and outside! We're gonna get 'em on the run, boys! And once we get 'em on the run we're gonna keep 'em on the run! He's jogging now, just to get have something to do and work off a bit of his anticipatory edge, and shoots Jackson a text: "Come get me off the treadmill in 20 minutes."
"He's just going to need five minutes with mitts," says Jackson. "Actually, let's go get him in 10 minutes. His whole game plan is to push the pace!"
The problem with Guida, a 5-foot-7 dervish with a long mane of curly brown hair and a bushy hobo beard, is how wired he is. Just walking around, he's constantly changing levels, grasping at invisible opponents, lightly banging his head, throwing devil horns at nothing at all when he thinks no one's looking. It shows in the cage: Between 2007 and 2011 Guida fought 13 times and won an award for having the best fight of the night five times. (This comes in the form of a cash bonus, usually around $50,000—much larger than many winner's purses, and a reminder to the fighters of what the UFC wants from them.)
After the last of those fights, a loss to Benson Henderson in a No. 1 contender's bout, Guida hooked on with Jackson and took a dull, stifling loss against Gray Maynard, an enormous wrestler whose fights tend to involve a lot of clinching and struggles for position. The line, of course, was that Jackson had taken one of the most consistently exciting competitors in the UFC and ground him down into a point fighter. In fact, the idea was to open his game up. One of the main adjustments Guida made after he started training in Albuquerque was to halve his warm-up; he'd been doing six full rounds of sparring in the locker room immediately before each fight, which Jackson and Winkeljohn thought was really a bit much. With more in the tank, the reasoning went, he could crowd his opponents even more, especially by opening fast and letting all his energy go.
"Remember," Jackson likes to remind him, "we're investment bankers. The first round is just putting money in the bank."
Tonight's fight will be different for Guida. Through his whole UFC career, he's fought at 155 pounds; this will be his first at 145, where he won't be outmassed as he was against Henderson and Maynard. This has involved a certain amount of science—George Lockhart, using some sort of computer software, has calculated that Guida needs to take in precisely 47 grams of carbohydrates between the weigh-ins and the fight to come in in ideal condition, for instance—but it's mostly art, a matter of figuring the matchup and how it will work.
The plan is, roughly, to swarm on Hatsu Hioki, who delights in sinking holds off his back, which is doubly dangerous for Guida given that he likes to plant his opponents there and that he has, in the past, shown a vulnerability to submissions. If Guida can dictate the velocity of the fight, Hioki should simply wear out; if he can't, it should come down to small positional battles, which may or may not play out to Guida's advantage on the judges' cards.
"All we're doing is turning that engine on, Clayford," says Jackson. "That's it."
Guida's mittwork, like what he does in the cage, is ridiculous, constant motion. He takes deep knee bends, alternating with lunges at points inches off the ground; he bounces, he bangs his head, he twists his arms at herky-jerky angles, and he throws leaping jabs, all coming in a free flow punctuated by hissing snaps. It's a little like watching a man getting electrocuted.
"Bet you wanted to do more," says Winkeljohn, as they wrap it up.
"Can always do that in the locker room," says Guida.
"Look at Clay Guida making all kinds of sense!" says Jackson. "That's why we call him the Professor now."
"Clean slate," says Guida, looking up at the ceiling. "Taking what we've learned, new weight class, new opportunities. Moving forward."
"The dude abides," says Jackson.
"The fight's already won," says Guida. "Now it's time to have some fun."

Saturday evening, Jan. 26, 2013
It's the sixth preliminary, and the entire crowd is chanting Clay Guida's name. He's in constant motion: throwing step kicks to the shin and little jabs, dropping under hooks, and coming with quick counters. He plays a pressure game, and if nothing quite connects, it still leaves Hatsu Hioki bewildered. Herking and jerking, coming in and out—"Heisenberg!" yells Jackson, the call for unpredictable head movement—and crossing side to side, Guida presents himself so that you have to hit where you think he'll be, and if you miss, as Hioki does with a kick, you're liable to end up as he does, slammed back down on the mat.
There are two problems, which is why Guida is a fringe contender. One is that he moves too much to do clear damage; you can angle out of the way of a punch, stamp, and jab at the same time, but none of the strikes is going to carry much force if you do. The other is that your opponent can slow the pace if he's good enough, and then you're nowhere.
So as the second round goes on, you can make a variety of arguments as to who's winning and why. Guida is throwing more shots, certainly, but Hioki, standing still, is landing twice as many, and most of the harder ones. Guida is hitting huge takedowns—at one point he hoists Hioki over his shoulder and just drives him down onto the mat—but every time he ends up on top, Hioki torques an exposed arm or locks up his hips, so that Guida can't do much but throw ineffectual shoulders.
"Investment banking!" Jackson shouts from the corner.
The third round follows the pattern set by the first two. Guida controls space and timing, but Hioki sticks his fist into the blur accurately enough to be outstriking Guida two-to-one, and to have raised an unsightly array of bruises all over his face. Guida lands a takedown; Hioki ties him up in a triangle; Guida drops him on his head. Measure time in top control against feathery shots against the active guard and you could run the score any way, more or less, which the judges manage. One scores it 29-28 for Guida, another scores it 29-28 for Hioki, and the third scores it 30-27 for the winner, by split decision, Clay Guida. The hometown crowd, at least, approves.

Friday morning, Jan. 25, 2013
Greg Jackson is in a triumphant mood, having realized that due to the number of coaches working—each fighter has a coach to go around with him, and Cowboy Cerrone has two—he will almost certainly not have to spend any time in a sauna today.
One of the more unappealing facts of the sport is that nearly all fighters drop 10 to 20 pounds in the days before a bout so as to make their contracted weight, and then gain it back within a day and a half. Some trainers hate this and want state athletic commissions to legislate various reforms which would, in theory, discourage severe cuts; Jackson thinks that because of arms-race logic, such reforms would just lead to fighters heading out to the cage with IVs still attached, hoping to maintain a size advantage. Either way, sitting in a steam room with a fighter sweating out the last bit of his body weight—as of last night, Cowboy was carrying two extra pounds; Clay Guida, four; and John Dodson, five—is the kind of thing you want to avoid if at all possible, so that when Jackson realizes he can, he gloats.
"Twenty years!" he says. "I've put in my time."
"That's what the support staff is for," Julie Kedzie says. "That's what the support coaches are there for."
A cut is a fairly straightforward process, but each one goes differently even when run according to protocol, and so while the other fighters, having come down to weight on time, are doing their preliminary weigh-ins, Cowboy is in the basement gym tucked away under the Carbon & Carbide Building, running in front of a mirrored wall glazed with inspirational quotes. YOUR BODY IS A WONDERLAND, it reminds him.
Cowboy is essentially an E. Annie Proulx character. He runs a ranch where wayward youths can discover themselves through fighting, as he did in back-alley brawls in towns running all through Colorado, has been mentioned in connection with at least one of the UFC's pneumatic ring girls, and took six bouts in his first year with the promotion, in not one of which could he have been remotely accused of point fighting. In his down time he's a serious wakeboarder and rock climber and a champion-grade shit talker who hasn't been shy about telling reporters that Jon Jones never should have dropped out of his fight at UFC 151. ("I don't think you should curl up and find a way out," he said.)
When Cowboy is done with running, he steps gingerly over to a cooler, fills up a Dixie cup, swishes a teaspoonful of water around in his mouth, and then spits it straight out.
"I can't wait to eat," he drawls. "I've got so much stuff planned."
Up in one of the second-floor conference rooms, where UFC has a scale stashed, he has to sit down to peel his clothes away from skin that looks like steamed rice paper and gives an almost transparent quality to the ink on his back: his own last name, floating above the head of an enraged pit bull, itself floating above a set of tribal-style wings. When he gets on the scale, he's a pound and a quarter above weight, four ounces above the maximum he's allowed to weigh in at and thus well outside his margin of error. (A fighter who misses weight forfeits a fifth of his purse to his opponent, and puts himself at risk of being fired with a loss.)
"I'll go sit in the sauna," Cowboy says. "It don't matter."
"Just stay sweating," says Jackson.

Friday afternoon, Jan. 25, 2013
Today, the actual weigh-ins are to be held at the Chicago Theatre, a baroque old auditorium on State Street that boasts a ceiling lined with murals of women floating on clouds and holding spears, unnecessarily ornate chandeliers that plunge down toward the balconies, and a great curtain that reaches up stories high. In all it's perfectly suited to the broad posturing for which the rituals of the public weigh-in are a pretext.
Before it begins, members of the UFC Fight Club, a sort of loyalty card program for the Ed Hardy set, fill the auditorium for a live question-and-answer session with Jon Jones. He's here to promote his role as a coach on UFC's reality show, and by extension his spring bout with Chael Sonnen, in which he will mercilessly dismantle him. He's also here to start making amends with the hardcore enthusiasts, who have never forgiven him for pulling out of UFC 151 and didn't like him much before that anyway because he is an athlete, complete with Nike sponsorship and two brothers who play in the NFL, and so the opposite of everything they've been taught to admire. (Athlete is an actual term of disparagement among UFC fans; what you want to be is a fighter.)
This goes off more or less as you'd expect. Jones is as pleased with himself as any other 25-year-old unbeaten millionaire fighter who thinks of his bouts less as competitions than as opportunities to reach a kind of aesthetic perfection, and the anger in the great sea of questionable tattoos and baseball caps consequently wells a little bit every time he smiles. To their credit, the stammering questioners say that shit right to his face, just like they said they would.
"I'm here representing MMA Junkie Nation," says an asshole, for example. "Alright, yesterday I heard a interview, you were on Opie and Anthony, and you made a big mistake, by saying MC Punk. Knowing that you were gonna come here to Chicago, where CM Punk is from."
"Oh," says Jones, who doesn't give a fuck about CM Punk. "Is that where he's from?"
"I felt like that was a diva move on your part."
"Oh, whoa, whoa, whoa, whoa," says Jones, laughing. "Do you want to come and do something about it?" This does a slight bit to win the crowd over, but the guy continues.
"Now, my question. Everything that happened last year, you had the mistake with the DUI and the cancelation of the card—"
"Oh, this guy. Jeez."
"Before all that, you kind of had this image of, like, you being Mr. Perfect—that, uh, cookie-cutter image. But it seems like ever since all that stuff happened, it seems like you've been a little bit more liberated, kind of like, Hey, you know what guys? I'm not perfect, but it seems like now you're kind of being yourself, where you don't have to be, you know, watching, like, what you're doing and stuff like that. Is that what you feel like?"
There is no way to actually answer this question; Jones summons a tone of weary public confession and sighs. "Um, Dr. Phil …" he begins, and then he explains that of course he felt the pressure to be perfect, but now he's learned from his mistakes and feels liberated, etc. For the rest of the hour Jones laughs his way through a series of increasingly ridiculous questions, and below the creaky old stage the fighters and their entourages, freshly delivered from the hotel in a bus, start to stray through the doors into a dank and dimly lit basement. Perhaps 120 chairs are laid out through a pair of long rooms that open out onto one another, and they slowly fill in as Burt Watson, the UFC's production manager, chastises the camp followers—trainers, parents, girlfriends and wives—who are taking them all up for themselves.
"Let's make sure the fighters have a seat!" he yells. "Make sure the fighters get a seat! Straight back, baby, straight through, gentlemen. Let the fighters sit first!"
They sit, eventually, and listen to a few perfunctory speeches from representatives of the state of Illinois and the UFC, and then head up to card tables set up at the front of the room, where doctors quickly check them to ensure that they're not on the verge of death and then clear them to fight. As their names are called, they head up to the stage to have their weight taken, pose for the roaring crowds and stare off against their opponents as Dana White glowers at them. In a back row, Demetrious Johnson, the flyweight champion, is laid out on the floor between two chairs his people have moved aside to make room for him, covering his face with his forearm and shuddering—the victim, I figure, of a tough weight cut. It's the sort of thing you see out of people who have just finished marathons and 300-mile bike rides.
---
The weigh-ins go off without incident, the unquestioned highlights being Clay Guida's reception—a spot check reveals that probably three-quarters of the audience know him personally—and John Dodson, stripped down to a pair of Teenage Mutant Ninja Turtle boxers, coming in at 124 pounds while smiling and clenching a bag of Pop Rocks between his teeth. The formalities over, the fighters all return to their rooms to start the process of slowly and carefully gaining 10 to 20 pounds in the next 30 or so hours.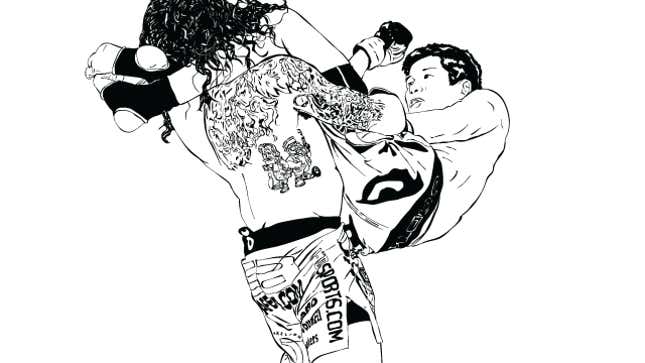 This is the worst part of fight week for everyone, where time just dies and everything distends into awkward silences. What lightens things up for Jackson, who might otherwise be staring off into space and muttering to himself, is that Mike Winkeljohn has arrived.
Jackson will tell you at least half of his success and reputation rightly belong to Winkeljohn, the more experienced and more publicly reticent half of an equal partnership that, to be somewhat reductive about it, matches up a grappler and a striker, an artist and a businessman, and a theorist and a practitioner. They call each other little brother and big brother and talk like someone eavesdropping on himself, all semaphore and allusion.
"If Cowboy stands tall and backs up," says Jackson, for instance, "he's going to get knocked the fuck out. If he stays tucked, mixes his kickboxing and his boxing, he'll be fine." This is enough for Winkeljohn to get a good idea of where he is, and move on to how they have to start working on a game plan for Carlos Condit's upcoming bout with Rory MacDonald, a rising welterweight out of Tristar, a Montreal facility that holds loose ties to Jackson's and is, in its way, similarly esoteric.
"Rory," says Jackson, "is so dedicated to the parameters of being a martial artist that if you come at him with some stuff that he's not used to seeing, it will mentally unwedge him."
This sets Winkeljohn to thinking and murmuring in assent, and then straight on to Dodson's chances. There are possibilities to consider, expressed as complicated descriptions of feints accompanied by rapid demonstrations of, i.e., how to subtly shade toward an advantageous angle by pivoting at the hips. "If he's backing up," Winkeljohn says, "we're winning."
Before too long, Winkeljohn, who's staying elsewhere, is off, and Jackson is muttering about how he doesn't really need to check in on everyone's rehydration because George Lockhart has it under control, and about how he doesn't really feel like it, but how he should anyway, so as not to be lazy. This leads to a quick round of calls. "Cowbusy, you got everything? IV's good? … Professor Guida, how are you? … I remember when I went on a date with some rice cakes once …"
Up in Cowboy's room, the man himself is holding court, sitting on a dresser while his entourage of six watches a hockey game with avid and unusual intensity while vaguely listening to him. Cowboy, it turns out, immensely dislikes a well-known member of the fight press, whom he takes for a poseur, and proclaims that he learned something interesting about him today.
"He's a puffer," he says.
As an exasperated and visibly embarrassed Kedzie points out, this isn't even true, but Cowboy doesn't care. He's a man of certainty.
"It's a front!"
Jackson just wants to make sure that the man is following his protocols, which, somewhat surprisingly, he is, carefully, compulsively sprinkling salt onto his palm and licking it. He has a bag of miniature rice cakes—"I think this is the carbs," he says—that taste like vanilla, and he offers them around. He has a Rockstar energy drink, which he carefully sips at regular intervals. He licks his salt, nibbles his rice cakes, and sips his drink, and waits.

Saturday evening, Jan. 26, 2013
The semi-main event. After Cowboy comes out to "Cowboy" by Kid Rock—of course he does; it actually works—Anthony Pettis, during his ring introduction, turns his back to the camera as announcer Bruce Buffer bellows his nickname and shows off the tattoo, done up in Gothic letters six inches tall, running across his upper back: "Showtime."
The winner here has been promised a shot at the lightweight title. It's terrific matchmaking in theory, with Pettis's avant-garde striking a uniquely neat fit for Cowboy's cramped stances and crisp, level-straight shots.
From the start, Cowboy stands tall, flashing jabs to establish range and coming in with quick little kicks that don't really work all that well. Pettis, squared off, lands a cartwheel kick and not long after runs up the cage and pushes off it by way of landing a knee to the body, which is the sort of thing that would make you think him vulnerable to getting knocked straight out if he weren't so quick and so sound. Switching off from an orthodox to a southpaw stance, he slips little shots to the ribs—advanced technique given that most fighters treat throwing shots at anything but the head as if they had to pay to do it—and moves east-west so suddenly that he has Cowboy checking kicks he hasn't even committed to throwing yet.
When the end comes, it comes quickly. With Cowboy tenting his wrists to block a feinted jab, Pettis knifes in with a perfectly timed left kick, splintering shin against rib and cracking the liver. Cowboy goes down like a collapsed building and Pettis runs, moving his hands around his waist, tracing the shape of the belt he'll win before the year is out.

Saturday morning, Jan. 26, 2013
It's just a few hours before the first fighters are set to enter the cage at the United Center, and word going around is that the fight of the weekend has already happened.
As the story goes, last night Jon Jones found himself in an elevator with Cowboy's crony Mikey, whose jawing has, in the past, caused no end of trouble for his patron. (Mikey supposedly managed to get Cowboy banned from the X Games, which must have taken work.) Jones, having had a few drinks and having heard some of the shit Cowboy was talking, started in teasingly on how he was looking for Cowboy and how he was going to kick his ass. This led, supposedly, to Mikey calling Jones a bitch and launching himself—in, again, an elevator—at the light heavyweight champion. The best version of the story has the scrap spilling out onto whatever floor some party was due to get off at and Brian Stann, the square-jawed middleweight contender, Silver Star recipient, and sometimes Jackson's fighter, running out of his room in his underwear to break it up. Having heard it in various iterations, all Jackson can do is roll his eyes.
"Just another thing I'll have to deal with," he says.
Whatever the truth of the thing, it raises an idea that the UFC, in its understandable desire to be treated as a normal sporting organization, tends to avoid: While, yes, fighters are rigorously trained professional athletes, no more threatening by temperament than your average ballplayer, that's still a threatening and reasonably violent temperament, given money, ego, youth, and (the women's bantamweight division aside) testosterone. The worst of it doesn't even come with the fighters, but with those in and aspiring to their orbit. One Albuquerque character, e.g.—"a dumb fucking ass," Jackson calls him—showed up at the gym one time demanding fights with Jones and Georges St-Pierre. (He got choked unconscious by an assistant coach for his efforts.) Some are even more ridiculous, showing up at the gym with crews of dozens, who take photos and elbow fighters out of the way so they can pose on the mats.
There was a felon, for instance, who moved to Albuquerque from Alaska with his two teenaged sons specifically so that he could work them out at Jackson's. The boys work kickboxing and jiu-jitsu three times a day, and follow a homeschooling curriculum that appears to involve no academic activity whatever, greatly depressing the actual fighters.
One day, one of the two kids was rolling with Carlos Condit, at the time the interim welterweight champion—the rough equivalent of playing half-court with James Harden. At one point, Condit got him in a lightly applied choke, and Will Fox, a photographer who at the time was documenting Condit's routine, got a nice shot of it, which was about as embarrassing as a shot of Harden dunking on you would be. Later that day, Fox put it up on his website, and got an immediate call from the felon. "You won't humiliate my kid!" he shouted. "Take that photo down! My kids will choke you until your eyeballs pop out!"
This is the sort of person you meet in fighting.
---
At 10 a.m., Shawn Jordan meets Jackson and Gibson for his next to last warm up, the last being the one that comes in the locker room, directly ahead of the fight. This is just a shakedown, the idea being to get loose, work through the movements you've drilled, let your body take over, and take a bit of the edge off.
When Winkeljohn shows up, the temperature changes. There's a rough fluidity about the way he moves in space that suggests exactly what a fighter he was in his day, and it carries through in mitt work much fiercer than Gibson's. When Jordan throws his hooks, Winkeljohn pops him lightly on the side of the head as a counter, the kind of shot that would do damage if it had weight behind it, and meets the mitt against the jab with a short, violent lunge of his own. He has a champion's stance, constantly making incremental movements on the balls of his feet, and the old speed echoes in the way he snaps off toward Jordan's shots.
Winkeljohn works while wearing goggles; a few years ago an errant kick caught his right eye and blinded it. ("Better be accurate," Gibson reminds Jordan.) The counters come, and Jordan speeds through, working tighter and tighter, and Winkeljohn squares him off, moving him into smaller and smaller spaces as they circle one another, throwing their shots.
"Your left leg's gotten faster," he says.
"Coach, I like that nine-twenty," Gibson says, referring to a particular combination of strikes.
"Nine-twenty's good?" Winkeljohn says.
"I like that five," says Gibson.
"I think you're good, there, Shawn," says Jackson. "We've got some stuff to do tonight."
---
According to the prevailing theory implicit in nearly all of the biographies, speeches, documentaries, motivational posters and other artifacts of the minor but profitable subsection of the leadership industry concerned with sports, the coach—or manager, or trainer—is the central figure in athletic competition as it plays out at its higher levels. His ideas, strategies, and systems are what produce victory, and consequently all authority and agency flow to and from him, with the athlete reduced to a subsidiary figure, at best a cipher and more likely a proxy, an element in a work of engineering.
It isn't hard to see why this line of thinking is so appealing. It plays to the resentment of athletes that finds expression in so many areas of sports culture, from the constant complaints about their pay to the widespread delight that meets their failures; it depicts the athlete as an unthinking beast in need of governance, and so allows the fan or supporter to indulge a fantasy of control and superiority, and it does something to reduce the vast distance between the spectator and the field of play by presenting sports as contests not of physical virtuosity but of intellect and will—areas in which everyone can at least imagine themselves competing.
This is the fallacy that locates the greatness of the dynastic New York Yankees in Joe McCarthy's mind, or the genius of F.C. Barcelona and the Spanish national side in the way they function as exponents of old Dutch ideas about soccer, or positions Phil Jackson as the man who overcame the selfishness and short-sightedness of several of the greatest players ever by imposing a system on them, and thus makes him a figure as central as anyone else to NBA basketball as it was played over the last 25 years. It's a way of abstracting the sports out of sports.
Because it's too new to have established lines of authority, because style in it is so personal, and because it has such a complicated relationship with the idea that it's any kind of sport at all, fighting isn't really taken in by this line of thought. It's a sport of individuals and of mechanics and specific techniques, wary of systems and ideas, in which strategy works best as a concrete expression of what the athlete does well, rather than an abstraction he or she is supposed to serve.
Jackson's success is principally a function of how well he understands this. He's a coach like any other, and has his own idiosyncratic beliefs and fixations and ways of manipulating people to do what he wants, but the essence of his system is the idea that every fighter, given competition of roughly equal caliber, can use whatever it is they do well to control a situation. Shawn Jordan gets stronger as a fight goes on, and so the plan is to ride out the early going and let loose later; Clay Guida can work an overwhelming pace, and so the idea is to run up an early advantage and hold it; Cowboy Cerrone is at heart a bar fighter, and so he's wound up and let go; and John Dodson, who hits so hard, plans to run through certain patterns of motion that should allow him to land a perfect shot.
There is, in other words, no system, nothing so easy as a set of principles that can be reduced to a single word or a simple phrase. There's close scrutiny of traits and tendencies, a concern for proper technique, a careful attention paid to what each fighter needs to hear—which is to say who they are—and above all an awareness that a fight is a process, in which only so much can be controlled. There is no secret; there are two athletes, prepared exactly as well as they want to or can be, and a mat and fencing and a referee and a surprising amount of silence. The coaches are out there on the edges of the spectacle, putting their work in, but they don't reach its center. They don't lose, and they don't win.

Saturday evening, Jan. 26, 2013
It occurs to me that one measure of the difference between the UFC and boxing has to do with the way main events are announced. A fight for one of boxing's innumerable titles will nearly always be announced by the tuxedoed and stentorian Michael Buffer: Let's get rrrr-ready to rumb-ULLLLL! A UFC title fight will invariably be called by his brother Bruce, a somewhat leathery figure from the background of a Goodfellas bar scene best known for his signature move, in which he rolls out Iii-yyyy-itttttt's! while pivoting around in a full circle and finishes off, on its completion, with a short, sharp ti-yah-mhh! that makes you wonder just how close to a heart attack he really is. As absurd as it is, by the time he's done, the title feels, at that moment, like the most important thing in the world.
So when John Dodson opens the flyweight title fight by dictating the pace, framing the east-west motion, and establishing his jab—all the things he carefully worked out and ran through in his drills—you have to be excited, if just because Demetrious Johnson is the favorite and, fundamentally, a bully, and to see him bettered at his own pressure game is a remarkable thing. The crowd feels it, too: When Dodson gets something near a knockdown on a glancing hook, some guy with leather lungs who's destined for a drunk summer in the Wrigley bleachers yells, "Put him in a body bag, Johnny!"
The basic problem, though, is that Johnson is certainly the quickest and quite possibly the smartest fighter in the game. His method of respecting the jab and the cross-step hook Dodson is working, the one designed to push him back, is to step closer in the pocket and shoot double leg takedowns. When Dodson snaps off a hook and knocks him down, Johnson scrambles up and concedes the lateral motion. When Dodson drops him again, Johnson gets in close to stifle his boxing. The champion is impossibly resilient, and there isn't a position he can't reset in seconds; hit him as hard as a flyweight can get hit, and his answer is to close the distance. The plan can go perfectly, and still not be enough.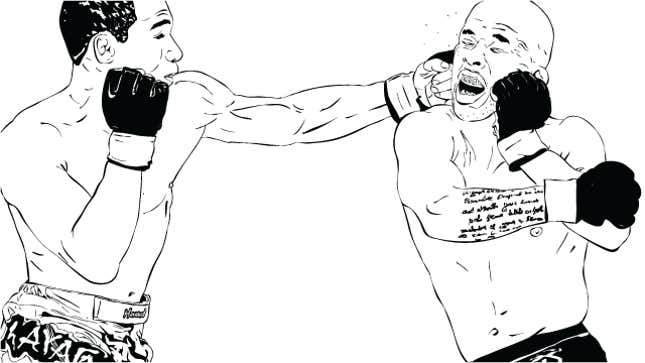 As the third round opens, Dodson snaps off his first head kick and stuffs a tricky takedown, on which Johnson shifts levels and weight like working a pick in a lock. And then he knees Dodson right in the balls, which in retrospect will look like the point where the bout changed. (Later, after I mention this to Jackson, who figures it to have been inadvertent, it will occur to him that this isn't the first time this has happened in a Johnson fight.) Not long after Dodson walks the effects off, Johnson finally gets a clean takedown, and backs the fight up near the cage, suffocating Dodson and cutting off the space he needs. Between rounds, Dodson is glassy eyed and distant, and visibly starting to slip.
"OK, now it's going to come down to these last two rounds," says Jackson. "Here's what I need from you, OK, and you win. Stay busy. Ten minutes of staying busy? You do that your whole life."
Dodson has no answer, though, when Johnson, in the fourth, changes the angle and distance on his shot, and after Johnson knees him in the head while he's touching the mat—a foul, albeit one tied to a stupid rule, for which the referee could, if so inclined, give a point deduction—his speed starts to go. He ends the round collared and doubled over up against the cage, with Johnson's knees coming in against his head and legs, short and tight.
"Have a seat, Little John. Breathe," says Winkeljohn. "Have a seat and breathe."
Heaving, Dodson straightens on his stool.
"Give me three big breaths, Little John," says Winkeljohn. "Through your mouth. Big breath. Do it again. One more time. It's a title fight. It's worthwhile. Alright, Little John, listen up—let's back his ass up, throw combos."
The fighters hug coming out for the fifth, and Dodson works the combos—a jab and a kick to the shin, a doubled-up pair of jabs—but there's nothing on them, and Johnson catches him again and again. About two minutes in, he secures his title. They're exchanging takedowns and advantages out of scrambles, and with the fight up for the taking, Johnson catches a Thai clinch around Dodson's neck and drives a knee straight into his face—a position for which Dodson should be prepared, and isn't. Johnson's corner is yelling for him not to stop, and the knees just keep coming, relentlessly. Dodson is bleeding from the nose, and if just for a few seconds, he is, for the first time in this fight, helpless.
The sequence makes the judges' decision somewhat academic; as close as Dodson came, it wasn't nearly enough. The scores come in 49-46, 48-47 and 48-47 for the winner, and still champion, Demetrious Johnson. With a point deduction for the illegal knee, it would have come out a majority draw.
---
Afterward, Dana White says that he probably would have given the first three rounds to Dodson, and there are vague suggestions of a straightaway rematch, though they'll never come to anything. After a desultory press conference, all the fight people make their way back to the Carbon & Carbide Building, where the bar is filled and the nearby streets are lined with gawkers. The fighters force their way through the crowds to get back to their rooms; Dodson apologizes to me, and says he hopes I got what I needed for my story.
Up in his own room, Jackson is lying on his bed with his hands behind his head while Kedzie and her sister try to figure out where to get something to eat.
"The ones who needed to win won," he says. "I'm happy for Shawn. He needed that. And Clay, just for his mental thing." What works his nerves is the title fight, because it was a matter of such small margins, and because the strategy came so close to working, and because the outcome was so subjective.
"We lost the last two," he says. "We won the first two, including the second one, which some people gave to us 10-8, because there were several knockdowns. The third is where it came down to, really, so it's your opinion. I always like to win, so if it's close, I don't like it. He just had a little bit more in that third. It's a heartbreaker when it comes down to one round."
I ask him what went wrong from a technical perspective.
"I think he was getting tired in those last two. His takedown defense looked good. Obviously he had the more technical striking. Demetrious has that great pace. Demetrious landed a few good knees on the inside and was able to just kind of hold his head down, but that wasn't super technical. Johnny needed to break out of that Thai clinch a little bit more, but I don't know how much of that was fatigue. I didn't feel overwhelmed or anything, but I think the pace caught up to him in the last two."
There are sighs and commiserations.
"The worst are nights like tonight, where I feel like it's not done."
If there's a distance between that and what you'd expect to hear from a coach after an ambiguous loss, that may just be down to what this one isn't. No priest pushing doctrine, or parent measuring the gap between demands and outcomes, or guru selling a kind of enlightenment, in the end he's a technician, whose job is to teach people how to control a situation, and judges his work by how well they do so. It's what all athletes would want for themselves. The mystery is that so few get it.
We head out to a nearly empty bar with some fight people, among them a retired fighter who's awfully smart and, after a few drinks, starts to talk about the emptiness that follows a loss. He quit the sport partly because his wife wanted him to, and partly because he was starting to worry about subconcussive trauma, but also because of a fight in which he was held in positions for three rounds, totally helpless, while his opponent effortlessly had his way with him. The next day, he went out with some friends, who knew the sport well and could be expected to have some idea of what that felt like. They started drinking at noon and kept going into the evening, and mocked him mercilessly the entire time.
Jackson—and this is the first time in four days that I hear him say anything angry—looks straight at him and tells him never to be embarrassed. In the Roman arena, he says, fighters weren't judged by what they did, but how they did it; their purpose wasn't to win, but to teach the public to die with honor. There may be crowds of thousands of people who can't tell a professional from an amateur and have no idea what it's like to be afraid and do something anyway; there may be people in the game who are so broken from watching men and women fight week after week that they lose all ability to appreciate what they're seeing, or to care about what it means, and there may be people who don't see a fighter as anything more than a blank, a representative of some desire or an avatar of some idea or just a whirling gear in an engine of hypercapitalism. Fuck them, he says. There always will be people who don't understand.
Art by Jim Cooke and Sam Woolley