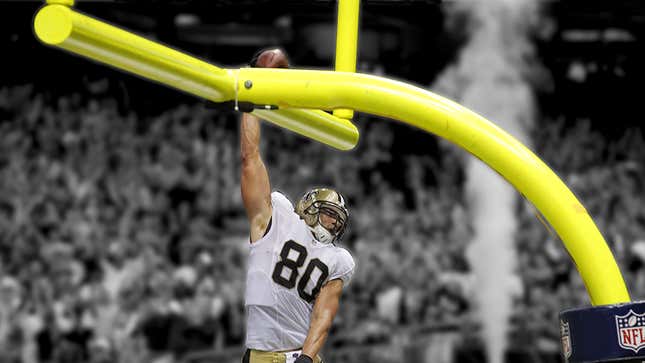 Calling Jimmy Graham a tight end seems dishonest. Drew Brees's favorite target is a freak who's blowing the other competition at his position out of the water in 2013. Because "Jimmy Graham is good" isn't a very compelling statement, let's go a little further. Since Graham is essentially a wide receiver set at tight end to exploit matchups—a "tight receiver"?—how would he measure up when compared to wide receivers? And for that matter, how would other historically great tight ends?
Aaron Rodgers should go full Joe Namath | Comedian Bert Kreischer
Ten games into 2013, Graham is by far the best tight end in football; he's got 60 catches for 846 yards and 10 touchdowns. And against the Patriots, Graham was held to no catches and left with an ankle injury. So really, he's working with nine games' worth of football.
Other tight ends aren't that close behind. Per Football Outsiders, Graham has 214 Defense-adjusted Yards Above Replacement, making him the most valuable tight end in the league. (Julius Thomas is in second, with 167 DYAR.) In fact, it makes him one of the most valuable tight ends of the past 20 years.
(We like FO's DYAR stat because it values production in context—a 10-yard gain on third-and-15 isn't so useful—and because it is a counting stat. This means it's an accounting what players did in the games, rather that how well they performed in specific roles.)
But how does he stack up to the best tight end seasons in history? By DYAR, here are the top four seasons by a tight end since 1978:
Rob Gronkowski, 2011: 461
Tony Gonzalez, 2000: 362
Antonio Gates, 2010*: 361
Shannon Sharpe, 1993: 360
* Played in 10 games
If Graham continues at the pace he's played at for the first 10 games, he would finish with 342 DYAR, which would rank fifth all time. That's impressive in its own right, but more so when you realize that the top 11 tight end seasons of all time, and 15 of the top 17 belong to those four guys, Gronk, Gonzalez, Gates, and Sharpe. "Our numbers only go back to 1978," says Football Outsiders president Aaron Schatz, "But I'd be shocked if Ditka, Ozzie, Mackey or any of those guys outperformed those four." And Graham's current pace puts him right there with them.
But if we're going to pit Graham against all receivers, it's not quite fair to hold him to replacement level tight end play. Schatz was nice enough to help give us some context here. He took Graham's numbers and plugged them into the WR database—basically telling us how his numbers would look alongside WRs. As it turns out, it might not be quite as impressive as you think.
As a wide receiver, Graham's 214 DYAR so far this year translates to 183, which would put him 15th overall for wide receivers. That projects to 293 for the season, which would have had him 13th in the league, between Randall Cobb and James Jones. That's good, but obviously not as transcendent as he's been compared to other tight ends.
For added context, Schatz also ran the numbers on Gronk's inhuman 2011 season compared to WRs that year. His 462 DYAR as a tight end rolls over to 435 as a wideout, which would be top 5 that year and top-40 all time for wide receivers, but well behind the best seasons in history. (It's worth noting that Michael Irvin is a beast in these advanced stats, and in his best seasons was used as a chains-moving monster in a pseudo-tight-end role.)
What's holding him back? "He's only average on third downs," says Schatz. "He's had 26 passes on 3rd and 4th down, and only converted on 12." This is basically league average, and far from a weakness, but it's what's keeping Graham's advanced numbers from bring truly incomprehensible.
How He's Doing It
None of this is to diminish what Graham is doing this year; he's still ridiculously productive.
Brees gives more attention to Graham than many No. 1 wide receivers get from their quarterbacks. So far, the tight end has 88 targets, which would tie Demaryius Thomas and Alshon Jeffery for 11th among WRs. His 60 catches are tied—again, with Thomas—for the seventh-most out of wide receivers. Graham's 10 receiving TDs puts him only behind Calvin Johnson, who has 11.
When Graham goes deep, good luck. By Pro Football Focus's charting, he has caught six of 11 targets for 244 yards and four touchdowns when thrown to 20+ yards down the field. That is roughly 22.2 yards per attempt—and that is preposterous. League-wide, on passes of 20+ yards, quarterbacks have attempted 1,349 passes for 16,090 yards for an average of 11.9 yards per attempt. Graham's got a small sample size, but Brees has always spread the ball around and go deep. He's thrown 50 attempts of 20+ yards for 803 yards, 10 touchdowns and one interception.
Graham's deep-pass stats are similar to some of this season's top wide receivers. Calvin Johnson's caught eight of 24 attempts for 301 yards and four touchdowns, producing 12.5 yards per attempt. Fellow Miami alumnus Andre Johnson has five receptions on 12 attempts for 209 yards, giving him 17.4 yards per attempt. Brandon Marshall has caught 10 of 22 targets for 297 yards and five touchdowns, for a steady 13.5 yards per attempt.
One thing holding Graham down as a tight end is his run blocking; he sucks at it. But the Saints have figured that out. The tight end's been asked to block on runs for 118 snaps and has a -4.2 grade in that category, via PFF. Gronk's played in four games and has already blocked on runs for 63 snaps. Gates has done it for 219 snaps. That doesn't mean they're necessarily better than Graham at run blocking, but the Saints don't see a point in wasting Graham on those plays. Teammate Ben Watson has blocked on runs for 153 snaps, which is a bit of a tell as to when the team's running (although no one's stopped it so far).
The Saints can acceptably run to the left or right end, but they don't do it often. According to Football Outsiders, New Orleans has rushed to the left or right end on 25% of its total run plays with a definitive direction. The majority of the team's running is up the middle or towards a tackle. Then again, most of the offense runs through Brees, but when the Saints run, they're not expecting Graham to help out. Still, if the argument is that a tight end has more blocking value than a wideout, and so his contributions should be shaded in that context, Graham's role on the Saints throws that off.
While the Saints have talented wide receivers in Marques Colston and Lance Moore, along with prospects like Nick Toon and Kenny Stills, you can expect Brees to continue throwing to his tight receiver as often as possible. Graham's combination of height and size at his position forces defenses to rearrange so that mismatched linebackers aren't struggling to cover Graham. It's obviously working—and if the results hold to form, Graham should finish with one of the best ever regular seasons for a tight end.
Image by Sam Woolley; original photo: Bill Haber/AP