Originally published on Slate.
Something really odd happened in the National Football League on Sunday: In a blizzard in Philadelphia, the Eagles and the Detroit Lions scored 54 points—but not a single one of them came by way of foot. No field goals and no extra points. As Chase Stuart of Football Perspective reported on Twitter, that hadn't happened in the NFL since 1957.
Jokic? Embiid? The NBA MVP is obvious... right? | Keep it a Buck(et)
Afterward, a Bleacher Report fan/writer called the Eagles-Lions game an "airtight case" for the abolition of kicking in the NFL. It's an argument made from time to time, usually by opinion trolls like ESPN's Skip Bayless, and usually because kickers have gotten so good that most kicks are routine and hence perceived as boring. Through Sunday, NFL kickers this season had made 99.6 percent of their extra points—1,028 out of 1,032—and 85.6 percent of their field goals, both of which would be records for a season. If history is any guide, the NFL eventually will do something to make life harder for kickers.
In any case, Sunday turned out to be a bad day to lobby for the end of kicking. Before the pixels were dry on the Bleacher Report report, Matt Prater of the Denver Broncos did something to uphold the fraternity of kickers and the art of kicking itself: He kicked an NFL record 64-yard field goal. Boring? Tell that to the fans in Denver who knew exactly what was happening when Broncos holder Britton Colquitt spotted the ball just beyond the hashmark at the Broncos' 46-yard line, and who went bonkers when it cleared the crossbar.* Tell it to the NFL.com newsroom, which on a crazy day of football cheered the loudest for Prater's boot. Tell it to the Broncos, who mobbed Prater like Auburn mobbed the guy who ran back that missed field goal against Alabama.
G/O Media may get a commission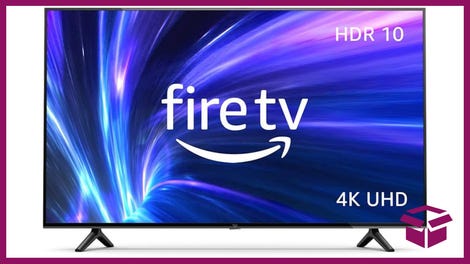 42% Off
Amazon Fire TV 50" 4K Smart TV
Given the preposterous improvement in kicking in the last four decades, 63 yards was, as Tim Layden wrote in Sports Illustrated last year, "one of the most stubbornly and strangely enduring records in any sport." Four kickers had hit from that distance: half-footed Tom Dempsey of New Orleans in 1970, Denver's Jason Elam in 1998, Oakland's Sebastian Janikowski in 2011, and San Francisco's David Akers in 2012. (Dempsey's was really only 62, but never mind.)
That no one had gone longer owed mostly to the paucity of attempts from great distance. The kicks are hard, coaches are risk averse, the defensive team gets the ball after a missed field goal at the spot of the attempt rather than at the line of scrimmage. As a result, long attempts happen only in moments of harmonic kicking convergence—either at the end of the first half or at the end of the game, when the risk of something bad happening is extremely low. Even then, coaches often eschew the 60-yarder in favor of the Hail Mary pass, which is easier to defend than a kick and relies entirely on dumb luck.
The circumstances around Prater's kick were ideal. First, there were just three seconds to play in the first half. Second, the 29-year-old placekicker has the leg; he's a ridiculous 20-for-26 on kicks of 50-or-more yards in his career, and has hit two 59-yarders in games and a 70-yarder in practice while facing a full rush. Third, the game was being played in the thin air of Denver. Prater looked to take an extra little hop as he started his approach to the ball, and he struck it solidly. Prater said after the game that he didn't know he was kicking for the record until he saw Colquitt place his finger to spot the ball for the kick. That's because he was late getting in position because he hadn't realized that Broncos coach John Fox was signaling for the field goal unit. "I was clueless," he told the Denver Post. "I think it helped me to get out there late. Because I had to rush out there, I didn't have much time to think about it."
The Denver part of that equation will draw scrutiny. Elam's and Janikowski's 63-yarders also were kicked at the city's altitude of 5,183 feet above sea level. "64 yds minus 20% discount for elevation equals yawn," one of my Twitter followers wrote. The 20 percent refers to this: Air density decreases by about 20 percent for every mile of elevation. The less dense the air, the less drag on an object, the farther the object flies. But a 20 percent drop in density doesn't mean kicks travel 20 percent farther. In his book The Physics of Football, Timothy Gay examined kickoffs in Denver and in eight sea-level stadiums in the 2001 and 2002 seasons. The kickoffs in Denver traveled about seven yards farther, or an average gain of about 10 percent. But, he said, the effect of altitude is less pronounced for field goals, which don't sail as far as kickoffs and, for long ones, have flatter trajectories than kickoffs or punts. "I don't think altitude is a super big effect" on field goals, Gay once told me.
Whatever the impact of Prater's altitude boost yesterday, it was certainly mitigated by the weather. Temperature affects drag, regardless of altitude. "The ball will go farther in warm air at a given barometric pressure than it will in colder air at the same pressure," Gay writes. The temperature at Sports Authority Field at the time of Prater's 64-yarder was 14 degrees. "It's a lot worse," Prater said after the game about kicking in the cold. "But by that that time my foot was numb so I couldn't really tell."
This is all niggling anyway. Matt Prater kicked a ball through NFL uprights farther than anyone ever has before in any field in any city in the regular season. (Another Bronco, Ola Kimrin, booted a 65-yarder in Denver in a preseason game in 2002, but the NFL record book doesn't recognize preseason games.) Even my yawning Twitter follower had to admit: "A major accomplishment in any event."
---
More stories from Slate:
Ping Pong Balls, Security Guards, And Groups Of Death
The NFL's New Overtime Is A Complicated Mess
---
Stefan Fatsis is the author of Word Freak and A Few Seconds of Panic, a regular guest on NPR's All Things Considered, and a panelist on Slate's sports podcast Hang Up and Listen. Email him at sfatsis9@gmail.com. Follow him on Twitter.