Adrian Peterson's All Day Foundation has been described as focusing on at-risk children, particularly girls. But there's an interesting tidbit buried within a lengthy Star Tribune takeout on the indefinitely suspended running back that's worth a lot more attention than his sex life, which is the focus of the piece: two different agencies listed by the foundation as gift recipients don't remember getting any money from it at all.
The first example is straightforward:
In 2009, the charity said its largest gift, $70,000, went to Straight From the Heart Ministries in Laurel, Md. But Donna Farley, president and founder of the Maryland organization, said it never received any money from Peterson's foundation. "There have been no outside [contributions] other than people in my own circle," said Farley. "Adrian Peterson — definitely not."
The second example is a bit more complicated. The Star Tribune found that the foundation's 2009 tax filings listed just one donation to a food bank, the Dallas-based North Texas Food Bank. But a second food bank, the East Texas Food Bank based in Tyler, said it got money from the foundation that year. An interview with one of the North Texas Food Bank's leaders casts further doubt on if the right food bank was listed.
Colleen Brinkmann, the chief philanthropy officer for the North Texas Food Bank, said that while her agency partnered with Dallas Cowboys players, she could not recall ever getting money from the All Day Foundation. "Was he with the Cowboys before?" she asked of Peterson. "I'm not a football fan."
G/O Media may get a commission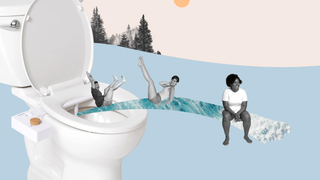 17% off
Tushy 3.0 Warm Water Spa Bidet Attachment
These are far from the only irregularities in the books:
The charity's 2011 financial report showed $247,064 in total revenue, and listed just three organizations that received money. A fourth outlay, entitled simply "clothing for needy families," listed "unknown" for the number of recipients.
None of this should be shocking given the history of athlete foundations as shams—as an example, Alex Rodriguez's foundation was found to give only 1 percent of of proceeds to charity during its first year. Outside the Lines found that 74 percent of 115 charitable organizations founded by high-profile athletes didn't meet the standards of charity watchdog groups.
It used to be easy to use Peterson's dazzling performance on the field as some sort of marker for the type of person he was off the field. But now—with his having been charged with reckless or negligent injury to one of his sons, with his sponsors fleeing, and his foundation not looking very charitable—it's becoming hard even for those with a vested interest in doing so to ignore just how separate the running back and the man are.
Update: A flack was crying out for an update and pointed out two articles, including one from OTL last month. And it turns out that report had some pretty good evidence that Peterson's charity might have helped fund a bigot's ministry.
According to the report, from 2008 to 2011 the charity's single largest beneficiary was Straight From The Heart Ministries, getting more than 50 percent of the foundation's $414,130 in grant money. And the man listed on multiple government records as president of the ministry was Bill Horn, although Horn said he never was on the board but was "involved." Horn also served on the All Day Foundation's board. So who is he?
In the late 1990s, Horn, a former sports broadcaster in California, ran an organization by the same name that publicly denounced the gay community. He also produced a graphic video titled "The Gay Agenda," which questioned the notion of homosexuality, and recruited Green Bay Packers defensive end Reggie White to campaign against gay rights in Iowa.
Horn said Straight From The Heart was an offshoot of a church in Rancho Mirage, California, but how the church spent the money couldn't be deciphered. Horn himself wasn't sure, either.
"We don't know everything it did," said Horn, who noted the ministry did business in Texas, Minneapolis and Chicago. "It was doing inner-city outreach and feeding people, giving haircuts to kids, did back-to-school programs, did turkeys at Thanksgiving," he said.

Horn acknowledged the ministry's mission was originally to oppose gay rights, but it "changed and decided not to do that and to help people."
Peterson's philanthropy advisor told OTL that the foundation wasn't properly run from 2008 to 2011. The advisor said he has worked with Peterson since 2011 to "clean up the foundation, get Peterson more involved in the decision-making and broaden its reach to more charities," OTL reported.
Tax filings for the years since 2011 are not available online.
Image via Associated Press