When Allison Janney won the Golden Globe for Best Supporting Actress for her performance as Tonya Harding's mother LaVona Golden in I, Tonya, she made sure to shout out Harding, who sat in the audience that night. This was not just a passing thought. Janney praised many things about Harding, whom she called "a woman who was not embraced for her individuality."

Janney was right about the "not embraced" part, at least. Harding has been something of a late night TV punchline since 1994 when she was implicated in a plot to attack fellow skater Nancy Kerrigan at the 1994 U.S. National Championships. As you probably know, Kerrigan was struck in the leg by a man wielding a collapsible police baton as she left the rink following a practice session at nationals. The video of her wailing in pain on the floor went viral before that was even a thing. The attack and the attention that followed helped make the women's figure skating competition at the 1994 Olympics into one of the most watched TV broadcasts of all time. Kerrigan emerged from the attack comparatively unscathed. Harding, who was already cast as Kerrigan's brash and bawdy opposite, became something worse as the idiotic cravenness behind the attack became public. She became a cartoon, somehow too much of a goon to even be much of a villain. I, Tonya has brought a wave of sympathetic media attention for the disgraced skater, but the film more or less treats her that way, too.

After the Olympics in Lillehammer, Harding pleaded guilty to hindering prosecution in the Kerrigan investigation and was banned from participating in any U.S. Figure Skating event, effectively banning her from the sport altogether. She can't be a coach, either, because she wouldn't be allowed to bring kids to competition. Since she couldn't make money off skating, Harding was forced to resort to all kinds of humiliating stunts, including a celebrity boxing match against Paula Jones, in order to earn a paycheck. She's been a national punchline for decades, now; Barack Obama referenced "Tonya Harding" and "kneecapping" during his 2008 campaign. Harding and her story were both long overdue for a correction. I, Tonya isn't quite that, but there is still something strange and deeply off about seeing a woman who might've been complicit in a violent attack on her main rival for the U.S. national title in 1994—a woman who, by all accounts, never treated Harding poorly throughout their years on the competitive circuit together—being celebrated for her strength and spirit.
It's an obvious point, but if the attack against Kerrigan had gone as planned, Our National Tonya Harding Conversation would not have made this late left turn towards empathy. The fact that the motley crew behind the attack was so criminally inept that they couldn't even manage to strike Kerrigan's knee and really knock her out of the Olympics makes this story feel more like Coen Brothers-adjacent dark comedy than American Crime Story fodder.
In 2014, on the eve of the 20th anniversary of the "whack heard round the world" both Kerrigan and Harding were interviewed for several articles and TV specials. "When we read the transcripts of the 10 hours of depositions they gave, you did have to laugh," Kerrigan told USA Today. "It was definitely humorous at times. They came to Boston (to attempt the attack there) and forgot their IDs and money so they couldn't really get anywhere. You laugh in thankfulness that they were not as good at being bad guys as they had wanted to be."
It could have been very different. Shane Stant hit Kerrigan's thigh, right above her knee, causing a serious bone bruise and contusion that was enough to keep her out of the 1994 National Championships, which Harding won, but not out of the Olympic Games in Lillehammer, Norway the following month. If Stant had been more precise with his aim, Kerrigan would've been more severely injured, and likely out of the Olympics altogether and quite possibly worse. According to a tape that Shawn Eckhardt had recorded early in the planning stages, there was even a suggestion that Kerrigan be murdered. There's no dark comedy in that. It's just a plain old criminal conspiracy.
G/O Media may get a commission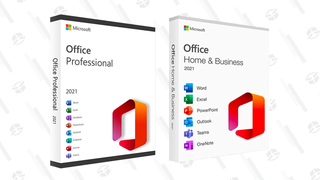 89% off
Microsoft Office Professional 2021 Lifetime License
---
The ongoing correction to the Harding story began not with I, Tonya but with The Price of Gold, a 30 for 30 documentary made by Nanette Burstein that premiered in 2014. Burstein introduced mitigating factors into the telling of Harding's story, most notably the abuse that she says she endured from both her mother and then-husband, Jeff Gillooly. Though Gillooly denies that he ever abused Harding, witness accounts and court documents—Harding sought and received a restraining order against him—back up her version of events.
Similarly, Harding's mother also denies physically abusing Harding as a girl. That Harding's mother abused her on at least one occasion was corroborated by Harding's childhood friend, Sandra Luckow, who witnessed a disturbing episode in which Harding's mother beat her with a hairbrush in the bathroom at a figure skating event. Luckow said she was so disturbed by what she saw that she wanted to report the incident to child protective services. Luckow was still a child herself, and when Harding's coach Diane Rawlinson told her not to interfere, Luckow dropped it; if the young Harding was taken away from her mother, it would effectively have ended her skating career.
Years later, as a student at Yale, Luckow made a documentary about the young Harding called "Sharp Edges." It followed Harding as she was skating in her first national-level skating competition, in 1986. None of the physical abuse that Harding later discussed is seen in the film, but the emotional abuse she described is a constant. We see Harding on the phone with her mother after a competition and it is clear from her side that she is being berated by her mother. When she finally hangs up, Harding turns to the camera and says, "What a bitch." Harding's signature defiance is there, but so is the outward toughness that might have counterintuitively made the people around Harding less concerned for her than they otherwise should have been.
It is also in Luckow's documentary that we can see her coach's failed attempt to make the "rough around the edges" Harding into a more feminine performer who would better fit into the world of skating and the favor of judges and officials.
When I watched The Price of Gold, I felt the old affection that I used to feel for Harding returning. She had been my favorite skater when I was a young girl. I remember watching her do the triple axel in 1991, when I was eight, and then attempting a single axel on the living room carpet. I had been a gymnast and knew next to nothing about skating, so the only aspects of skating that were even legible to me at the time were the spectacular parts—the jumps and the spins. As it happened, those were Harding's specialties. On a good day, Tonya elevated well enough that you could probably drive a truck, maybe even her truck, under her triple lutz jump.
I was so in love with Harding as a young girl that I persuaded my mother to set the little black and white TV in her bedroom on a timer so we could watch the women's technical program at the 1992 Olympics. It aired on a Friday night and we were Orthodox Jews, hence the need for a loophole to watch the competition on the Sabbath. My affection for her edged up against heresy.
The 30 for 30 documentary, though it explained Harding, didn't celebrate her. It revealed her as human and fallible, a great talent wasted, although of course that wasn't quite news. But in 2014, Harding wasn't alone in the spotlight. Once again, Kerrigan shared it with her. It was the 20th anniversary of the "incident," as it is referred to in I, Tonya, and that incident was just as much Kerrigan's story as it was Harding's. The 30 for 30 documentary included interviews with Kerrigan's coaches Mary and Evy Scotvold, Kerrigan's former teammate Paul Wylie, and other supporters. (At the time, Kerrigan was working for NBC in Sochi and had granted them an exclusive interview for their own documentary and couldn't participate in the ESPN film.) It went into nearly as much detail about Kerrigan's working class childhood as it did about Harding's poverty-stricken one. It showed video clips of Kerrigan working maniacally to rehab her leg in time to compete at the 1994 Olympics after the attack; she'd had to stay off the ice for nearly a month, which meant that all of her prep was being done off ice.
I hadn't been much of a Kerrigan fan during her skating career; she was lovely on the ice but not much of a natural performer and left me feeling cold. But the documentary gave me a new respect for her. I hadn't truly considered the herculean effort that went into her getting herself competition ready for the Olympics in 1994 after the attack. When I saw her at the 1994 Olympics, Kerrigan looked prepared and polished, to the point where it was easy to forget everything that had gone through in order to make it to center ice in Lillehammer.
We didn't know until many years later that Kerrigan had developed an eating disorder as a result of the 1994 attack and the stress and attention it brought on her. In the way that these things tend to go for Olympic sports, the story effectively ended with that year's closing ceremonies—not for Kerrigan, of course, and certainly not for Tonya Harding, but for almost everyone else who had cared about them so much just a few months earlier.
---
Neither I, Tonya nor the two-hour ABC special that aired last Thursday concerns itself with Kerrigan, or any other skater. They focus entirely on Harding, and other skaters figure only in passing and mostly as contrast, to show how Harding was unlike them. They were "elegant and princesses" and she was the "tomboy" and "athletic." As you might expect, this simplistic rendering was not entirely accurate. Harding was not the first "athletic" skater to lace up, and the ABC special completely erases Japan's Midori Ito—the first skater to perform the triple axel, a full two years before Harding first went for hers at the 1991 U.S. Nationals—in its telling of Harding's first triple axel. Harding was the first American to do it; Ito, who was also the first woman to compete a triple-triple jump combination, is simply nudged out of frame.
Some of this is familiar Olympic-year bullshit, but the story is both more interesting and more complete with Ito in it. She, too, was hardly a media darling in the West, and was written and spoken about in racist and masculine terms. In her book Artistic Impressions, Mary Louise Adams points out that Ito and black French figure skater Surya Bonaly were "regularly presented in the press as not having the style or elegance of skaters who matched more closely the standard that has dominated women's figure skating since before the Second World War, a standard defined by a particular genre of movement, a particular physical type—small, slender, not obviously muscular—and a 'certain way of being' on the ice." Give or take some racism, this sounds exactly like the discourse that existed around Harding.
Another skater who is practically erased from the story ABC told is Oksana Baiul, who edged Kerrigan for the gold medal in the 1994 Winter Games. The special made the dubious claim that Baiul, the 1993 world champion, had "come out of nowhere" to win gold in 1994. Told this way, the story has only two characters: Kerrigan and Harding.
What's telling is the glee with which Harding discusses Baiul's win over Kerrigan in 1994 since, stylistically speaking, Baiul couldn't be more different from Harding. "Oksana! Oh my god, she was amazing!" Harding exclaimed in the ABC special. The Ukrainian was balletic in style; she did her 1994 short program to music from Swan Lake. Her jumps were small compared to Harding's or Kerrigan's jumps. Despite the packaging—Kerrigan's skating costumes were famously designed by Vera Wang—Kerrigan the skater was more similar to Harding than she was different. Kerrigan might not have skated to Tone Loc, as Harding did, but she didn't enjoy performing to classical music either.
Yet, despite the similarities and despite claiming repeatedly that she and Kerrigan had been friends before "the incident"—something that Kerrigan denies—Harding is transparently eager to take whatever shots she can at Kerrigan. She gets her chance, in the documentary, while discussing Kerrigan's comments, caught on camera after the final results were announced. There had been a delay because officials were searching for a copy of the Ukrainian national anthem. (Perhaps ABC can be forgiven for talking the supposedly out-of-the-blue nature of Baiul's win when Olympic officials allegedly didn't have a copy of the anthem of the defending world champ on hand. This is even more galling when you consider that Baiul was in second place after the technical program.)
Kerrigan had been given a different explanation for the delay, though; she was told that Baiul had to reapply her makeup before the medal ceremony. "Oh, come on. She's going to get up there and cry again. What's the difference?" Kerrigan said to another skater. (Baiul took the "cry" part of the "kiss and cry" area quite seriously.)

Discussing this moment 24 years later, Harding said, quite harshly, "She needs to stop whining." This is pretty rich when you consider the fact that just a couple of hours earlier during the same competition, Harding burst into tears on the ice and stopped her long program after a failed jump, claiming an equipment malfunction. Skating officials gave her permission to leave the ice and fix her issue and restart her program at the end of the group.
That Harding seems to side with Baiul over Kerrigan isn't really surprising when you consider that Baiul was never positioned as Harding's rival; Kerrigan was.

I, Tonya quickly glosses over the rise of Kerrigan after the 1992 Olympics, which is significant not because a movie about Harding needs more Kerrigan but because a movie about the "incident" needs a bit more context to explain Harding's possible motive for getting in on the planning of the attack on Kerrigan.
Kerrigan, in the year after the 1992 Winter Games, wins the national title; Harding finishes off the podium and doesn't qualify for the world championships. More significantly, Kerrigan was racking up the endorsements despite the fact she hadn't won the Olympic gold medal. But of the athletes on the 1992 Olympic podium—gold medalist Kristi Yamaguchi and silver medalist Ito—Kerrigan was then the only one still skating. Harding, the fourth place finisher in 1992, was also still skating but performing quite poorly after the Olympics. To potential sponsors, Harding probably didn't look like a safe bet.
In a world where Kerrigan was already the face of U.S. Figure Skating and a ton of products beside, Harding would probably need to do better than making the 1994 Olympic team to make real money. In early 1994, Harding would've made the two-person Olympic squad even with Kerrigan in the competition, if perhaps bumped down a notch to second place. But would Harding have been top pick for endorsements with Kerrigan around? Probably not.
In the 30 for 30, we see the Harding of 1994 speaking frankly about the importance of making money. This in itself is easy to understand; she was quite poor, and her talent had put a big payday within reach. But acknowledging the rise of Kerrigan and her raking in all of the major endorsements—Reebok and Campbell's Soup and so lucratively on—makes Harding's complicity in a plot to eliminate her competitive and financial rival a bit more plausible. It's a lot easier to cut her a break when you leave all that out.

---
The 30 for 30 documentary does make Harding's complicity in the plot a central question, and ends with her childhood friend Luckow. Earlier in the film, she had spoken very warmly about Harding and corroborated her claims of abuse; when asked about whether she believed that Harding had been involved in the plot, she paused and answered, "Of course."
In the ABC special, the question of Harding's involvement comes up. The I, Tonya stars—Margot Robbie, who played Harding, and Janney—downplay the importance of answering this question. "It's actually not really that interesting," Robbie said.
The true answer to this question may be unknowable in a legal sense, but that's not the only one in which it matters. If the broader culture is ready to reassess Tonya Harding, then it matters, or should matter, whether she was involved in planning the attack on Kerrigan. Harding has long denied any prior involvement, and law enforcement has long claimed that an envelope found in a Portland dumpster with Kerrigan's practice times and the name of her practice arena in Cape Cod had been written by Harding. (Initially, the plan had been to attack Kerrigan at the Tony Kent Arena, but because of the gang's bungling, they missed their chance to do it there and attacked her instead as she left the ice at the Cobo Arena in Detroit, site of the 1994 national championships.) Other documents related to Harding were also found in that dumpster. This is not quite proof of anything, but it is evidence.
In the recent ABC interview, Harding said she did overhear Jeff Gillooly, her ex-husband and alleged mastermind of the attack, talking about "taking someone out" to make sure "she gets on the team." To journalists like Connie Chung and Christine Brennan, who covered the Nancy-Tonya saga back in 1994, this was a damning revelation. After so many years of adamant denial, Harding's small admission that she had some non-specific foreknowledge qualifies as a big thing.
Asking how much blame Harding should bear for the attack on Kerrigan is different than asking whether, regardless of her complicity in the planning, she should be allowed to move on from this decades-old crime. Even if Harding was the mastermind of the whole thing, it's been 24 years and she certainly has been punished. I don't believe in life sentences for most crimes. This one is no exception.
Perhaps owing to her recent revelation in the ABC interview, Harding has said that she will now no longer talk about the past. Michael Rosenberg, her longtime representative, announced that he and Harding were parting ways because they couldn't agree on how to handle the media. Harding wanted reporters to sign an affidavit promising not to ask about "the past." If they violate the terms, they'd have to pay a $25,000 penalty. Either this is a ploy to take control of her image and re-shape her narrative or it's a strategy to keep the media from ever reaching out to her again. Either way, it's a gamble. What is the media appetite for a 47-year-old former skater who doesn't want to talk about her Olympic past?
Having said that, I must admit that watching Harding take the ice at the end of the ABC special still made my heart leap a little. The best version of Harding was always the one that was out there on the ice, skating with speed and power. This was the version of Harding I fell in love with as a little kid, and I was pleased to see that she still had so much strength in those 47-year-old legs. All these years later, she even performed some jump combos—not the triples she did at the height of her career, but some double jumps. Not too shabby for someone who's now more or less a historical figure. These jumps were just jumps; no one was judging them. But to see her do them now—the real Tonya Harding, after all these years—was to be aware, once again, of how talented she was, and of just how and how strangely it all wound up wasted.