Rich Hammond covered the Kings for the Los Angeles Daily News for nearly a decade, becoming known as one of the most respected writers in the sport—even in a town with Helene Elliott. But hockey being hockey, and dying newspapers being dying newspapers, the Daily News decided it was no longer cost-effective to send Hammond on road trips. The Kings, for 41 games a year, would have no coverage in the second-largest city's second-biggest newspaper.
Sick of this, the Kings approached Hammond with an offer: come write for us. And Hammond did, in 2009, leaving the Daily News to become a Kings employee. He was promised full editorial independence, and promised to keep doing what he had been doing, but the unique arrangement naturally raised a lot of eyebrows. Could Hammond remain unbiased against the people signing his paychecks? Would the team be able to avoid meddling in his coverage? Hammond was mindful from the start. In an interview he gave when his hiring was announced, he made clear that he wouldn't stand for any pressure from above, and his work would bear it out.
"There was no getting to that point where they said, 'OK, we'll let you be objective.' That was the starting point-that this is going to be independent, it's not going to be censored, it's not going to be filtered."

[...]

"It's my credibility," Hammond continued. "I'm the one who has to show people that I'm worth reading. I'm very mindful of that, but I'm also confident that everything will be fine."
And do you know what happened? In the three years Hammond was writing LA Kings Insider, I don't recall one instance of anyone claiming he was anything less than objective. It's a testament to his professionalism, and also to the forward-thinking Kings, who have mastered this internet thing a lot better than every other team.
G/O Media may get a commission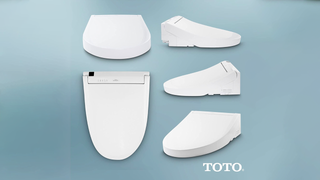 44% off
Toto Washlet Electronic Bidet Toilet Seat
Yesterday, Rich Hammond posted his goodbye letter on LA Kings Insider. It came as a complete surprise, contained a lot of cryptic language about "moving on."
I have decided that the timing and situation is right for me to move on, and I'm excited about the job opportunity I have in front of me. The decision is mine, and the Kings in no way pushed or encouraged me to leave. I faced no threat of layoff or of any financial cutback. It's my choice, for a number of reasons, and I'm grateful that my parting with the Kings is amicable and that I will leave on good terms, both personally and professionally, with everyone involved.
Hammond will be joining the Orange County Register, covering USC football and basketball. A man who's lived and breathed hockey for all of his adult life, giving it up completely? And just months after covering a championship run? Sure enough, there is a lot more to the story.
Speaking before a USC sports business class last night, Hammond addressed his career change. In no uncertain terms, he chalked it up to the NHL, and not the Kings, attempting to interfere in his work.
Last month, Hammond interviewed Kings winger Kevin Westgarth, the team's union rep. Westgarth was open, and outspoken, and largely toed the NHLPA line. But the content of the comments didn't matter. Hammond, as an NHL employee, was not supposed to have any contact with players during the lockout. Never mind that he's not a trainer, or an executive, but rather an ostensibly independent reporter—he's forbidden from speaking with the players.
As relayed by a student in that USC class to Kings blog Jewels From The Crown, the NHL pressured both Hammond and the Kings to take the Westgarth story down. The Kings, to their infinite credit, refused. They negotiated with the NHL to see if there was any way around the restrictions, to let Hammond continue to do his job, but no dice. The NHL wasn't budging.
So Hammond's gone. He had been approached by the Register about the USC beat, but after the NHL's pushback—the first time his blog's integrity had been indisputably compromised—he renewed negotiations, and decided to take the job. And if NHL interference didn't shove him out the door, it certainly held it open for him.
The NHL gave a brief statement to the Daily News on Hammond's departure:
"Rich did a great job covering the Kings — especially during their amazing run to win the 2012 Stanley Cup. We wish him continued success in his new role."