During his 10-plus year career, Nigel McGuinness, the former Ring of Honor World Champion, wasn't recognized much away from wrestling. There was that one time on the New York City subway, but he was commuting to a match and there were wrestling fans on the train. Being spotted in the Tampa delicatessen where he sliced cold cuts for a living seemed unlikely. But one day in 2011, a customer ordering a quarter pound of ham gave him that curious look that could only mean one thing.
Please don't fucking say it, McGuinness thought. Please don't fucking say it. There was another part of him though, the self-loathing English part, that said, You arrogant motherfucker. You think that anyone knows who the fuck you are? And then it happened.
"You're Nigel McGuinness, aren't you? You're Nigel McGuinness."
He tried downplaying it. Oh, I get that all the time, McGuinness said. He envisioned the headlines on wrestling websites: Nigel McGuinness Working at Deli Cutting Ham. After a while, he lightened up. "I appreciated your matches," gushed the fan. "You were awesome." The recognition felt good. He wasn't forgotten. Even if he had followed the career arc of Randy the Ram, the down-and-out former grappler portrayed by Mickey Rourke in The Wrestler, who also ended up behind a deli counter. (McGuinness briefly appeared in The Wrestler, in a scene filmed at a Ring of Honor show.) McGuinness makes the comparison. Then quickly rescinds it.
"I never had that big money run," he says. "That would be one thing if I got to do tons of coke and fuck girls everywhere. I just ate chicken every three hours, went to the gym five days a week and tried to be the best wrestler I could."
McGuinness is right: He never enjoyed the spoils. Wrestling on the independent scene pays about as well as you'd imagine; McGuinness never sniffed six figures. Wrestlers must work for World Wrestling Entertainment, or, on a smaller scale, Total Nonstop Action wrestling, to earn a comfortable living. That was McGuinness's plan. And he was on his way too, signing with WWE in 2009. But he flunked the physical and WWE withdrew the offer. "Absolutely tragic," says ROH wrestler Chris "Jimmy Jacobs" Scobille. "He really dedicated himself to this dream and goal. So to get the rug pulled from underneath you like that, there's not much worse that can happen as far as a wrestling career."
G/O Media may get a commission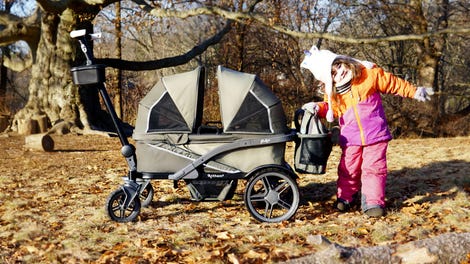 30% off
The Anthem All-Terrain Stroller Wagon Adventure Bundle
Go everywhere with your kids
This must-have bundle nets you either of Gladly's award-winning Anthem2 or Anthem4 All-Terrain Stroller Wagons as well as must-have accessories like a parent cupholder, a removable storage basket, extra-large canopies, a nap system, quilted comfort seats, a cooler bag with a padded shoulder strap, and a travel bag.
McGuinness quickly regrouped and joined TNA, debuting in a spectacular main event program with 1996 Olympic Gold Medalist Kurt Angle. "[We] clicked," Angle told me during a November 2011 interview. "I thought he was going to be the next champion. I told [everyone] that we got to push this kid. He's awesome."
His time on top was short lived, however, and he was disregarded once Terry "Hulk Hogan" Bollea took over the company—the Hulkster wasn't much of a fan of McGuinness's work. And then McGuinness contracted hepatitis B, and was eventually fired from TNA, which is why he spent most of 2011 hopeless and bitter as a clerk in Tampa.
"After a long day someone is complaining that you cut the wrong amount of salmon off the fillet, you go, 'God fucking hell, is there where I've ended up?'"
* * *
A year later, there's a new ending. McGuinness no longer works at a deli. He lives in Los Angeles, pursuing acting and stand-up comedy. He made a documentary about his wrestling career, The Last of McGuinness. And though he's retired from in-ring competition, he's back with Ring of Honor as an on-camera authority figure. And here he is on a Sunday morning in December, standing outside the Hammerstein Ballroom in midtown Manhattan.
More stories you might like from The Classical.
• Yokozuna in the Crease
• Drive
• Trap/Defense: The Basketball and Rap Lives of Marquis Daniels
• Be Here Now
McGuinness, now 37, wears a baggy black suit—he's swimming in the shoulders—an untucked white Nautica dress shirt, and black shoes. He is 6'1", around 200 pounds, and so down 15-20 pounds from his wrestling days. His hair is mowed close to the scalp. At first glance, he could pass for Jason Statham's taller stunt double. We walk past security and enter the main ballroom where the ring is already set up for this afternoon's Final Battle 2012: Doomsday, the last Ring of Honor internet pay-per-view of the year.
The main event features ROH champion Kevin Steen defending against Rami "El Generico" Sebei in a ladder match. It should be a doozy. Steen is a violent Quebecois who is agile and graceful despite his cartoonishly large belly. Fans chant "Kill Steen Kill" during his matches. Sebai plays a "generic" high-flying masked Mexican luchador except that he is not Mexican; he is white and redheaded. About a month later, he'll sign with WWE.
In the storyline, Steen and Generico are former tag-team partners who have battled on-and-off for the past three years. This match is a blow-off to their feud. At the moment though, they are two co-workers running through their match in the ring. "This is really important," McGuinness says watching from ringside, a slight Australian twang inflecting his London accent. "You are putting your body in someone else's hands. It's nice to do stuff on the fly and ad-lib but when you have things like a ladder involved, it's very dangerous."
Most ladder matches feature death-defying falls from preposterous heights. It's one of the most hazardous contests in the wrestling canon. But there will not be blood in this afternoon's match. Since McGuinness's return, ROH has discouraged intentional bleeding, or "blading." And in a few minutes, McGuinness and the company's booker Hunter "Delirious" Johnson, will announce a strict ban.
The wrestlers congregate around Johnson and McGuinness. Shelton Benjamin holds a bag of Chipotle. Terry "Rhino" Gerin chugs a Red Bull. Matt Hardy sips from a Dunkin Donuts cup. It's an eclectic roster comprised of youngsters dreaming of a WWE contract, indie stalwarts who never made it to the big leagues and former WWE stars on the downsides of their careers.
McGuinness is nervous but speaks clearly and with confidence about the company's new edict. "I feel as though certain changes need to happen in the industry, certainly in Ring of Honor," he says. "There are so many viruses that can be transmitted in blood. That being the case, I feel as though going forward, there should be no intentional blood on the shows."
"Agreed," shouts a voice from within the scrum.
"Yeah," affirms another.
McGuinness also advises the wrestlers to get vaccinated for hepatitis B. A few moments after wrapping up the speech, he looks pale. "I feel like I just came out," he tells me. "I think everyone feels the same way [about blading]. You can still have great matches without the blood."
But a match doesn't need blood to be dangerous. Steen and Sebei crashed through a handful of ladders during their contest, which Steen won after piledriving Sebei onto a ladder that was laid down horizontally between two standing ladders. McGuinness admits the spot was risky. Insane? "Probably not," he says.
The Charlie Haas and Shelton Benjamin versus BJ Whitmer and Rhett Titus street fight earlier in the card, however, ended with an insane spot. Haas launched Whitmer off the top rope and across the ring where Whitmer landed headfirst through a table. From where I sat in the front row, it looked nasty. The crowd roared—a mix of horror and astonishment—and the referee counted one-two-three ending the match. Whitmer wasn't expected to get up immediately. In other words, he had to "sell the finish." But most hardcore wrestling fans can differentiate between good selling and a legitimate injury. It got quiet real fast.
In an unscripted moment, McGuinness and other officials hurried to the ring. Whitmer somehow walked gingerly to the back, flexing his fingers.
After the event, I asked McGuinness what went through his mind while watching Whitmer crash through the table. "Is he alive?," he answered. "You see so many of those sort of bumps that you almost become conditioned to them. You have that sense that they are going to get up. In the back of your mind though, you know there's going to be a day when someone doesn't get up. When that day comes, um"—he pauses searching for the right words—"it's going to be a very bad day."
* * *
Back in the 1980s, an atomic drop was considered a devastating maneuver and violent gimmick matches were few and far between in the WWE (then known as the World Wrestling Federation). Promotions in Puerto Rico, Japan, Memphis and Texas were rougher and it wasn't uncommon to see Jerry Lawler throw fireballs or Larry "Abdullah the Butcher" Shreve dig a fork into Carlos Colon's forehead.
The National Wrestling Alliance, the mid-Atlantic based promotion that featured Ric Flair as champion, lurked somewhere in between. With a long-standing 6:05 p.m. Saturday time slot on Superstation TBS, the NWA had a national platform but was brutal compared to WWE. There were "I Quit" matches, dog-collar matches, scaffold matches and something called War Games. Still, it paled in comparison to the future of the business.
The 1990s were a golden age for violence. Frontier Martial Arts Wrestling, a hardcore Japanese promotion, became popular at the outset of the decade. Extreme Championship Wrestling brought the wild gimmicks and gore stateside. Wrestlers bled buckets, swung Singapore canes and bashed each other with unprotected chair shots.
Terry Funk became a legend. Mick Foley became a star. The latter cut his teeth in the NWA, Japan, and ECW before joining WWE in 1996. Foley was one of the biggest draws of the WWE's Attitude Era—from 1997 to the early 2000's, when the company pushed the envelope in violence, taste, and decency. He's best known for being thrown off the top of the Hell in a Cell structure twice during a match in 1998's King of the Ring pay-per-view: once intentionally off the top through the announcers' table, and once through the top of the Cell, unintentionally, to the ring 15 feet below (on top of a chair). "Good God … he's broken in half," howled announcer Jim Ross. It wasn't completely hyperbole—one of Foley's teeth was protruding from his nostril.
Foley suffered a dislocated shoulder and was knocked unconscious from the bumps in that match. Now retired, he's a New York Times best-selling author and seemingly healthy—if you don't count the part of his ear he's missing, lost during a battle in Germany. He's one of the lucky ones. Darren Drozdov broke his neck and never walked again. Japanese legend Mitsuharu Misawa died after a belly-to-back suplex.
* * *
The first time Nigel McGuinness got hurt in the ring he was training at Les Thatcher's wrestling school outside of Cincinnati. His opponent, a former bodyguard attempting a career change, injured McGuinness after hitting him with a stiff shoulder block. McGuinness later blew out his knee attempting a moonsault. At that moment, he realized he'd never be a high-flyer and he crafted a technical, mat-based European style. Then, in 2003, McGuinness joined Ring of Honor, an East Coast based independent promotion. He noticed that the top wrestlers—Nuufolau "Samoa Joe" Seanoa, Brandon "Low Ki" Silvestry, and Bryan "Daniel Bryan" Danielson—all deployed what McGuinness calls a more "realistic, believable" style. So he adapted, and he improved. His stuff became real and believable and good. He could also tell a story in the ring and had a natural connection with fans that can't be taught or developed.
McGuinness meticulously crafted his character, a working-class Brit with traces of punk rock and soccer hooligan culture; he was a Guy Ritchie character washed ashore into Ring of Honor. McGuinness had dyed-blond spiked hair, flipped the bird to fans (English style in the form of a "V") and did little things to stick out, like entering the ring through the bottom rope. Oasis's "Fuckin' in the Bushes" was his entrance music. From his experience writing screenplays, he knew characters needed motivation and an origin story so he pondered questions like: Who is Nigel McGuinness after the show? Who is Nigel McGuinness at six o'clock in the morning when he has a hangover? If he knew the answers, it would show in the ring.
He was also in the right promotion; guys in Ring of Honor did anything—kamikaze dives onto the floor, chair shots, stiff head butts, blading—to get the product over with fans. It had strains of the old ECW—which had gone bankrupt and folded in 2001—combined with technical mat wrestling, Mixed Martial Arts-style submission holds, and, most of all, a love and respect of the craft that's more common in Japan and Canada. "You were so full of bravado that you didn't think of the physical repercussions of it," McGuinness says. "You tried to protect yourself as best as you could. You understood that there were certain sacrifices that you were going to make for having this sort of a run in this sort of a company."
As a finisher, he used the "Jawbreaker Lariat," a modified clothesline. Instead of just sticking his arm out at the moment of impact, McGuinness swung his left arm like a boxer delivering a crushing hook. For a little extra oomph, sometimes he'd bounce in between the ropes and launch himself at his opponent. It looked devastating because it was. "He wound up using a move that knocked the hell out of you," says Dean "Shark Boy" Roll, a wrestler who trained with McGuinness in Ohio. "I don't think he sent anyone to the hospital. It was just a stiff move. The way he threw it though was beautiful. It looked like a finish."
McGuinness moved up the card, had classic five-star matches with his great rival Bryan Danielson and in October 2007, he won the ROH World Title from Takeshi Morishima, a burly Japanese tank with a style and look resembling the late Terry Gordy. A week later, McGuinness tore his bicep. He missed some dates, let it scar in place and worked through the injury. It became a pattern.
* * *
The defining moment of his title reign occurred on December 29, 2007, during a match with Austin Aries at the Manhattan Center in New York City. Early on, while McGuinness was outside the ring trash-talking fans, Aries, a daredevil who reached unbelievable speeds and heights on his jumps, leaped through the ropes and into him. McGuinness's head collided with the metal barricade separating the crowd from the wrestlers and a nasty gash opened over his eye; a fan in the front row recoiled after seeing blood gushing from the wound.
McGuinness was woozy, an almost bemused look splashed across his face. He doesn't remember crashing into the guard rail and later said the blow briefly knocked him out. Somehow, he finished the match, which he won. He was in the hospital that night until 4 a.m. and received 27 stitches over his eye. "Looking back, I'm still proud of that match," McGuinness says today. "I didn't plan to get knocked out. I am certainly not glad that it happened but it added something to the match. Sometimes for a match to really stand out, something has to happen that wasn't planned. How you respond to that and how you ad lib, creates that magic."
Before McGuinness went to the hospital, he was photographed, still battered and bloody, gazing obsessively at his title belt. It's one of his most popular 8 x 10's. "There were a lot of questions going through my head," McGuinness says of that photograph. "What have I done to myself?' 'Is this worth it?' 'What will be the payoff in the long run?' 'In 10 years, will you be mentally defective?' 'Are you going to quit now?'"
He couldn't quit. Independent wrestlers are paid per appearance. And so the next day, McGuinness reported for work. He was schedule to defend the title in the main event but then-Ring of Honor booker Gabe Sapolsky wouldn't allow it. "Nigel is a really tough guy and was willing to work through pain," Sapolsky says. "Sometimes he did have to be protected for his own good."
Instead of wrestling, McGuinness addressed the crowd. He was still punch-drunk, so it took him four hours to grasp the talking points of the promo. McGuinness walked delicately toward the ring, swaying from side-to-side. His balance was shot, an obvious indication of a major concussion. He wasn't selling. Some members of the crowd, disappointed in the cancellation of the main event and tired of McGuinness's injuries, began chanting, "Drop the belt! Drop the belt!" McGuinness was shocked.
On the verge of tears, he defended himself. "It's the sacrifices I've made that allow me to stand in this ring as Ring of Honor champion," he cried. Suddenly, he was no longer in character. He was no longer saying something to get a reaction. He was saying what he genuinely felt. And it worked. Wrestlers are not actors, so the best promos occur when they believe and are invested in the words coming out of their mouth. Soon, a louder chant of "Nigel! Nigel!" engulfed the jeers. He ended the promo defiant. "And for the rest of you [fans] who love this business, who respect the wrestlers, I'm going to keep this belt because of you. Thank you! And screw you!" Once backstage, he dropped to a knee in front of Sapolsky and cried. "To experience that venom after you spent 20 minutes the night before trying to entertain that same person and then five hours in the hospital," McGuinness says, "it's something that touches you deeply to the core."
"And for the rest of you [fans] who love this business, who respect the wrestlers, I'm going to keep this belt because of you. Thank you! And screw you!"
Ring of Honor wrestlers have a complicated relationship with their fans. There's a bond and intimacy that's impossible to replicate in a big company, no matter how much WWE hypes the "WWE Universe." But there's also a downside: ROH is a DVD-driven product, and so the fans have seen all the big matches. Most fans are walking encyclopedias of wrestling—wrestlers try not to replicate spots or work the same match twice. They are passionate. They are devoted. They are not easily impressed.
McGuinness couldn't walk straight for a few weeks after the match with Aries. His testosterone levels plummeted. His libido vanished. He struggled with depression. He took some time off but not enough to heal completely. He couldn't leave the money on the table. Pride also factored into his decision. Pro wrestling is about making money and getting out before you really get hurt. But McGuinness was concerned about his legacy. He wanted fans to hold him in the same esteem as past ROH champs like Samoa Joe, Phil "CM Punk" Brooks, or Bryan Danielson.
"Nigel was always very hard on himself," says ROH wrestler Jimmy Jacobs. "The pressure he put upon himself was unparalleled. He made sure to deliver something special every night and he destroyed his body because of that. I watched it and it was inspiring and tragic at the same time."
While wrestling was destroying his body and mind—McGuinness would joke he'd end up like the main character in Flowers for Algernon—it had already taken a toll on his personal life. McGuinness and his wife divorced in 2006. "I feel like there were always going to be issues with any relationship but wrestling certainly exacerbated them," he says. During his early ROH career, McGuinness wrestled on the weekends and held a night job during the week, delivering room service at a hotel in Louisville. "That's what's really difficult because ever since I was a kid, it was always my dream to be a professional wrestler. But it was also my dream to find a girl, fall in love, get married and be happy. I had that romantic notion as well so I was always torn between those two things knowing that for a large extent they were pulling against each other. I always had trouble justifying that in my head."
After 545 days as ROH champion, McGuinness dropped the belt to the veteran Jerry Lynn in April 2009. He worked the match with two torn biceps, a neck injury, and concussion issues. It was a relief. Being champion had broken him.
***
Nigel McGuinness is not his real name. He was born Steven Haworth and grew up 61 kilometers southeast of London in a village called Staplehurst. At Les Thatcher's wrestling school, Shark Boy dubbed him Nigel, a Welsh name, and it stuck. Nigel decided that his last name should embody the United Kingdom. "Mc" took care of Scotland. Guinness represented Ireland. His mom and sister call him Nigel McGuinness. So does his father, on occasion. His parents were both high school teachers. Mom worked with special needs children and also taught English, German, and history; dad taught mathematics and computers.
McGuinness fell in love with wrestling after his friend snagged a VHS copy of SummerSlam '92, which took place at London's Wembley Stadium. Within a few weeks, most of his classmates had moved on. McGuinness became convinced that pro wrestling was his destiny. Needless to say, he wasn't popular in high school.
McGuinness was struck with meningitis during his senior year. He spent three days in the hospital, unresponsive from swelling on the brain. Once recovered, he had a sense of urgency rare for a teenager.
Like most Europeans, he took time off following graduation and spent a year in Australia. Back in England, he studied chemistry in university. It came easy to him but it wasn't pro wrestling. He applied to study abroad programs and enrolled at Kent State in Ohio, site of the infamous massacre of Vietnam protesters in 1970. Once again, McGuinness struggled to fit in. He was the weirdo with long pink hair who skateboarded around campus. He didn't kiss a girl for the entire year. "I had pictures of Hulk Hogan and Ultimate Warrior on my walls," he says. "That didn't help my efforts."
But he landed at Les Thatcher's wrestling school in Ohio, determined to make it. And he remembered a list he'd made in Australia. Written on a napkin, it contained his 10 ambitions in life. He aspired to write a book, be a teacher, learn piano, make a movie, get married, have kids by the time he was 35 years old, and most importantly, become a WWE superstar.
* * *
After dropping the title to Lynn, McGuinness knew it was time to jump to WWE so he e-mailed John Laurinaitis, then-executive VP of talent relations, who then invited him to a tryout in Louisville. About 15-20 wrestlers were there. And after wrestling legend Dory Funk Jr. gave a pep talk, Laurinaitis turned to McGuinness and instructed him to get his gear, get in the ring, and "beat someone up."
McGuinness called the match on the fly. He was safe. He wasn't reckless. For the finish, he allowed his opponent to make a comeback and then cut him off on the top rope and hit a superplex for the win. Afterwards, Laurinaitis, along with Dusty Rhodes, the writer Dave Lagana, and former British star Norman Smiley, took McGuinness back to the office and told him how excited they were about him. He later signed a contract and took a physical. His dream was within reach.
He wrestled his last match for Ring of Honor in September 2009 against Danielson, who was also departing for WWE. On the day of the match, McGuinness received a call from a TNA executive wanting to hire him. McGuinness respectfully declined, citing the pending WWE deal. "Well, if it doesn't work, you can always come here," said the voice on the other end. McGuinness had a horrible premonition.
There was reason to worry. WWE said they couldn't clear McGuinness to wrestle unless he surgically fixed his torn bicep. McGuiness had wrestled with the injury for years and was desperate to avoid surgery. He'd taken three months off earlier in 2009 so money was tight. He had $2,000 of credit card debt. Surgery would cost between $4,000 and $6,000 and he'd be out for four months. He faxed Laurinaitis a letter from his orthopedic surgeon who'd cleared him to wrestle, but WWE insisted on surgery. McGuinness declined. WWE pulled the offer.
"I felt like I really earned it. I learned the craft, paid a lot of sacrifices and was now getting my just rewards. When it didn't work out, it was difficult for me to understand," he says. "It's like watching a movie and seeing a guy struggling and struggling and then towards the end of the movie, it's like, here's the happy moment, and then he walks outside and gets run over."
The rescinded contract became fodder for the internet wrestling community. Was it due to multiple concussions? Something even more horrible? The questioning intensified after McGuinness debuted in TNA in October 2009, looking fit and healthy, throwing his trademark lariat with abandon. Now known as "Desmond Wolfe," McGuinness says the next two months were the highlight of his career. His program with Kurt Angle drew raves. He was making good money, on pace for six figures in 2010, and he was relaxed. While once so nervous before his matches in Ring of Honor, working with a pro like Angle was a breeze. It was that magic he dreamed of as a kid in England.
His monster push ended almost as soon as Hulk Hogan debuted in TNA in January 2010. Hogan had an unclear role. He wasn't wrestling or exactly booking the shows but he held considerable power and planned on using former WWE talent to attract casual wrestling fans. He also carried certain viewpoints about wrestling. One specific tenet was that heels can't outwrestle baby faces. Back in the 1980s, bad guys mostly kicked, punched, or eye-gouged; King Kong Bundy didn't chain wrestle. McGuinness, on the other hand, would go from an arm bar to an arm lock, showing off his repertoire. It didn't go over well in Hogan's locker room, and McGuinness was nearly fired. He languished in the undercard for a few months. By September 2010, he was off television.
TNA explained it as a "personal issue." McGuinness had actually tested positive for hepatitis B. (Hepatitis B is an infectious inflammatory illness of the liver that can be transmitted by blood or body fluids like semen. Unlike hepatitis C, there is a vaccine.) McGuinness received the phone call while at the gym. At first, he thought there might be an issue with a supplement. The diagnosis bewildered him. McGuinness says he's never had unprotected sex or shared needles. And he was in the acute phase, which meant he'd contracted it within the past two months. Most likely it came from bleeding in the wrestling ring.
As his liver enzymes went through the roof, he imagined the organ dissolving inside his body. Doctors were puzzled, unsure of the proper treatment. Amidst all this, having not worked for six months, he was also going broke. So he took that job at the deli in Tampa. Those were some of his darkest days. "There were times certainly when I had hepatitis where I couldn't get out of bed," he says. "I could never kill myself. I could never subject my family, friends or the people that love me to that but there were definitely times when … it was the first time in my life where … I had known people who killed themselves and I thought, 'How could you never have any hope to live anymore or have any reason to carry on?' But there were times in my life that I just felt just … it's weird how depression works there's this feeling in your head that there is nothing left to live for."
Luckily, he stumbled upon the Chance Center in St. Petersburg. He was prescribed an anti-viral medication and within six months, he was clear of the disease. All the while, he occasionally showed up at TNA tapings. He never divulged the ailment but talk of hepatitis swirled around the locker room. "I heard hepatitis right away but I thought it was C, the super bad one, the terminal one," says Shark Boy. On the internet, McGuinness's disappearance turned into a more salacious mystery than his failed WWE physical. Hepatitis was the prevailing rumor but AIDS, cancer, brain tumors, and brain damage were also haphazardly tossed around comments sections.
TNA released McGuinness in June 2011. And though cleared to wrestle, he decided to retire. His body had been through too much. He was never going to sign with WWE. There was no point returning to the independents except for the obligatory retirement tour.
McGuinness dubbed the go-around "The Last of McGuinness / What Wrestling Means to You." It was supposed to be a celebration of his career but McGuinness grew despondent. "The mood was somber," says Shark Boy, who wrestled McGuinness in Middletown, Ohio. "Backstage, I was trying to cheer him up. It was like, 'You're not a failure. You achieved enough.'"
McGuinness wrestled his last match on Dec. 17, 2011, in Clarksburg, W.V. The next day, Bryan Danielson (now wrestling in WWE as "Daniel Bryan") won the world heavyweight championship. Danielson got in touch with McGuinness after the match. "He texted me after he won the belt, 'Wish that I was there with him,'" McGuinness said on the ROH-produced DVD The Best of McGuinness. He choked up and the camera briefly cut away, allowing him to regain composure. "Must be that time of the month. Crazy. Glad one of us made it."
* * *
Nigel McGuinness was always introspective. Growing up, he loved television shows and movies that featured inner monologues like Stand by Me and The Wonder Years. He's been in and out of therapy as an adult. And he's written in a journal every day since he was 12 years old. So it was only natural that he'd film his retirement tour. In early 2012, he raised over $48,000 on Kickstarter and then spent the next eight months editing over 70 hours of footage.
The first draft of The Last of McGuinness, which is on sale on his website and at Ring of Honor events, is a compelling story, emotional and true. What was planned as a tour documentary turned into a vehicle for McGuinness to make peace with his halted career. It took him a while, which is understandable. At a time when ROH peers like CM Punk and Danielson wrestled in main events of WWE pay-per-views and Austin Aries dominated TNA, McGuinness was scrapping by, wondering how he'd support himself.
The Last of McGuinness isn't strictly for wrestling fans. Anyone who spent their life working towards an impractical goal—like being a famous singer, actor, writer or athlete—and then woke up one morning in their 30s realizing it just wasn't going to happen can relate to the film. There are many stories about people who overcame adversity and achieved their dreams. Most people don't achieve their dreams. And sometimes that can be okay if the experience was worth the journey.
"As far as achieving my dream, I don't think I did," McGuinness says. "My dream was to be a WWE wrestler, to be like the Ultimate Warrior, to travel around the world and for everybody to know who I was and to make hundreds of thousands of dollars and then retire and get married and have kids. I certainly didn't achieve that and I'm OK with that."
Feedback from fans has been overwhelming so far but McGuinness is still tweaking the film. After the Ring of Honor show in Manhattan, he meets a filmmaker who recently placed a film in Cannes. It's raining and McGuinness is running a little late so he hops in a cab. He fidgets and confirms the address of his destination—a café in Chelsea—with the driver three times.
"Don't worry," I say. "You'll get there on time."
"I'm real worried. You probably noticed, I am a perfectionist."
"What else are you worried about?"
"Being late, meeting people, making sure I'm not letting people down. Back when I was wrestling, it was about having a good match and making sure the people were not going home disappointed. I don't want to say the wrong thing to upset anybody. You wonder whether everybody feels that same way."
We're 20 minutes early, and once the filmmaker arrives, they enjoy a productive chat. She likes the film but shares my critiques—there's a little too much wrestling for mass audiences, too many mentions of WWE, and, at times, the documentary plays like a Nigel pity party. "There's a little too much, 'Woe is me,'" McGuinness concurs. In late January, he learns the documentary wasn't accepted into South by Southwest. He's now cutting 20 minutes from the running time. From there, its back to the festival route or maybe even a television deal.
Regardless, life is good at the moment. He's booked stand-up comedy gigs in Los Angeles and San Diego (Demetri Martin, Ricky Gervais, and Russell Brand are some of his heroes), scored a small role in the movie Puppet Master X: Axis Rising, and hosted a recap show on After Buzz TV. Most importantly, he's healthy and moving on with his life. "I just have a feeling that whatever is going to happen to me next is going to be okay," McGuinness says.
He then tells me about a recent conversation with former Ring of Honor owner Cary Silkin. Occasionally, Silkin vacations in Puerto Rico with a few of the guys. McGuinness never went. He thinks he might join them next time. "They just go to the beach, have a few drinks, go to sleep, go back to the beach, and then go have a burger. It seems so luxurious but it shouldn't be," McGuinness says. "I'm living my life. I'm not struggling."
Republished from The Classical.Thomas Golianopoulos (@golianopoulos) is a writer living in New York City. He has contributed to The New York Times, Grantland, the New York Observer, and Wired.
The Classical is an independent sports website. We make no attempt to be comprehensive, or even to offer a reliable guide to the world of sport at any given moment. We are not a smarter version of what you can find elsewhere. We're not the media. We are a never-ending, wide-ranging conversation between writers and readers about baseball, basketball, soccer, football, fighting, and anything else in the sports world we consider compelling. This site delivers fresh essays and reporting daily, along with several regular columns, a blog, and a considerate, intelligent community for talking about sports.