The NFL Network may not be the monolith the league once envisioned, but Roger Goodell likes having it around for what it forces others to do, particularly ESPN. Goodell alluded to this on Monday while speaking to Hearst employees—Hearst owns 20 percent of ESPN—during the media company's regularly held "master classes" with big shot executives. He was talking about the relationship the league has forged with its broadcast partners. They're buddies, but also competitors who use one another.
"Before we used to have to rely on our partners," Goodell said, speaking to Hearst Magazines president David Carey. "They may be television partners in Mongolia to put us on television or we had to rely on a magazine to do a piece on what American football's all about. Now we go direct to consumer.
"While we use our networks—and they use us to create this mass audience to watch our sport and they make it better through their production—we want to find new ways of getting directly to our consumers," he continued.
Goodell pointed to RedZone, Sunday Ticket, and, most significantly, the NFL Network. But the beauty of the NFL Network, Goodell said, is how it creates something of an arms race with ESPN.
"What it has done, quite frankly, is not only given consumers a chance to experience football, but our competitors in some ways—also our partners, let's take ESPN, of which you're part ownership—now have to counter that by bringing even more football on ESPN," he said. "So, we create a scheduling show for two hours to talk about our schedule for the upcoming season. Guess what? ESPN did the same thing. Good outcome for the NFL. We had a two-hour pre-game show; so did ESPN. We went to three. Guess what? ESPN went to three. We went to four. I think they're about—they're on four. What it does is it raises the game."
G/O Media may get a commission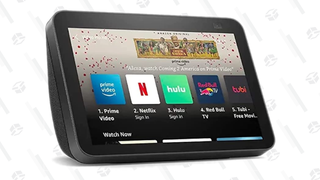 Technically, the NFL Network's Thursday night pre-game show starts at 6 p.m. and the game starts at 8:25—so, about two-and-a-half hours of pre-game coverage. Likewise, ESPN's Monday Night Countdown begins at 6:30 p.m., about two hours and 10 minutes before kick-off. There's also a 6 p.m. SportsCenter pimping the game before Monday Night Countdown begins, not to mention the three consecutive hours of football coverage between 2 p.m. and 5 p.m. (NFL Primetime, NFL Insiders, NFL Live). Last year, it had two hours of afternoon game-day coverage. In all, according to a press release last month, ESPN dedicates more than 27 hours of programming to NFL studio coverage during the regular season.
People may not be flocking to the NFL Network over ESPN, but the result is that league is still gobbling up time blocks elsewhere on the dial. It's a partnership that works out for all involved. Well, except when it doesn't.