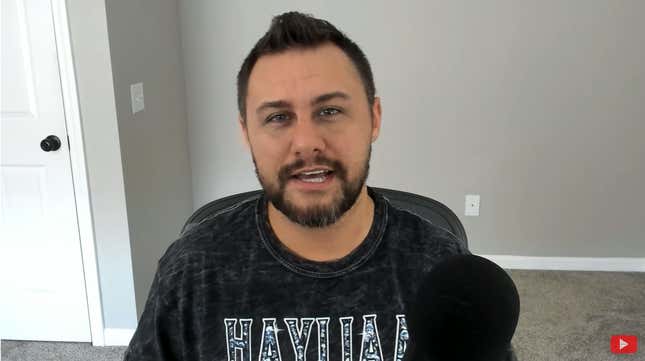 After CM Punk did his professional impression of the Hindenburg, Ace Steel reportedly bit Kenny Omega, and whispers of the alleged backstage brawl after All Elite Wrestling's All Out started to percolate, Sean Ross Sapp knew he wasn't sleeping much for the next few days. Rarely did a professional wrestling story from behind the curtain spread as quickly as the supposed jabs and chair tossing that took place in a NOW Arena locker room in early September. Sapp's calling was to chase the facts, ask for information from sources and endure the relentless push commonly associated with old-school journalism to get to the bottom of one of the biggest squared-circle stories of the year, in a 365-day period with little respite.

Who is Fightful's Sean Ross Sapp?
Who is Fightful's Sean Ross Sapp?
Sapp's job as a professional wrestling journalist isn't traditional media. He can't cover the happenings of World Wrestling Entertainment, All Elite Wrestling, and many other promotions across the globe purely as sport. His job with Fightful isn't exclusively speculation either. Sapp's role, mainly due to how deep his contact and source list in professional wrestling is, can be whatever he chooses it to be. His profile in squared-circle fandom gained invaluable traction when he broke the story of Punk's return to the ring, nearly a month before he showed up in AEW. Thanks to the efforts spearheaded by Sapp, Punk called his August 2021 debut "the worst kept secret in the world."

Comebacks are only fun if your team wins | The SEO Show
How do you cover an "outcome predetermined" sport?
"What's worked out for me is highlighting my personality and doing review shows and stuff like that on top of breaking actual news," Sapp recently told Deadspin. "The unusual element is we got to break stuff that's going to happen on this show that is scripted as well. I think it's a little bit unlike anything else, kind of like pro wrestling is. You have to infuse those elements of realism, but you have to have an entertaining aspect of it as well.
"I always say that almost anybody can belong as long as they're good people in wrestling media because there are so many different elements to do it. You can start up a wrestling website like wrestling doughnuts and just talk to wrestlers about their favorite doughnuts. And you might get invited to a media scrum. You might end up making that successful. I think the role of wrestling media is to inform and entertain, but sometimes you have to weigh that appropriately when the time calls for it."

If you peek into Sapp's high school yearbook, you'd see an undersized athlete. Like plenty of other journalists, those who knew they couldn't sustain playing sports for a living as a profession decided the next best move was to write about the people who could. Sapp had never heard of Dave Meltzer, Mike Johnson, or Wade Keller, much less that professional wrestling journalism was a thing. He figured his unique route to writing about the next Dwayne Johnson or Charlotte Flair would be wrestling and mixed martial arts training to gain a deeper understanding of the sport. Sapp admits if he knew who Bryan Alvarez was before going that route, he might've done it differently. Yet, he proceeded on, gaining his first bylines in professional wrestling journalism working for Bill Apter for free.

It was the paycheck-less work under Apter that led to Sapp working for Fightful. When the pro wrestling conglomerate Fightful started, founder Jimmy Van approached Apter looking for someone to help with content. Sapp was the suggestion and the website has never looked back. At first, Sapp's roles were so large, he described them as "doing everything but designing the website." Several years later in the present, he's a minority owner in the company and used to hold the title of managing editor. Sapp doesn't do the hiring and firing, but he oversees most of the content. He's far from the only employee at the company these days too, with around 40 people that submit monthly invoices.
To get to his established post in the pro wrestling industry, Sapp said he rarely took a day off from 2014 through early 2019. He had a 3-day vacation to Oak Island in 2018 and hated the trip. He didn't work the days of his bachelor party or wedding. Outside of that, his days were devoted to career building, including Christmas and birthdays. Sapp still works most days now, and every day on the job is different. He's mainly in charge of breaking news, hosting a podcast or live stream almost daily, and selling sponsorships to the website. When others break news, he's happy to give credit to other outlets and piggyback to provide additional information.
"I never call myself a journalist because there's such a weird, just amalgamation, of everything media that we have to do," Sapp said. "And I don't feel like some of the stuff that we do is journalism, and some of it is. But there's plenty of it that isn't. It's pro wrestling. It's fake fighting. We're not covering the war (in Ukraine). We can certainly discuss rumors and speculation a little more freely than something like that can."

How does he get so many scoops?
That brings us back to the brawl at All Out. Three years earlier at the 2019 edition of the same show, a similar altercation took place between Sadie Gibbs and Bea Priestley. Sapp was later to getting the information than he'd liked because he covered the event live with bad phone reception. While working last year's All Out from the comfort of his home, and news of The Elite's confrontation with Punk and others started to spread, Sapp's phone was charged and he had a full internet connection to find the story. Fightful's far from a one-man operation, but Sapp knows the way his stories and scoops have trended on social media is a tremendous deal to his employer.

"I think I'm just good at getting information and my ultimate role is that I provide accurate information and insight to what's happening, what's going to happen and things that did happen, that sometimes wouldn't otherwise be publicly known if we didn't publish it," Sapp said. "Sometimes wrestlers, companies will hit me up and they'll be like 'Hey, we would like this information to go to you because we know a lot of people will see it.' And that's okay, as long as I can verify it. But I think that's my ultimate role.

"And then completely separate to that is to do entertaining post-shows, which are a huge part of our business where I can offer subjective opinions on a subjective show, while still providing objective news, which I think is very important. And again, it's one of those unique aspects because there is subjectivity and objectivity in entertainment."

The next step for Sapp is a desire to normalize a direct line of communication from wrestlers to the media members who cover them. Open clubhouses are mandated by teams in professional sports, and allow subjects and writers to know each other better. Smaller promotions such as Game Changer Wrestling and Black Label Pro have allowed Sapp that access. That also didn't stop Sapp from looking into the allegations brought against GCW for faking COVID test results last year. He said there's only been a few instances of wrestlers bringing up their friendship and questioning why he reported something about them, saying 99.5 percent of wrestlers understand his job.

What he doesn't report
What begs the question: how far does newsworthiness extend in professional wrestling? Sapp has made the choice to stay out of personal matters involving wrestlers unless they come directly to him for clarification and with the expressed consent that he can go public with the information. Sapp has connections enough to hear about non-wrestling matters involving talent. He reached out to WWE's Mia Yim when he had heard her husband, AEW's Keith Lee, had been going through an extended illness, but didn't report it on Fightful. Same when former WWE wrestler Mojo Rawley had an extremely bad coronavirus case. He sent well wishes, but didn't use it for professional gain.

"They usually don't forget that, too, because that is something that a lot of people could jump on. We could probably sell a lot of subscriptions off of information like that," Sapp said. "And it's just not something that I want to do. I always say that you could argue that none of this is my business. And that is completely fair based on how you determine that. But there are a lot of people that do take notice of that within the industry. They're maybe more likely to come to us for stories or news or something than somebody who does put that type of information out there.

"I just want to make it clear that this is just a business type of thing. And if we see each other in person, I'm going to be friendly to you. I'm going to be respectful to you. I'm not going to make it personal. I'm not going to do any of that. I'm not going to try to bury you or anything like that. And if people are cool to me, I'm gonna be cool to them. And I still gotta do my job."