While reporting his cover feature for Sports Illustrated on Manti Te'o, Pete Thamel found what he called some "small red flags" in the story of Lennay Kekua, the dead girlfriend who never existed. So what did he do?
"You were able to write around it," he said this morning on The Dan Patrick Show.
That's because everyone around Notre Dame had taken the dead girlfriend as a given. Thamel said he had talked about Kekua with a Notre Dame priest, Brian Kelly, and Te'o's teammates. Thamel also said he had spoken about the girlfriend with Te'o for 45 minutes. (Two sources tell us that SI.com will publish an unedited transcript of the entire interview between Thamel and Te'o later today.)
"By time I got to Manti Te'o on Sunday there wasn't a whole lot of, 'Does she exist?' thinking in my head," he told Patrick.
G/O Media may get a commission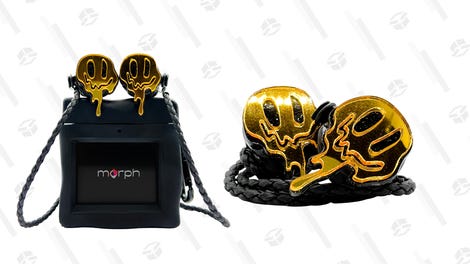 morph audio
Morph Earphones
So, Thamel went with what he got: She had an April 28 car accident; she began to recover from the accident two months later, and that's when doctors discovered she had leukemia; her relatives told Te'o that she had fallen into a coma; he sent her flowers.
And what were those "small red flags"? He couldn't find an obit for her online, he said. He couldn't find a death notice. He couldn't find a record of her on Lexis Nexis. He couldn't find "her brother's name to spellcheck it." So he wrote around it. (This is what an ESPN reporter did as well.) He tipped off his editors about this stuff.
Thamel told Dan Patrick that he had arrived on the Notre Dame campus the Wednesday before Notre Dame's Sept. 22 game against Michigan, but the athletic department's press people wouldn't let Te'o speak with him until Sunday. That interview apparently took place late in the day. Pieces of the story had already been filed at that point; the section about the girlfriend was filed later, we hear. The magazine closes on Mondays. Once the full story had arrived in a factchecker's hands, there wasn't much time before the issue went to press. So how did SI wind up verifying the details about Lennay Kekua? We hear that Te'o's father, Brian, is the one who confirmed all the information about Kekua. It was left at that.
Patrick asked Thamel what was running through his head after he saw our story yesterday.
"My reaction was surprise but as soon as they went into Lexis Nexis and some of that other stuff, it's just that sort of punch in the gut," he said. "Where it's like, 'Oh boy. Oh boy.'"
For now, Thamel is hewing to the Notre Dame line that Te'o was duped.
"I've obviously been maybe branded a little bit naive for writing what I did, but I mean I don't think he has it in him to be a part of this," he said. "I think he was duped, hook, line and sinker."