Bill Cosby held a big party at Temple in December 2004.
It was the premiere of his new movie, Fat Albert. The film, based on the decades-old animated series inspired by Cosby's childhood in North Philadelphia, was the first film screenwriting credit of Cosby's storied career. The premiere, held at Temple's basketball arena, was a tribute to Temple and to Cosby's childhood. He dedicated the movie's premiere to then-Temple women's hoops coach Dawn Staley. He clowned around with Temple's cheerleaders.
Earlier that year, Bill Cosby had drugged and sexually assaulted a Temple employee.

As a jury declared last week, in January 2004 Cosby indecently assaulted Andrea Constand, then the director of operations for Temple's women's basketball team. She reported Cosby in January 2005, and filed a civil lawsuit that March. Then-Montgomery County district attorney Bruce Castor decided not to press charges. The story faded from view. But a Temple employee said a Temple trustee, the school's most famous alumnus, had drugged and sexually assaulted her. Yet the Fat Albert premiere, done before the allegations became public, was not the last event Cosby did for the school. It kept trotting him out there.
Yes, much of the public had a collective amnesia around Cosby. But Temple certainly knew about the incident. It was widely reported in the Philadelphia press, in both Philadelphia magazine and the Daily News. Constand's civil suit led to the revelation there were 13 additional women willing to testify that Cosby had drugged and raped them.
Sure, Cosby wasn't charged. But a Temple employee also said he sexually assaulted her. Still, Temple did everything it could to protect him. Patrick O'Connor, also a member of Temple's board of trustees, actually represented Cosby during the investigation and civil suit in 2005 and 2006. He worked again as Cosby's lawyer as recently as 2016, in regards to the same civil suit.
G/O Media may get a commission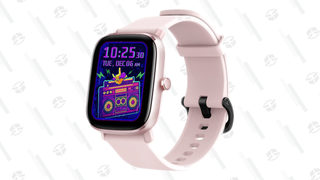 20% Off
Amazfit GTS 2 Mini Smart Watch
Get fit
Has built-in Alexa so you can ask questions and carry your smart assistant around with you; it has a battery that can last up to 14 days, has over 70 different sport modes, is 5ATM waterproof, and tracks stats like your heart rate, calories burned, sleep, and more.
As my boss Diana Moskovitz has previously reported, we don't know all of what Temple knew about Cosby because Pennsylvania has essentially exempted the public school from all records requests. But Temple made itself clear on how it felt about Bill Cosby. He made scores of appearances at the school following Constand's assault.
Simple searches of the Associated Press and Getty photo databases show him popping up at Temple events frequently. He helped honor Temple basketball coach John Chaney at the hoops hall of fame in 2006. He appeared at football and basketball games, including dressing up in an old-timey football uniform at Temple football's media day in 2007. He made the media rounds in 2009, before Temple's bowl game; players said he made several inspirational speeches to the football team. He appeared at Temple's commencements, speaking in 2011, up until 2015.
Temple outright defended him, too. In 2015, I asked Temple if it was considering rescinding Cosby's honorary degree. The university responded that it wasn't even considering it: "There have not been discussions related to his honorary degree." The university told The Temple News, the school's student newspaper, that the board had approved of O'Connor's representation of Cosby. When Cosby's deposition was released in 2015, O'Connor called it an outrage and claimed that the public was hearing a one-sided version of events. After the deposition was made public, president Neil Theobald was interviewed about Cosby in 2015 and said, "This is all court of public opinion."

It's obvious why Temple would want to keep Cosby stain-free. He's by far the school's most famous alumnus. He donated money and time to the university; more so, he was genuine in his love of the school. Having Bill Cosby at an event leads to more people attending, which leads to more people with checkbooks, which leads to more money for Temple.
Every university keeps some shitty humans around to cut checks or get others to cut checks, and in return it gives them some protection. But that doesn't make it right. And, yes, others helped normalize Cosby after 2004. He continued to start races at the Penn Relays. NBC planned a new sitcom; Netflix prepped a stand-up special. Fucking Sesame Street asked Cosby to be in its celebrity "silly dance" competition. But Temple deserves special scorn here—he sexually assaulted one of its employees, and Temple helped rehabilitate him.
And no one at Temple will face any repercussions for this. O'Connor has since been promoted; he is now the chairman of the board of trustees. Temple's name is not being dragged through the mud for its repeated defenses of Cosby. The same people at the university have moved on to their next project, trying to get a football stadium built in North Philadelphia. And the message—that if you're rich and famous enough Temple will help you get away with crimes, even crimes committed against one of its own employees—remains.