Just because the mercury has dropped below freezing and appears stuck there until spring, it's no reason not to explore the outdoors. Let's talk about how you, the fearful and apartment-bound city dweller, can get outside and embrace the cold.

If you're going to venture out into the cold weather, particularly if you're going to be out in it for hours or days at a time, what you wear will go a long way in determining how comfortable and, more crucially, warm you will be. Dress to stay warm and dry, starting with your skivvies.
Last winter, over New Year's Eve, I backpacked a stretch of the Appalachian Trail from the Connecticut-New York state line down to Harriman State Park along the New York-New Jersey border. Daytime temperatures were anywhere between the high teens and high 20s. Hiking an average of about 14 miles a day with an 18-pound backpack meant I was working up a sweat, even in sub-freezing temps. Throughout the trip I was wearing either merino or polypropylene long johns to afford myself a comfortable, breathable, and insulating base layer that wicked the sweat away.
Wicking fabrics are incredibly useful because they are lightweight, keep you insulated, and also fairly dry during exertion. Merino wool will do the trick but will cost a few bucks more; synthetic fabrics will do the same for a few dollars less. One sure thing to avoid in a base layer? Cotton. Seriously, cotton is a no-no due to its ability to absorb and retain moisture (sweat). Walking around in wet clothes when it's below freezing is a great way to contribute to hypothermia. If you run hot, you might want to roll with lightweight versus midweight on any winter hikes, unless temps are downright Arctic.
On top of your base layer you'll want to sport an insulating layer. For this trip on the AT, and on a few other late-fall and wintertime excursions, I rocked a beater of a wool sweater that was a Christmas present from years ago and was perfectly comfortable. You're essentially looking for something to help trap your body heat. Insulated vests, fleece pullovers, and wool sweaters that your well-meaning relatives give as presents are all acceptable midlayers. Again, avoid cotton at all costs.
G/O Media may get a commission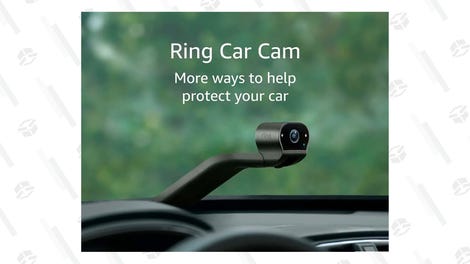 As for footwear, your normal hiking boots or trail runners should be sufficient for anything you encounter. If you know you'll be trudging through deep snow, like snow deeper than your boots, you may want to invest in some gaiters. One thing I wish I had for my trip on the Appalachian Trail last year was a pair of crampons or any other sort of ice trekking system. The AT—unbeknownst to me, the hiking moron who had flown back to NYC from traveling for the holidays and not realized that the Trail had absorbed an ornery melange of ice and snow two days before I set out—was glazed with an unforgiving layer of ice that would thaw each afternoon in the winter sun and then refreeze each night. Just an absolute delight, truly. In any case, there are a lot of crampons and grip options out there and, man, that's something you will want on icy trails. Socks? You'll want socks. I'm a big believer in Wigwam's Trailblaze line of socks, but that's definitely my Midwestern showing. Look for something that's breathable, warm, and dries fast.
You'll want gloves too, but I'm sorta meh about advice on gloves. Make sure they keep your hands warm? That they are somewhat wind-proof? I dunno, you're an adult and presumably have found a way to not lose any digits to frostbite thus far. I like the tip-less, wool, "boxcar hobo" gloves on their own just fine for most scenarios, and if it's really cold I'll layer those under a bomb-proof pair of mittens I picked up for a skiing trip a few years ago.
If the weather turns inclement while you're hiking or backpacking the good news is you likely won't be struck by lightning. The bad news is that you'll potentially be exposing yourself to hypothermia if it's raining and the thermometer is just a scooch below 32º F. To prevent hypothermia you must stay dry, and to stay dry in an unpleasantly chilly rainfall requires an adequately waterproof shell. Gore-Tex is a useful fabric for these sorts of circumstances; you should do your best to have a shell packed in an easily accessible spot in your daypack or backpack for when the weather turns nasty.
If you haven't noticed by now, hypothermia is an ongoing theme here. It's a legitimate threat to your continued existence while out in the woods in winter. Familiarize yourself with its symptoms before you head out, okay?
While backpacking the AT last year, I had to deal with below-freezing temperatures both day and night. The nights were substantially colder: between 5-10º F. When the mercury dips that low you'll need to rely on a high-quality sleeping bag. I personally have two sleeping bags: an older North Face that's a great three-season option, and a Nemo Nocturne for the winter. Sleeping bags are an expensive piece of equipment, and if you don't already own a winter-rated bag and are going camping with some friends soon, rent one from REI or elsewhere. For winter camping conditions you should look for a mummy bag that's rated to a minimum of 15º F, this will likely mean it's down-filled, so expect to pay a premium. If budget is a concern, look for reputable brands utilizing PrimaLoft or similar synthetic fills with a temperature rating of, again, at least 15º.
Here's a fun tip for bed time: Go ahead and toss the clothes you're planning to wear the next day (socks, base layers) into the bottom of your bag. You'll be pre-heating them for the chilly morning, and they can also double as an impromptu way to elevate your barking dogs after a day of long miles on the trail. I'm also a big believer in sleeping bag liners. A liner will help to absorb and dissipate any condensation or sweat, and, as an added bonus, will keep you a little warmer in winter and a little cooler in the summer.
A good sleeping pad is just as important as a solid sleeping bag. Sleeping pads provide you with a crucial insulated pocket of air between your body and the frozen, uncaring, earthen surface below your tent's un-insulated, nylon, and micron-thin footprint. Think of it this way: Your warm-blooded self is radiating a small amount of heat with every breath and heartbeat. That little bit of warmth that's emanating from your sleeping body is then warming the pocket of air within that sleeping pad, thus keeping the frozen earth's frosty hugs at bay. The engineers in the crowd probably are thinking of the term "r-value" at this point, and they're right to do so. An object's r-value basically determines how rapidly it will dissipate heat. Aluminum has an extremely rapid rate of heat transfer and that's why it's so great for boiling water on a camping stove. It's also, in addition to a number of other reasons that should be obvious, why aluminum is not a great material to make sleeping pads out of. If you get cold easily, look for a sleeping pad with an r-value of at least 4.0.
Looking for a tent? Well, unless you're making a winter ascent of K2 or Denali, I've got some disappointing news for you, Sir Edmund Hillary. While you of course do not want some breezy summertime get-up, your ages-old tent collecting dust in the hall closet will probably suit you just fine for any winter backpacking trip. I've used the same Kelty two-person tent since 2001 and it has always served me extremely well. That being said, and in particular if your tent is a little shabby like mine, look out for a few things when you're getting your gear together: no holes in the mesh screens, tent walls or storm flap, and waterproof material. Crucially, if you're making camp on a fairly deep snow base, make sure the snow's stable enough to support you and your tent and that they're aren't any hidden air pockets or bushes/brushy areas hidden under the snow. After that's settled, stamp out an even and flat surface a little bigger than the footprint of your tent with your hiking boots. If you know you're going somewhere with deep snow, look into some snow stakes for your tent.
Paying a little more attention to what you're doing and how your body is responding to the weather and the temperature is going be crucial for your comfort and fun. Just as you would be mindful of your hydration on a hike in Death Valley in June, pay attention to how you're doing in cold weather. On my trip along the AT and on other cold-weather backpacking trips, I have gone out of my way to pack extra calories. You're going to be exerting more calories than normal just by being outdoors and hiking x-amount of miles per day across unruly topography in a wilderness setting. Toss in the fact that your body is burning more calories in the cold weather to keep you humming at 98.6º, and you'll need those calories. Plus, snacks rule and you should take every advantage to eat extra snacks. Taking a breather? Spend an extra five minutes and eat a handful of trail mix and a scoop of peanut butter or Nutella. For a winter trip I will usually consume 3,500-4,000 calories a day and still come back a few pounds lighter. Your mileage may vary, but be sure to eat enough food and to stay hydrated.
And that's that. Hiking and backpacking in the winter offers a huge amount of benefits. The trails will be way less crowded, no foliage on the trees means you've got beautiful sightlines to survey the land, all the bugs are dead, and there's nothing quite like the solitary satisfaction of listening to an owl hoot while you're snugly sipping a hot toddy in your tent.
---
Brian Lauvray is a big nature, hiking, trail-running, fishing, backpacking nerd who knows way too much about geology, endurance sports, fire-building, natural history, and heirloom peppers.