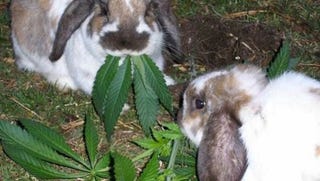 Minor league baseball rules dictate that players who test positive for "drugs of abuse"—the fun, non-performance-enhancing ones like weed, cocaine, and ecstasy—receive a 50-game suspension for a second offense, 100 games for a third, and a lifetime ban for the fourth. There are no such penalties for players on major league rosters. So naturally MLB teams have figured this out, and are using it to protect their top prospects.
Yahoo's Jeff Passan reports on a fascinating loophole, borne of the MLBPA's refusal to agree to suspensions for recreational drugs, and the fact that minor leaguers don't receive those union protections until they land on a 40-man roster. If a big prospect faces a development-ruining suspension, or is considered a heavy risk to flunk a drug test, teams can—and do—stick them on the 40-man roster.
This isn't some sort of high-in-the-sky strategy; it's an actual loophole in baseball's policy with real-life examples. Milwaukee placed pitcher Jeremy Jeffress on its 40-man roster five months earlier than necessary in 2010 after his 50- and 100-game suspensions. Houston moved first baseman Jonathan Singleton to its 40-man to protect him from the Rule 5 draft — and from himself, with his admission to the Associated Press that he's a "marijuana addict."
Once on a big-league roster, the penalty for failing a marijuana test is roughly the equivalent of a stern talking-to. It takes until a third failed test for the first concrete punishment—a $35,000 fine. And that's nothing. The raise from a Triple-A salary to the big-league minimum pays for one of those fines every two weeks.
But the loophole has itself a loophole, one that wily pothead players appear to have figured out. Yes, MLB clubs can save a prospect from a drug suspension by promoting him, but it goes both ways: a prospect can use a pending drug suspension to pressure an MLB club to call him up:
Inside a minor league clubhouse this year, a player who had tested positive for marijuana a second time informed teammates of the 50-game suspension he would serve because of it. The player wasn't concerned, according to a witness. He didn't plan on curtailing his marijuana use, either.

"I'll just smoke my way onto the 40-man," he said.