The Negroni is a deceptively simple drink, which is one reason so many cocktail blowhards use it to gauge a bartender's competence. They're looking to see if the new guy remembers to use the right color of vermouth, and then if he manages to combine it in equal measure with both gin and Campari. The other major reason these upscale Jon Taffer wannabes use Negronis as a yardstick is because it's always nice to have an excuse to drink more gin. Gin is so damn good. Better, even, than Campari, which is why it's time to retire the traditional 1:1:1 ingredient ratio they teach you in bartender-evaluation school. That makes a good Negroni, sure, but we're here to make a better one.
Ingredients:
2 ounces gin
1.25 ounces Campari
.75 ounces sweet vermouth
Twist of orange peel (optional)
Instructions:
1. Fill half a cocktail shaker or pint glass with ice.
2. Pour in the gin.
3. Add the Campari.
4. Add the sweet vermouth.
5. Stir with a long-handled spoon (or a butter knife or a chopstick or whatever) for 20 seconds, which is longer than you think. Don't set the microwave timer or anything, but make sure you really work it.
6. Strain into a chilled cocktail glass.
7. Garnish with orange twist, if so inclined. You could also add a couple drops of orange bitters pre-stir, come to think of it.
G/O Media may get a commission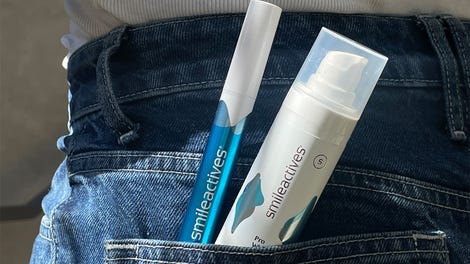 58% off
Whitening Powerhouse Pen & Gel Duo
Notes:
1. Gin! There's a ton of brand-to-brand variation in the gin aisle, and price isn't a reliable guide, because so much depends on your own personal tongue. The smart guys like to point out that gin is the original flavored vodka, and they're not wrong. It's just neutral grain spirits flavored with juniper berries and whatever other botanicals the distiller feels like throwing in. Coriander, cardamom, and citrus are pretty standard, but in who-knows-what proportion and alongside whatever-the-fuck-else. So it's important to research your gin carefully, by which I mean you should be trying a thoughtful shot of at least one new gin a month. It's really the only way to find the right one.
If there's no time for that now, then I recommend you stick with something fairly basic for your Negroni. Gordon's London Dry is a fair option for about $12 per 750-milliliter bottle. If you happen to be reading this on payday, then sure, go for Tanqueray or Bombay Sapphire for about $35. Hendrick's is great with tonic but makes for a weird Negroni. As for all the other cool little small-batch stuff, hey, I love it. But the new artisanal gins are even more highly variable than the old standbys listed above, so be careful. But okay, if you're too cool to use a gin that can be found on PF Chang's top shelf, then you could try tracking down Berkshire Distillers's Greylock.
2. Campari's weird, man. It's bright red, sticky, and bittersweet; it's also really goddamn good. If you're unfamiliar with it, you might not be too jazzed to drop $25 on a bottle of specialty liqueur that isn't called for in very many cocktails, but take the plunge. Its fruity, herbal, bitter flavor is unique, and not easy to replicate or work around. There are substitutes, but if you don't have Campari in stock, then you don't have Cynar, Cardamaro, or Aperol, either, and they all cost about the same. Start with Campari, grow to love it, and then branch out into other amari (bitter liqueurs).
3. No need for deluxe vermouth here. Gin and Campari do most of the heavy lifting in our improved version of the Negroni, so with the fortified wine dosage dialed down, you can get away with Cinzano or Martini & Rossi for about $7 a bottle. Sure, Dolin will make a slightly better drink if you've got some around, or if you can be trusted to start and finish a new bottle within a month. Freshness is more important than prestige. As long as the vermouth isn't old and faded, it'll be good enough to play a supporting role here.
4. I like my Negronis up in a cocktail coupe, but a valid case can be made for serving them on the rocks, too. It's a richly flavorful, all-alcohol drink often served when the weather's warm and the night is young, so a bit of melting ice isn't going to ruin anything.
5. Sure, mess around with the proportions. Most decent people prefer gin to just about everything other than maybe bourbon and peanut butter, but as long as the gin is dominant, I wouldn't turn down a Negroni featuring equal measures of Campari and vermouth. Hell, maybe even go a bit vermouth-heavy, if you're using Carpano Antica or some other high-end brand. I'd be surprised if you found that 1:1:1 was truly the best option, but I have no idea what kind of pervert you really are deep down inside, and besides, we're not here to judge.
---
Will Gordon loves life and tolerates dissent. He lives in Cambridge, Mass., and some of his closest friends have met Certified Cicerones. Find him on Twitter @WillGordonAgain.

Image by Sam Woolley.
Adequate Man is Deadspin's new self-improvement blog, dedicated to making you just good enough at everything. Suggestions for future topics are welcome below.