Writing a thank you note or trying to find the right words to let a friend who just lost his mom know you're thinking of him is no one's idea of a good time. But from time to time, most modern men will find themselves in a situation that calls for a handwritten note.
Fortunately for you, I have written more notes in my lifetime than is reasonable and I have it down to a science. Help is here. This is what you need to know.
Three Sentences Are All You Need
Writing notes is a thing that we now do so infrequently that it can feel like a huge chore, or cause people to freeze up at the thought of having to commit ideas to paper. But a handwritten note needn't be an elaborate affair. When you think of it as three measly sentences of thanks or sympathy, it begins to feel like much less daunting a task.
If you're more comfortable typing than writing by hand, go ahead and type your message out so you'll know exactly what you want to say. Then copy that into your notecard. I know it sounds like a weird and unnecessary step to take, but it can really help soften that panicky "I HAVE NO IDEA WHAT TO SAY, HELP" feeling.

Do A Test-Run
Similarly, if your penmanship has suffered terribly because all we ever do these days is peck away at a keyboard, there's absolutely no shame in doing a test-run on a piece of scratch paper. Writing out the quick brown fox jumps over the lazy dog is fine — the idea is just to get your hand moving in that old, familiar way and to limber up fingers that are used to being QWERTY crooked.
G/O Media may get a commission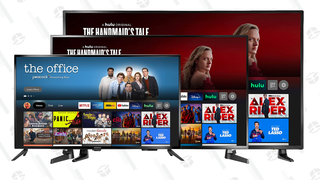 Up to 44% off
Prime Early Access - Insignia Fire TVs
Lastly, use a pen you like. It's a minor thing, but if you're out of practice when it comes to handwriting, the use of a pen that you feel comfortable holding and that compliments your scribbles can make a big difference in how you feel about the appearance of your note.
Stationery Matters (Except When It Doesn't)
Speaking of appearances: A thank you or condolence note should be written on stationery. Not on a piece of ruled paper torn off of a legal pad, not on a piece of scratch paper, not on a blank page torn out of a book. Stationery.
The big exception to this rule is the business thank you note. That can be sent by email and, in many instances, it's actually better form to use electronic mail. Speed, you see. Etiquette expert Victoria Pratt, writing at Uncommon Courtesy, provides this example of why one should use email for business thank you notes, "[P]aper is way too slow! I started at my current job 2 days after my interview—paper would have gotten there way too late."
It's fair, too, to note (groan) that increasingly email is an acceptable way to send other kinds of formal correspondence. Better to say thanks in some form than to not say thanks at all! But generally speaking, when it comes to acknowledging a wedding gift or a death, a handwritten note is the way to go.
There are loads of options when it comes to stationery, from full-sized sheets of paper, known as monarch sheets or executive stationery, to notecards, both in flat and foldover styles. Stick with the notecard style — they're just the right size to fit a three sentence message without leaving you with so much blank space that you'll worry that you're not saying enough.
If you want to be very fancy, you can certainly opt for personalized stationery. Personalization can take the form of your full name, a monogram, an image or motif or a combination. For example, I have note cards with a knotted fern motif that I used for my bridal correspondence, note cards with the same motif along with my name and my husband's name for our wedding gift thank you notes, stationery from my single days with my old monogram, note cards that announce that my full name is ANJOLIE ELIZABETH, and a truly boss set of professional cards that say JOLIE KERR with a giant spray bottle that mimics my book cover. (I write a lot of notes.) I mention all of this to point out that having personalized stationery can be kind of fun! It is, however, not at all necessary. In part because personalized stationery is prettttttty pricey.
If the personalized stuff isn't your bag, that's A-OK. There are tons of options for you, from super simple styles like this navy border number by Crane's to something more whimsical, like these Taco Time Note Cards. Just remember that you'll want the look of the card to match the occasion; the tacos are fun, which is why you probably won't want to use them to write a condolence note.
Here's When You Should Write A Note!
There are all kinds of reasons to send a handwritten note to someone. The most common ones are the thank you note and the sympathy note but there are other occasions, like when someone gets a big promotion, on which you might want to say congratulations.
Here are some other common note writing themes:
Sympathy or condolence

Get well soon

Wedding gift thank you (boxed gift)

Wedding gift thank you (cash gift)

Gift thank you, general occasion

Favor thank you

Host/hostess thank you

Job interview/business thank you

Congratulations

Romantical/cards to be included with flowers
Getting the Sign Off Right
You have likely seen those articles written by the kind of website that likes to issue pronouncements about what makes, or does not make, one a self-absorbed jerk or a One Direction fan or indicates that you're the sort of person who doesn't wash his hands after using the bathroom based on how they end emails. Please ignore those articles. I do!
Sincerely is a nice option, particularly for business correspondence. Warmest regards, warmly, fondly and with love work well for more personal notes. With deepest sympathy is a good one to tuck away for condolence notes. There are plenty of other good choices, and the bigger point is not to get too hung up on the sign off while still being generally aware of the fact that the sign off should be, to some extent, dictated by the circumstances under which you're writing this note.
Some Examples (And Templates!)
Because the two most common types of note are the thank you and the condolence, I made you some templates for those. Gifts for occasions like graduations, birthdays and weddings often come in the form of cash or checks, so I've included a separate template for those because I struggled with wording when I was slogging through the writing of two thousand (rough count) wedding notes, but I think I hit on a good way to acknowledge those gifts without writing, "HEY THANKS FOR THE HUNDRED BUCKS." So I'm sharing that with you.
It goes without saying but I'm gonna say it anyway: You'll want to use your judgment in customizing the message so that it's appropriate to the circumstances and to your relationship to the recipient; the tone and wording of a note to your boss when her mom passes will naturally be different from the note you write to your aunt when her fourth husband dies mysteriously.
Condolence Note Template
Dear Person's Name,
I was so sorry to hear of Deceased's Name's recent passing. [SOME NICE PERSONAL THING ABOUT THE DECEASED OR BEREAVED. Ex:"I always appreciated Alma's collection of fanciful Christmas sweaters; she really knew how to bring the cheer and add some levity to the stressful holiday season."] Please accept my condolences and know that my thoughts [optional: and prayers] are with you during this difficult time.
With deepest sympathy,
Your Name
An Example of How That Might Look In Real Life
Dear Barry,

I was so sorry to hear of Mercy's recent passing. I know how devoted you were to her, and truly, no cat could have enjoyed a finer life. Please accept my condolences and know that my thoughts are with you during this difficult time.

With deepest sympathy,
Jolie
Thank You — Boxed Gift Template
Dear Person's Name,
Thank you so much for the lovely [GIFT]. [SOME NICE PERSONAL THING ABOUT THE GIFT, OCCASION AND/OR PERSON. "I absolutely love the fanciful Christmas sweater, and will remember you so fondly when I wear it come holiday season. You are so kind to think of me and to be part of my birthday celebration."]
With love,
Your Name
An Example of How That Might Look In Real Life
Dear Albert,

Thank you so much for the novelty hot dog slicer. You are so good to remember my love of dachshunds and select such a whimsical kitchen tool — I look forward to using it at my next cookout! Thank you for being a part of my birthday celebration, it was such fun to see you.

With love,
Jolie
Thank You — Cash Gift Template
Dear Person's Name,
Thank you so much for the generous [OCCASION] gift. [SOME NICE PERSONAL THING ABOUT THE OCCASION AND/OR PERSON. "It was wonderful to see you in your fanciful Christmas sweater. We were so glad to be able to celebrate the holidays with you."]
With love,
Your Name
An Example of How That Might Look In Real Life
Dear Diana,

Thank you so much for the very generous wedding gift. We were so happy you were able to make the trip to Boston to celebrate with us. Having you there made our special day that much more special.

With love,
Jolie
Thank You — Host/Hostess Template
Dear Person's Name,
Thank you so much for including me in [EVENT]. [SOME NICE PERSONAL THING ABOUT THE HOSTESS AND/OR EVENT. "It was such a merry holiday, particularly because your meal was so delicious! And you looked just wonderful your fanciful Christmas sweater."]
Most fondly,
Your Name
An Example of How That Might Look In Real Life
Dear Drew,

Thank you so much for including us in your annual Thank God The Kids Are Going Back To School cookout. The meal was delicious, and I enjoyed it thoroughly in spite of the fact that I know that you've never cleaned your grill. That was a p sweet golf shirt you were rocking, too.

Most fondly,
Jolie
Now then, after reading all of this maybe you're like, "Damn, I want to write a note! But I have no one to write to, how sad." Right? That's what you're thinking? Thought so. Cool, go ahead and write to me. We can be pen pals.
---
Jolie Kerr is Deadspin's resident cleaning expert/kind and helpful soul and the author of the book My Boyfriend Barfed in My Handbag … And Other Things You Can't Ask Martha (Plume). Follow her onTwitter, or email her: jolie@deadspin.com.

Illustration by Sam Woolley. Images via PaperSource.
Adequate Man is Deadspin's new self-improvement blog, dedicated to making you just good enough at everything. Suggestions for future topics are welcome below.