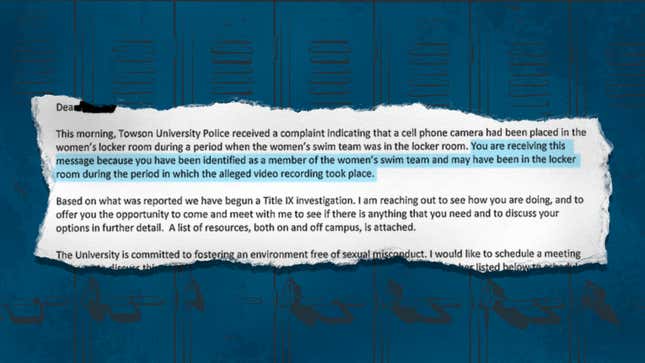 Forty days after members of the Towson University women's swimming and diving team discovered a phone recording them in their locker room, most details about the incident remain unknown to the public. But behind the scenes, the school was working feverishly—and not always entirely effectively—to discover the facts, contain the damage, and reassure the affected students.
The university has confirmed little besides acknowledging team members found a phone that may have been recording them, and that diving coach Maureen Mead was placed on administrative leave. On Monday night Mead was charged with interception of communication—a felony—and peeping tom and altering physical evidence, both misdemeanors.
In response to a public records request, Deadspin has obtained hundreds of emails sent by members of the Towson University administration and swim team coaches in the first week after the recording. While the emails don't give us the complete picture of what happened or how the university responded—emails between the university's general counsel and administration were considered privileged, and we obviously don't have the contents of phone or in-person conversations—they provide the most thorough accounting to date.
---
The first evidence that something was amiss came at 11:42 a.m. on Friday, Oct. 16. In an email marked "high" importance, Title IX coordinator Debra Seeberger asked director of athletics Tim Leonard for email addresses for the women's swim team:

G/O Media may get a commission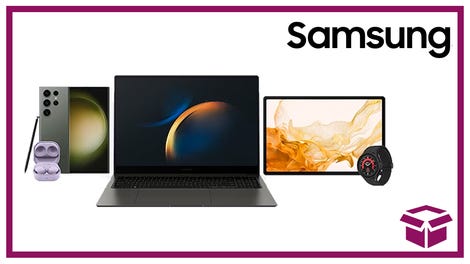 24 hour deals
Discover Samsung - Daily Deal
Just 35 minutes later, Seeberger sent herself a draft of an email about the incident that would be sent to every member of the women's swimming and diving team. Seeberger's email briefly addressed what happened, notified them that a Title IX investigation has been opened, detailed resources available to them, and invited them to reach out to her with concerns. Here is a portion of that long email:

Seeberger only references the swim team, but that seems to be shorthand for the swimming and diving team, as the email was sent to divers as well.
That afternoon, at least two important meetings took place. Jake Shrum, at the time a first-year assistant coach who has since been elevated to interim head coach, emailed both the men's and women's teams to inform them that the director of athletics would address them at 3:00 p.m. After the meeting he emailed the teams again to let them know that the weekend's dual meet against Georgetown (the women narrowly lost, while the men won) would proceed as scheduled.
The other meeting took place between head coach Pat Mead (Maureen Mead's husband) and Dan Leonard, a university fair practices officer and deputy Title IX coordinator. Afterwards, Leonard sent Pat Mead a reminder that he was not to retaliate against anybody:

That night, an angry and scared parent sent an email to director of athletics Tim Leonard and Tricia Brandenburg, his deputy, after having a conversation with his or her daughter. While the university still hasn't officially acknowledged that the phone in question belonged to Maureen Mead, this parent had no doubt: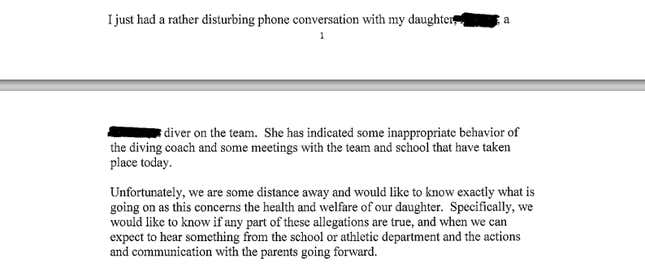 Leonard indicated that he would respond with a phone call.
The next morning, Saturday, the university drafted a statement to be sent to the news organizations that had already reached out for information: Baltimore's ABC and CBS affiliates, as well as the Baltimore Sun.
While the statement they gave those media organizations confirmed nothing beyond the fact that a phone had been found recording in the locker room and that the Towson University Police Department was investigating, the university plainly knew more. In an email exchange between communications staffers Ray Feldmann and Gay Pinder, as well as the president's deputy chief of staff, Marina Cooper, Feldmann wrote that he shared the following information with a Baltimore County Police Department public information officer: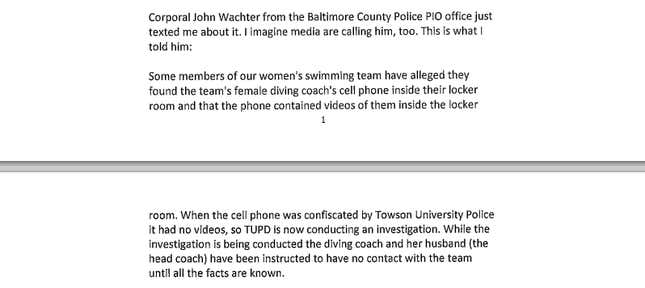 Throughout the day Cooper—who was running point and had all media requests funneled to her—responded to requests from a number of media organizations (I count at least nine), only sending them the official statement.
From the emails, it seems clear that reporters from the Baltimore Sun and Swimming World Magazine knew much more than the others. In an email sent to the deputy chief of the Towson University police that was eventually forwarded to Cooper, a Baltimore Sun reporter laid out what she thought she knew: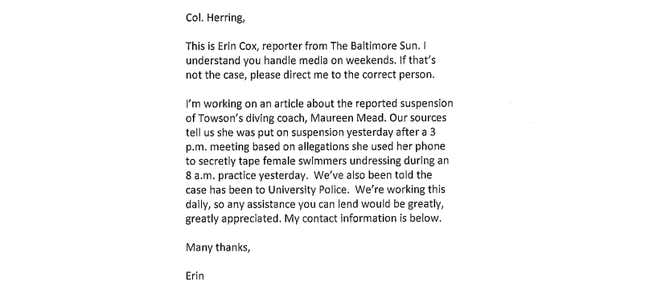 The Sun apparently never got confirmation on a number of these points. Their story, published that evening, didn't mention any taping of female swimmers undressing, nor the fact that the phone in question belonged to Maureen Mead and that she had been suspended.
Swimming World, which put up a bare-bones story early Saturday afternoon, tried to confirm a number of allegations later that night. They were rebuffed by Cooper: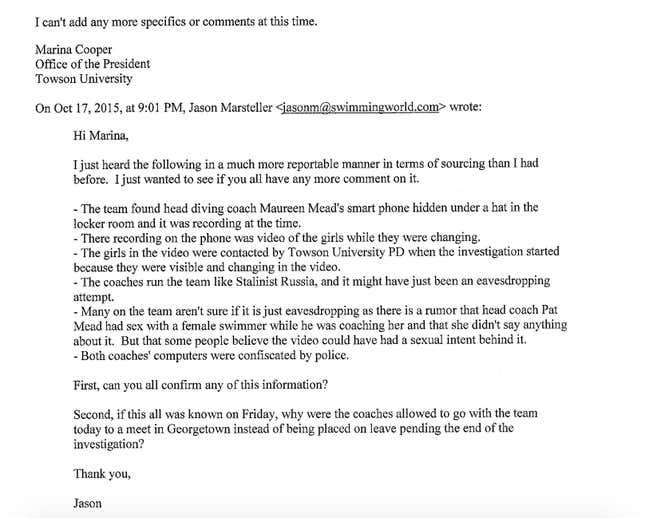 From what we can gather from the internal emails, it seems that some of what Swimming World and the Sun asked about is broadly true:
Given the charges against Maureen Mead, we can assume the phone belonged to her.
The information Feldmann gave Baltimore County police indicates that the recording contained video of people undressing.
Cooper wrote Feldmann that Maureen Mead was on "admin leave with pay pending the investigation," but noted that Pat Mead hadn't been suspended.
It seems Maureen Mead's laptop was confiscated, as Pat Mead initiated an email chain about needing Meet Manager software set-up on his computer for an upcoming meet because the program, "was on Maureen's laptop."
As for allegations that the team was run like "Stalinist Russia" and that Pat Mead tried to have sex with a swimmer, we too have heard those rumors, but they remain unconfirmed.
---
Sunday, Oct. 18—the day after the incident first made it into the press—Timothy Watkins, the president of PR firm Renegade Communications, emailed director of athletics Tim Leonard to ask if the university needed any assistance. Leonard, who was scheduled to golf with Watkins on Tuesday, turned down his offer, but provided Watkins with a confusing assessment of the case:


The next morning Leonard responded to an email from a concerned parent of a female diver. He tried reassuring the parent, and also expressed frustration that "misinformation" was given to the press by a parent. It is unclear what "misinformation" he was referring to:

While emails show that over the weekend all hands were on deck in both the president's office and the athletic department parrying media inquires, reassuring concerned parents, and strategizing, actual team members felt they had been left in the dark. A number of them took Seeberger, the Title IX coordinator, up on her offer to talk:

While Seeberger was setting up meetings, the president's office was preparing at least three memos. One seems to be a campus-wide email, addressing the locker-room recording as well as an Oct. 11 incident where antisemitic messages were written on a chalkboard. Another was a message from Tim Leonard to be given to swim team members to pass along to their parents, if they so chose. The final memo was a very brief summary of the situation directed to the Towson's Presidents Council.
Leonard had two more meetings with the team that day, one with the divers and another with the swimmers, and set up meetings for Wednesday and Friday as well. Considering that Seeberger and Pat Mead received a number of requests from swimmers to talk even after the Monday's meetings, it seems that at least some still had concerns.
As the week wore on and the Towson University police continued their investigation, the flurry of activity seemed to slow down. The team had their meetings and were given all of the information they were going to be given, and memos were dashed off to the various constituencies that needed them. There were, however, a few ongoing activities of interest.
On Wednesday Tricia Brandenburg, the deputy director of athletics, reminded Pat Mead to be cautious in what he said, and to ensure that coaches were never alone with swimmers. Mead forwarded the message to his wife's Gmail account, the only time any email address belonging to her appears in the emails provided: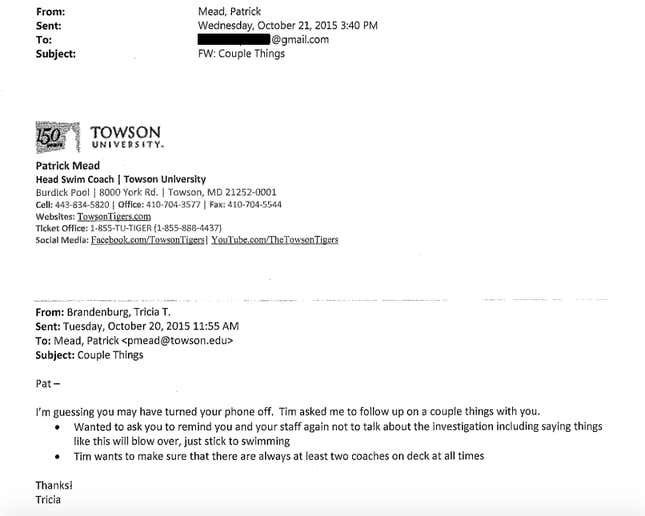 A decision was also made to cancel that weekend's upcoming recruiting event. The team still had a Saturday morning practice, but around a dozen team members emailed Pat Mead asking to skip the practice to go home, with some adding they'd swim with their club teams at home. Mead said yes to every request, but in a few noted that under normal circumstances he would not have allowed it. A Special Olympics event involving the team scheduled for the weekend was also cancelled.
On Thursday, Pat Mead sent an email to Adrienne Phillips, an assistant coach, about a Friday meeting with the director of athletics and the deputy director of athletics. Phillips responded that she would only come with a lawyer present, and it is unclear how the issue was resolved:

---
Deadspin requested all relevant emails between Friday, Oct. 16, and Oct. 23. According to the Baltimore Sun and Swimming World, Phillips, the assistant coach, was placed on administrative leave at an unknown date, and Pat Mead was as well last week. It is unknown whether they're implicated in the recording, if the Towson University police discovered other malfeasance, or if something else is at work.
We requested police reports related to the incident, which Towson University did not provide. (Whether this is because there are no reports, whether the university believes they are exempt from disclosure, or for some other reason, was not made clear.)

In response to Deadspin's request for comment, Marina Cooper wrote that she couldn't comment on the status of either Pat Mead or Adrienne Phillips because "an investigation is ongoing." She added that the university isn't hearing complaints from swimming and diving team members about a lack of information, and that "they may have been frustrated earlier, but with each update they are seeing how seriously we have been taking this very difficult matter."
Neither Pat nor Maureen Mead responded to emails or phone calls requesting comment.
---
Overall, with the enormous caveat that even the hundreds of emails we obtained tell only a portion of the story, it appears the university took the incident as seriously as you would hope. The police were immediately called in, and a Title IX investigation is ongoing. Maureen Mead was immediately placed on administrative leave, and swimming and diving members were provided access to counseling and other services.

Where the administration faltered was in providing so little information. This was a failure in its dealing with the media, allowing all sorts of nasty rumors to fester (some possibly true). Much more importantly, it was a failure in communicating the situation to the students involved.
Last week, members of the team threatened a boycott of an upcoming meet, with the threat intended to prod the administration into action. While it is unclear if the threat worked, the university did decide to formally pull the team out of the meet.
With the grand jury indictment of Maureen Mead, an important part of this case is properly out of the school's hands. But considering two other coaches remain on administrative leave, as well as the increased scrutiny the case has brought to bear on the entire coaching staff's methods, Towson's scandal is far from over.
Illustration by Sam Woolley
Do you know more about what is happening at Towson? You can send me an email at kevin.draper@deadspin.com, or use Gawker Media's SecureDrop system. If requested, your anonymity is guaranteed.
---
E-mail: kevin.draper@deadspin.com | PGP key + fingerprint | DM: @kevinmdraper