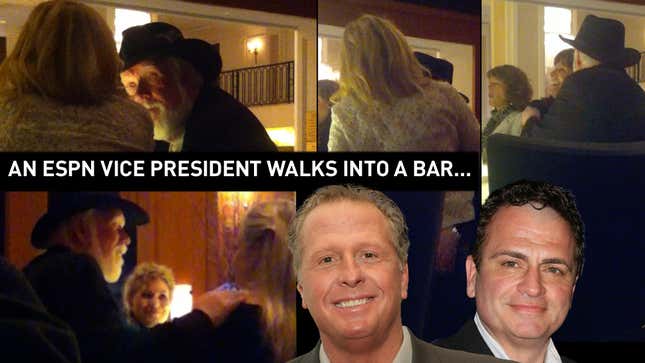 One of the most influential men in sports pawing women in a hotel bar in front of a couple enemies with old scores to settle—and much of it surreptitiously captured on video? It sounds like the stuff of an investigation carried out by one of ESPN's harder-charging journalistic franchises. Instead, it's one night in the life of the man who built them.
Is Texas or Florida State a bigger national title contender? | Agree to Disagree
The video, shot in January 2012 at the bar in the Wilshire Hotel in Beverly Hills, Calif., and recently obtained by Deadspin, shows John Walsh, the 69-year-old godfather of ESPN's news operation, chatting up strangers while looking besotted and confused. As a camera catches Walsh stumblin' and bumblin', Jay Mariotti and Sean Salisbury—then-jobless miscreants who'd both been cast off by ESPN and who by total coincidence just happened to be in the same establishment—provide color commentary in which they reflect on their ruined careers and generally make bitter sport of their old boss. The scene makes for a low-wattage ESPN version of Boulevard of Broken Dreams. The general air of hopelessness is greatly enhanced by a serendipitously sublime soundtrack. As Walsh puts his head in his hands, the song on the stereo is a remixed version of "Time of My Life."
Walsh's conduct doesn't approach the aggressive misogyny that derailed Salisbury's and Mariotti's careers. Patrons on the tape seem more amused or annoyed by Walsh than threatened or offended, even when he starts to get a little handsy. But accounts from sources familiar with the situation—and emails from Salisbury to John Skipper, ESPN president and Disney Media Networks co-chairman—make clear that both of the exiles used Walsh's night out to their advantage. And as a result, Skipper's network, which once upon a time wanted nothing to do with either Salisbury or Mariotti, wound up helping both of them try to get their careers back on track.
---
On May 22, ESPN held an open house at their Bristol campus for favored media organizations, showing off the future-proof new buildings and digital gizmos that would soon make SportsCenter the shiniest toy in broadcasting. The event could have been a tribute to the career of John Walsh, who as much as anyone is responsible for creating the modern ESPN. Skipper has lauded him as a "partner" and "guide," and called him "the guy who made [ESPN] a serious journalism enterprise." More than that, Skipper credits Walsh—whose fingerprints are all over such worthy projects as Outside the Lines and ESPN The Magazine—as one of the few people in the massive enterprise who can claim personal ownership of any piece of its programming.
"John Walsh reinvented SportsCenter when he first got here," Skipper has said. "So he owns that."
Originally, Walsh tied on with ESPN as an outside consultant with a top-shelf résumé—a year as managing editor of Rolling Stone and a stint at the Washington Post complementing his tenure atop Inside Sports, a magazine that in the early 1980s enjoyed a brief run as a legitimate alternative to Sports Illustrated. That print credibility, and a long memo detailing everything wrong with SportsCenter, convinced ESPN not only to bring him on full-time in 1988, but to put all news programs under his control. He quickly made his mark, urging higher-ups to make SportsCenter into a hybrid of reportage and entertainment—it was his idea to hold off on giving scores until the end of a highlight package—and lobbying for all sorts of smart talent to be brought to the network. If you ever enjoyed watching Peter Gammons or Keith Olbermann, if you ever learned some new piece of information from Chris Mortensen, you owe Walsh a debt of gratitude.
This was good business, too. In the days before ESPN became a broadcast-rights-gobbling behemoth, a strong newsroom and a flagship news program gave people a reason to watch the network, even if the big events were being broadcast elsewhere. That's why former Disney chief executive Michael Eisner has called Walsh's hiring a turning point for ESPN.
Walsh was always protective of what he'd built. Olbermann has said that the beginning of the first end for him at ESPN came when Walsh feared that he and Dan Patrick were becoming bigger than SportsCenter. Legend holds that Walsh threatened to quit in 1993 over the network's hiring of Jim Rome, fearing that the yakker's shtick would—in the words of then-executive vice president of marketing and programming John Lack—"ruin the journalistic integrity" of the operation. And former ESPN honcho Mark Shapiro told Jim Miller and Tom Shales, authors ofThose Guys Have All The Fun: Inside the World of ESPN, that Walsh rejected Shapiro's vision for a Pardon the Interruption-style shoutfest because of his belief that such a vehicle would diminish the credibility of the network's news reporting.
In addition to waging, if not always winning, those battles over the journalistic soul of the network, Walsh has often been the heavy when it comes to disciplining staffers who do anything to tarnish the brand, at times deeming such minor offenses as publicly mocking the town of Bristol to be worthy of suspension. (Olbermann found that out in 1997.) When Bill Simmons wanted to make a Chris Berman joke in his Book of Basketball, Walsh talked him out of it. When Gregg Easterbrook was fired over a bizarre tirade about "Jewish executives [who] worship money above all else," Walsh was there. When PTI co-host Tony Kornheiser was summoned to ESPN headquarters and suspended in 2010 for busting on his ESPN colleague Hannah Storm's outfit, Walsh was in the room—much to the annoyance of his old friend Kornheiser, whom he'd edited at Inside Sports.
Walsh, who is married and has two children, doesn't tolerate boozy behavior from his employees, either. In 2011, a rumor went around Bristol that popular ESPN host Michelle Beadle had gotten tipsy at an ESPYs afterparty and told Packers quarterback Aaron Rodgers, "I just wanna get fucked." Beadle, who denied saying that, later told Deadspin that Walsh had sicced another VP on her , Marcia Keegan, to investigate the incident.
In company lore, Walsh emerges as a sort of corporate true north, the man who has long upheld certain starchy notions of propriety, both in ESPN's product and its workplace. People who appreciate his intellectual and ethical rigor talk about his Jesuit background; people who think he instilled a prudishness in the company that he alone enforced, in his behind-closed-doors way, allude darkly to the Vatican. (Despite the rep for probity and rectitude, he is also known among colleagues as an eager collector and purveyor of office scuttlebutt. It was Walsh the gossip and not Walsh the Jesuit, for instance, who once dished to a college journalism class that Deadspin's persistent coverage of a serial plagiarist at ESPN was the result of a love triangle . This was false.)
While Walsh was instrumental in dismantling the ESPN frat house and installing women in key positions, he was also reportedly something of a squish when it came to the company's rampant sexism. Things were bad enough around the time Walsh arrived that at one point SportsCenter anchor Karie Ross stood up in the cafeteria and made a speech about the sexual predation going on around her. That was in 1989. Little changed, at least not immediately. Between that year and 1993, according to Mike Freeman's ESPN: The Uncensored History, the network averaged seven to eight formal complaints a year from a pool of around two dozen women working in production. Walsh told Freeman that the number of complaints is "not unusual for a male-dominated company."
Punishment was doled out unevenly, if it was doled out at all. Rank was a factor, according to Freeman. One notable example: In the early 1990s, Mike Tirico was given a three-month suspension when a female producer went to Walsh to accuse the rising on-air star of harassing her and five other female staffers, with the sexual misdeeds ranging from inappropriate touching and pillow talk to following one producer home and making drunken advances away from the shop. Walsh was told that Tirico had behaved similarly with five other women on staff. Around the same time Tirico was ordered to go on hiatus and cool his heels, Freeman wrote, an unnamed male production assistant was caught sending a note over an in-house messaging system to another male P.A. They were talking about a female production assistant. "She couldn't handle our seventeen-inch dicks," the message read, according to Freeman. Walsh called the sender to his office and fired him.
The double standard in Bristol was plain enough that even outsiders took notice. "ESPN basically has to have one of their talent talk about Hitler," former NBC Sports president Dick Ebersol told Miller and Shales, "or put a picture of their dick on a phone—which is what that Salisbury guy did—before they'll do anything about any of these various crazies, because they don't have to. Nobody can touch them."
That "Salisbury guy" is Sean Salisbury, a former NFL quarterback who parlayed his experience into a gig as an analyst on SportsCenter. By the time he and Jay Mariotti had arrived in Bristol, ESPN was a different company in a lot of ways—more Disneyfied and quicker to act on displays of misogyny, even, on occasion, when high-priced talent was involved.
In Salisbury's case, he was done in by his behavior at a staff party at a bar near headquarters, wherein he asked numerous women if they'd like to see a photo of his "baby"—the dick alluded to by Ebersol—and treating those who didn't turn and run to a selfie featuring his genitalia . In 2008, ESPN declined to renew his contract. (Salisbury sued Deadspin over its reporting of this incident and his dismissal in 2009 from a Dallas radio station. He eventually dropped the case, and later copped to the first incident. "A sophomoric mistake," he called it.)
Mariotti, for his part, was a columnist with the Chicago Sun-Times when ESPN brought him in as a panelist for its shout show, Around the Horn. He bailed on the newspaper in 2008, whereupon former co-worker Roger Ebert wrote a column titled "Jay the Rat" about how little anybody in the newsroom would miss him. (Mariotti and this website have also had a number of differences over the years. ) In 2010, he was arrested after a fight with his girlfriend, which the L.A. Times said began when Mariotti accused her of flirting with a club patron during a night on the town. An ESPN spokesman said a few weeks later, "We have no plans to use him at this time." In 2011, Mariotti was arrested again, this time on suspicion of stalking and assaulting the same woman. He pleaded no contest to a series of reduced charges, but later maintained his innocence in an e-book he wrote called The System: A Manual on Surviving Liars, Loons, Law, Life.
Maybe Ebersol was right—ESPN cares about the misbehavior of its key employees only when it rises above a certain threshold of egregiousness. Or maybe things had changed and the removal of Salisbury and Mariotti suggested that everyone was now playing by the same set of rules. When Walsh stumbled back into their lives in Beverly Hills, the pair immediately put that suggestion to a test.
---
Both Salisbury and Mariotti had trouble finding work in any medium after their high-profile departures from ESPN, and so the two media veterans jumped when Scott Jeffress—a TV maven with executive producer credits on both The Bachelor and Jersey Shore—approached them with a plan to match them up for a reality show. That idea never did make the jump from the drawing board to the screen, but in January 2012, it was a live enough proposition for the pair to meet with Jeffress in Los Angeles to brainstorm for the show.
On a Monday evening, Salisbury and Mariotti gathered with friends and business associates involved in the project in the restaurant of the Wilshire Hotel—the same swanky digs featured in Pretty Woman and Entourage, right on Rodeo Drive in the heart of Beverly Hills.
Much to their delight and disbelief, in strolled Walsh, the very guy who years before had banished them to sports-media oblivion. According to a source who was in the restaurant at the time and whose account is corroborated by the video, Walsh entered by himself, looking a bit overserved. He began introducing himself as an ESPN bigwig and handing out business cards to folks in the room. At one point, according to multiple sources, Walsh—who is legally blind—came over to the table where Salisbury and Mariotti's entourage sat and introduced himself as if they were strangers.
"These guys worked for him every day for years," said one witness, "and he had no clue who they were."
Salisbury and Mariotti, both of whom can be heard but not seen on video of the encounter, are increasingly put off by what they're watching. "John—can I have your card, you cocksucker?" Salisbury says while watching Walsh hand out business cards to ladies at the bar. "You had my résumé for 12 years!"
Witnesses also said Walsh was giving out more than cards. He gave his hotel-room number to a woman at the ex-ESPNers' table. The woman happened to be Mariotti's date.
Mariotti, in emailed responses to Deadspin's questions about Walsh's night out, said that seeing Walsh amble around the room left him "stunned, amazed, then pissed off."
"I thought of corporate hypocrisy and double standards," he said. (You can read his full response here .)
Mariotti also confirmed that Walsh came to their table and gabbed, yet gave no indication that he recognized either him or Salisbury.
"If Chris Berman, Stuart Scott, and Tony Kornheiser had been at the table, he wouldn't have recognized them," he told me. "If Barack Obama and Vlad Putin had been at the table, he wouldn't have recognized them. People stopped everything and were taping the scene on phones at various tables in the restaurant and adjoining bar. Never seen anything quite like it."
As seen in the video, Walsh strolls around the bar, doffs his hat to women nearby, and gives female patrons apparently unsolicited rubs on the back—and, in one case, a little lower. He looks world-weary as he takes a seat at the bar and continues trying to talk up various women, two of whom start giggling at the old dude hitting on them. His moves aren't smooth. As one of his targets gets up and leaves the bar, Walsh reaches out and gives her a not-so-sneaky pat on the butt. At one point, an uptempo version of the theme from Dirty Dancing plays over the house sound system. Now I've … had … the time of my life. "Sing it for me, Johnny," someone at Salisbury and Mariotti's table says. The hammiest directors in Hollywood would be hard-pressed to script a more pathetic scene.
"I will never get that old," Mariotti says on tape, with disgust.
While Walsh works the bar, Mariotti, ever the good wingman, can be heard telling others at the table how great Salisbury's career would have been if only the ESPN hammer hadn't fallen on him.
"He was their top NFL analyst," Mariotti says. "I told him earlier he'd be at Monday Night Football now, if they were employing him." The implication seems to be that Salisbury would have had a seat in ESPN's biggest booth, rather than a chair at a Beverly Hills lounge, had the white-haired old-timer pawing women at the bar not screwed him over for, well, disrespecting women at a bar.
"Mover and shaker," Salisbury says at one point, describing Walsh, "who'll look you in the face and tell you, 'You can't do that.'" It's his best color commentary of the night.
This went on for two hours, according to one person at the table, over the course of which the tone of the commentary went "from comedic routine to literally both of them"—Salisbury and Mariotti—"going, 'Wow, it's really sad to watch this.'" Still, the gang clearly knew they were witnessing something that could prove valuable. Somebody on the tape jokes that they should go ask Walsh for "the fucking number for human resources at ESPN."
"'Cause that's where you're going to end up tomorrow!" says another, amid lots of giggles.
---
Walsh's night, according to a person who was in the bar, ended with the ESPN VP retiring to his room without incident. Within a day, sources said, Mariotti—knowing full well who had the means and motivation to protect Walsh's reputation—emailed ESPN's president to let him know what he'd seen. (Mariotti confirmed this account, though he declined to provide Deadspin with copies of any emails to John Skipper regarding Walsh, or to read their contents over the phone.)
Salisbury sent pleading emails of his own to the network president, telling the big boss all about his grand plans to get back to talking about sports and the NFL for a living. (Emphasis added below.)
Dear John,

Hope all is well with you. Just wanted to congratulate you on the new position; could not have happened to a better man. I enjoyed my time working with you and know that ESPN will be well served with you at the helm.

I recently sent a letter to Norby to establish some communication and he was gracious enough to get back to me. It was very nice to hear from him. I will be forever grateful for 12 great years at ESPN and am sorry that a simple mistake became such a hurtful experience. However, I do now feel that we have all learned a great deal.

As you were made aware, Jay Mariotti and I were approached by a strong producer to put together a show that I'm excited about. I'm enjoying that process and am hopeful that this all comes together in the near future. Jay did inform me of his communication with you regarding the unfortunate events we witnessed this past Monday evening. To be honest John, it was disturbing, but even more, it was sad. I actually felt sorry for John. I know you'll handle that tough situation correctly.

This is the greatest time of the year for me as a lover of the NFL. There's nothing quite like the spectacle of the Super Bowl. This year I have been asked to represent a medical group, that helps former players, who have suffered chronic pain and injury due to the poundings we took during our football careers. They've taken good care of me and my goal is to be of assistance to them. I'll be on radio row and at other functions to do my part.

Thanks for taking the time to read this and I hope to hear from you soon. If not, enjoy your time.

Best regards,

Sean Salisbury
Eleven days later, Skipper replied:
Sean,

I am just back from Indy. What a great game and what a good job the city did in hosting.

I am glad to hear from you and glad things are well and active.

I appreciate your kind words and support. Thanks for all you did for ESPN.

I would be happy to get together for a cup of coffee at some point. Where do you live?

Let's see if we can set something up.

John
Salisbury:
So nice to hear from you. What a great week and yes Indy was a great host. I was honored to be part of espn and loved being part of a great place. I believe I've served my time and deserve to be back at it talking sports and doing it with passion. I live in Dallas and would love an opportunity to meet with you anywhere. I could also use your endorsement as I know so many hold your opinion in high regard. Thanks John.
Skipper:
I do get to Dallas a couple of times a year. If you are in NY let me know. I am happy to help with a phone call to anyone.
Nine days later, Salisbury sent another note to Skipper, this time with a specific request:
John,

Hope this email finds you well. I recently received a phone call from Sam Flood of NBC Sports. We had a good conversation. I think he was trying to gauge where I am right now in life and in my career. At the time he was neck deep in Super Bowl stuff but let me know that after Super Bowl he wanted to further the discussion.

Where I am is ready to get back to work on a national stage and do what I did and did well for 12 years at ESPN; talk sports and the NFL. I've been down this road a few times recently but it seems like the old ESPN stuff comes up and gets in the way. And I think we all know that after four years the punishment has far out reached the crime.

I was hoping that you might be able to reach out to Sam with a phone call or an email and put to rest any trepidation NBC might have as it relates to the past and my work at ESPN. I know you're a busy man but I would appreciate your consideration in this effort.

I appreciate you taking the time to review this. If you could get back to me I would be very grateful.

Best regards,

Sean Salisbury
Skipper later reported back on his conversation with Flood:
I spoke to Sam this afternoon. I told him you had a good 12 year run, that you worked hard and well in the shop and that I believed you to be sincerely contrite for a lapse in judgment. He said he appreciated the call.

Keep me posted on your progress. I wish you well.
Salisbury did eventually catch on at Yahoo Sports Radio late last year; it's unclear if Skipper had any role in his landing the job.
Mariotti seems to have played his cards a little bit better. In February 2013, he told the Sherman Report that ESPN had given him a freelance "storytelling" assignment, inspiring a great deal of perplexed head-scratching in sports-media circles—and, as Sports Illustrated's Richard Deitsch reported at the time, some real anger from women at ESPN. A month later, a 5,000-word opus on Kobe Bryant showed up on ESPN.com.
Eventually, Mariotti, now writing for a website called Sports Talk Florida, dropped a few hints as to how he got that work from ESPN. The biggest hint came this past March, in a column in which he directly linked the Walsh incident to the Kobe Bryant assignment. Comparing and contrasting the treatment he received from ESPN after his domestic-assault charge with the NFL's treatment of Colts owner Jim Irsay after Irsay's substance-abuse-related transgressions, Mariotti didn't use Walsh's name, but he did describe his one-off return to ESPN as an outright transactional exchange:
If the NFL is the monolithic model of all American sports leagues, ESPN represents a similarly large, powerful presence in American sports media. That company has made unfair examples of some employees, including me, who have had legal issues. All I ask is that any company with a stern behavioral policy apply it to all employees, including high-profile executives who write the policy. Two years ago, during a business meeting with a TV producer and another former ESPN sportscaster at a Beverly Hills hotel, I witnessed a prominent ESPN executive stumbling through the lobby bar and generally making an ass of himself as customers howled. He wobbled by our table — he didn't recognize me, a veteran of 2,000-some appearances on his network's air — and he gave his room number to a woman. To make a point, I contacted ESPN president John Skipper and reminded him that double standards should not exist. He thanked me for the 'constructive' criticism, had me write one piece for ESPN.com and paid me. I doubt that the man, vital for decades in the ESPN creative structure, was reprimanded."
Even with Walsh's name omitted, this passage apparently peeved Skipper. Via email, Mariotti told us the ESPN boss warned him that legal action would be taken against him—a libel suit, perhaps.
"I'd e-mailed Skipper the day after this happened—in January 2012—and told him I had no interest in harming the man or publicizing his name," Mariotti told me in an email, "but I also said I can't believe ESPN allows top executives to behave like this in public when the company expects high character from everyone else in the place."
Two years and change later, Mariotti said he's still stunned by what he witnessed from Walsh, whom he described as a "buffoonish top executive," and the subsequent refusal by ESPN brass to deal with the matter. He dubs the whole situation a "corporate farce."
He wrote in an email: "The company had summoned all employees for a conference call in 2010, emphasizing a zero-tolerance, perfection-in-public behavior policy. Yet a top executive, someone involved in writing the policy, doesn't live by that same policy? No one at ESPN would get away with it, with the possible exception of Bill Simmons, who seems to get away with everything because Skipper lets him."
What's more, Mariotti believes now that the work he got from ESPN was a form of hush money. "In retrospect," he wrote, "I think Skipper was playing me so I wouldn't go public with the story."
---
Skipper did not respond to a request for comment on the Walsh/Beverly Hills matter. Through ESPN spokesman Josh Krulewitz, I asked Walsh about Mariotti's description of the evening. Walsh responded with a statement:
The entire characterization is inaccurate. It's clear to me that the story is not based on fact but is rather rooted in an individual's malicious agenda. It is extremely disappointing to be put in the position of having to respond to these false claims. While I am accountable to ESPN and many others, I am not accountable to Jay Mariotti for my personal life.

For further context, it is important to make very clear to those who aren't aware that I have a condition where both of my hips are severely inflamed which at times affects my balance. In addition, I have challenged eyesight. I am an albino with limited vision. Dimly lit restaurants always make it extra difficult to recognize even the closest of friends. It is something I have lived with all my life, and again, people who know me well have come to understand the limitations it imposes.
Krulewitz declined to comment on whether Walsh was ever disciplined after the incident was brought to Bristol's attention.
But maybe that doesn't matter. Walsh's contract is up, and he said last summer that he might retire as soon as this year, though no date has yet been set. Right now it looks as if getting Mariotti his byline and Salisbury his job reference will rank among Walsh's final contributions to the network. For a guy thought of as ESPN's most serious journalist, that might be punishment enough.
I spoke with Walsh over the phone on Sunday to set up ground rules for getting responses to my questions about whatever went on in Beverly Hills. He was pleasant, even complimentary. He'd recently learned that I'd written for Grantland, another of his many contributions to the ESPN portfolio. Before we hung up, he paid me another compliment, and I was left with the feeling that if I needed anything—anything at all—Walsh would be happy to help.
---
Image by Jim Cooke.