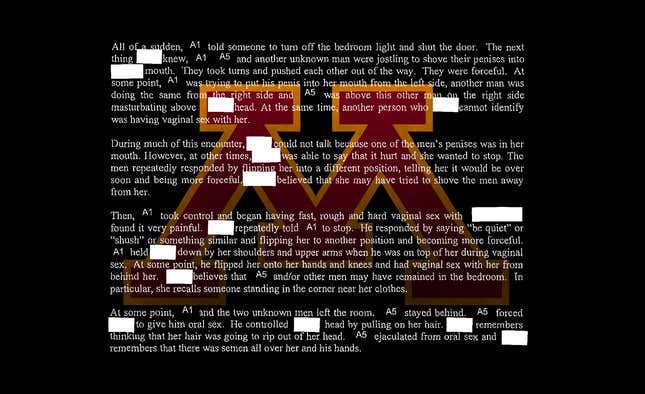 It was in the early morning hours after the Golden Gophers' victory—in their September season opener, no less—that the student said she was sexually assaulted by multiple football players. She gave a statement to Minneapolis police a day later, going into detail about how she had sex with two guys and how more men then kept coming. She remembered people watching, the officer wrote in the report, "like they were waiting their turn." She remembered yelling at them to stop sending people in, but they didn't. Two men tried to force their penises into her mouth while a third had vaginal sex with her, according to the report. Another man, whom she thought might help her, instead forced her to to give him a blow job, she recalled.

Is Texas or Florida State a bigger national title contender? | Agree to Disagree
It was a chilling set of accusations, which police investigated and turned over to prosecutors. Two months later, the Hennepin County Attorney's Office delivered the news that they would not bring charges against anyone. And just like that, the story mostly faded away from the crawl of national college football headlines.
But that announcement came as a University of Minnesota investigation continued. The university's report on what it found, published by KSTP-TV on Friday, went into even more graphic detail than law enforcement and ultimately led to the punishment of several players. Ten have been suspended, with five of the 10—Ray Buford, Carlton Djam, KiAnte Hardin, Dior Johnson and Tamarion Johnson—recommended for expulsion, their attorney told local media. They won't play Tuesday in the Holiday Bowl.
The university had a lower burden of proof to meet than prosecutors did. Title IX cases are governed by a preponderance of the evidence standard, meaning that determinations are made on the basis of what the evidence shows to be more likely than not, rather than what's highly probable. But the university also cites far more evidence than the police do. University officials emphasize text messages from the players sent throughout the night, like "rail hella hoes" and "I took good videos." Police, who called the university's athletic director so he could have a heads up about the investigation a day before they started trying to talk to football players, got the same text messages, and yet don't mention them in any supplemental reports. The university says it talked to a dozen accused students and 16 other students who might have relevant information; police reports list them as talking to six suspects, the student, her mother, and two witnesses who saw the student that night.
How did two separate investigations, covering the same incident at around the same time, reach such different conclusions? A comparison of the reports those investigations produced doesn't fully answer that question, but it does provide some clues, the most important of which is simply this: For reasons that remain unclear, the police reports don't account for anywhere near as much evidence as the university's does.
"Go to the rail hella hoes"
It was a 30-23 victory, and as you'd expect, there was partying afterward. Early in the evening, the football players were texting each other, sending out messages on an iMessage group, dubbed Empire, that included freshmen football players. The university says it got some, but not all, of the messages they sent, and highlighted a few in its report.
An unnamed Empire group member: "Party at my crib 331 invites hoes!!"
Carlton Djam (called A2 in the report): "I got 4 hoes where the party at"
Djam: "Go to the rail hella hoes"
A player dubbed A11 in the report: "I just told some hoes"
A11: "if she aint tryna fck imma be pissed."
A11: "run her?"
Djam, at 1:35 a.m.: "I'm sliding in some pussy rn lol"
(The university report refers to people by designators that put a random number after the letter A. I'm not using the designator for Djam here because comparing the timelines from the police reports to the university reports makes clear that he is the person referred to as A2.)
The texting would continue as the night went on, and when the student was in Djam's bedroom. But while they were presented as strong evidence by university investigators, these messages are barely mentioned by law enforcement.
The Empire group was not a secret to Minneapolis police. In his police interview, Djam explained how group messaging works on an iPhone, even scrolling through his phone messages for the officers and reading them out loud. He explained what RN stood for—"right now"—and told them, "So basically I said me and [redacted] are going to double team this bitch."
He later admitted the language "was kind of disrespectful."
When I submitted a public records request to Minneapolis police, they responded by saying they had a set of records for the media and gave me a copy. Those records included a transcript of the Djam interview, but supplemental reports they included don't show officers including any details from the text. They only say that they retrieved data from Djam's phone. The exact contents are never detailed.
It's also unclear how the university got the text messages—their report doesn't specifically say. I reached out to Minneapolis police and the University of Minnesota. Both, through spokespeople, declined to comment on their investigations and reports. A lawyer for the players did not respond to my request for comment. The organization that employs the student's lawyer sent me a statement and told me she is not responding to requests for comment.
She didn't plan on having sex that night
The student gave similar descriptions to police and the university about what led to her ending up in the apartment. She went to the first football game of the season, went home and got ready to go out, which included doing about four or five shots of vodka. She went out with friends, went to parties, and ended up at the Radius, hanging out with Djam and a 17-year-old football recruit whom she thought was a member of the team.
The student told the university and police that Djam asked her if she wanted to see his apartment on the fifth floor, and that she said yes. Djam said it went differently; he told police that he recalled her saying she had never had a threesome with two guys before. Either way, she ended up going up to his apartment with the recruit.
From that point on, the university report delves into far more detail than the accounts given by police. One possible reason is the university investigation said it had both her interviews with police but also an 11-page account the student wrote for them, which included "significantly more detail" about what happened. She told the university on Sept. 23 that she had given a copy of the statement to the police on Sept. 14. Police records, though, don't indicate that they ever received the 11-page statement. According to their reports, police did an initial interview, which was recorded, on Sept. 3, and followed it with a second, which was not recorded, on Sept. 6.
Whatever the reason for this discrepancy, according to the university report, the student said she felt safe because "she was going with two men rather than with a single man." She had her period, was wearing a tampon, and didn't plan on having sex that night, the university report says. Inside the apartment, she asked to use the bathroom, where she took out her tampon and tried to figure out how to get out of the situation. When she got out, she said, Djam was standing between her and the door in a way that made her felt like she couldn't leave. Djam walked her back to the bedroom, where the recruit had already taken his clothes off.
At 3:17 a.m., Djam, according to both the university and police reports, sent a message to the Empire group: "Me and the recruit finna double team this bitch." Then he sent photo of the recruit with his shirt off. Shortly afterward, another person responded to the group text, with the student's name. The university report said this was what followed.

The student said she didn't want to have oral sex with the player, but "felt compelled." The recruit began having sex with her from behind. She said she was just trying to get them to ejaculate so she could leave, but that nobody was ejaculating. Djam left and "instructed her not to come out until she had sex with the recruit." The woman said that the recruit might have tried to have sex with her again; he told her he was "too drunk and was not going to ejaculate."

The player returned and the recruit left, saying "he was not going to come back to the University because 'it was too fucked up,'" she told the university. Djam stayed and had sex with her again. The university report said it tried to contact the recruit for its investigation, but he did not respond.
Afterward, Djam had a FaceTime call with defensive back Ray Buford (Buford confirmed this with police) but Djam told police that he didn't tell anyone to come to his apartment. They came anyway. One witness told the university about seeing men in a different apartment huddled around a cellphone. Another witness said the men left shortly after one of them got a FaceTime call. A few football players gave conflicting statements about whether Djam ever sent the video out or showed it to other players.
At 3:25 a.m., according to the university report, Djam sent a message to the Empire group: "Lol, we forreal going brazy lol." A player identified as A6 responded,"I hear y'all." Djam later sent a message saying, "I took good videos."
The student said in the university report that she remembered condoms with yellow or gold wrappers, and that at some point both the player and the recruit recorded her on their cell phones. At some point, she said, Djam followed her on Instagram; the recruit added himself to her on Snapchat.
Minneapolis police have not released any recordings or transcripts of the student's statements to them. An officer summarized her description, given in her first interview, of what happened in the bedroom with Djam and the recruit this way:


The next summary, written by Sgt. Matthew Wente a few days later, was even briefer.

Police records don't show them talking to her again after that day. They also do not show them talking to any witnesses who say they saw the players in the Radius building that night getting a FaceTime call.
"Running a train on a girl"
The woman told the university that when the recruit left, she thought she could leave. Instead, another player who lived in the apartment—referred to in the report as A6—came in. He told the university that when he saw Djam come out of the bedroom, Djam said something like "we ran her" and "she going," which to him meant that the student "was willing to have sex with multiple people." He asked who she was and Djam told him her name and said, "I know her."
When A6 went in, the woman was on the bed without clothes on. They talked about how they had previously had matched on Tinder. At some point, the university report said, Djam told A6 that he should leave because he did not "want this all happening in his room." The player told him to shut the door and leave, which he did. He said she then consented to sex. She told the university he made her give him oral sex after saying, "You are too sexy, I need my turn."
She said that at some point they had vaginal sex, which she remembered as "forceful and rough" and causing her pain, and that he ignored her requests to stop, telling others knocking at the door to "get out" because he needed to "finish" first. (He told the university he had consent.)
University investigators wrote that they chose to believe the student because of how other people's stories conflicted with what A6 told them. For example, one person, dubbed A12, said men were turning the lights on and off while A6 had sex with her. At another point, this person said, men were listening to the sex and "from the stuff she said, it didn't seem like she was into it," according to the university report. Something made them tell Djam that they needed to get her out of the room, but he responded, "no man, she straight." Djam reported seeing A6 go in twice.
Another first-year player, A10, went into the apartment, where a man who had been in the room told him they were "running a train on a girl." He went into the room—because he was nosy, he told the university—and saw the student naked under a blanket, checking her phone. He asked her what happened. She responded, he said, with a little chuckle. He didn't want to have sex with her because he has a girlfriend, he said, and so he left, but saw three more football players outside the room, "talking about who would have sex with [the student] next."

In a text message sent at 4:17 a.m., Djam would single out A10: "Damn A10, all 3 them n****s hitting rn."
"The onlookers continued to laugh"
The university report goes into great detail about what the student said happened next. She asked for Djam, hoping he might help her, but the men in the crowd told her he had left.
[Redacted] repeatedly told the onlookers that she hated them. She repeatedly told them to stop sending people into the room and that she did not want any more people. [Redacted] repeatedly asked where all those young people coming from. [Redacted] believes that she communicated that she needed help, but the onlookers continued to laugh and discuss who would have sex with [redacted] next.
The student told one second-year player, dubbed A4, that she didn't want to have sex with him, but he told her "that it was not fair and he didn't understand why she would have sex with everyone but him." He told her it could only be a blow job and that it would be over soon. The student didn't remember how the sex with A4 ended, but said that she felt like she had no choice but to go along.
Then another player, called A12, told her to "do the same thing" that A4 got. She told him no, and said that she didn't want to have sex with so many people. She could not recall if she had sex with him. (The university found A12 to have committed sexual harassment, rather than sexual assault).
The next two men are called A1 and A5 in the university report. A1 had met her before, and said, "I know her. She is my baby girl." Because she had met him before, the student said, she thought he might help her get out of the situation. For the first time, she said, she was able to get her phone. Just after she unlocked it, A1 took it from her and added her as a Snapchat friend. Then A5 addd himself to her Instagram account. She didn't think they took her phone out of fear of her calling for help, she told the university, and she believed they "may have thought their conduct was okay."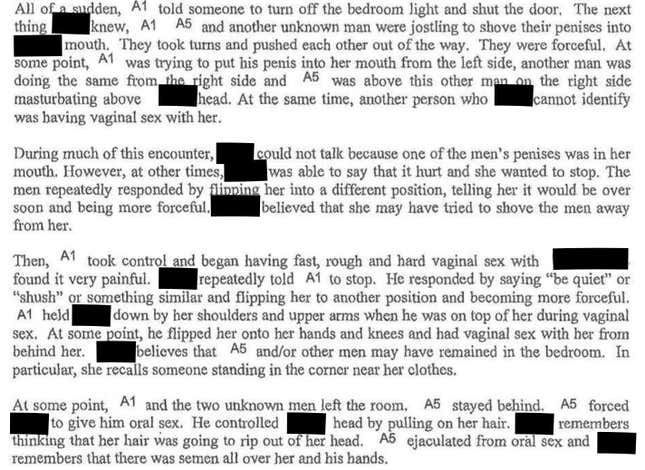 When A5 started having sex with her, she tried to push him away, and her fingernails ripped the condom. A5 noticed and kept having sex with her, with the ripped condom still on. He had sex from behind with her too, and she was covered in semen. When he was done, the room was covered in condom wrappers. She saw 12 used condoms piled on top of the white drawers near a TV stand, she said. Semen was dripping down the drawers.
Insisting the contact was consensual
The summary version of the student's first statement to the police shows the student giving a condensed version of events that sounds similar to the one the university report describes.

The summary of her second statement actually says less. It asserts that the woman "believes that the sexual contact with 'Tamarion,' 'Ray,' and 'Dior' was not consensual," and follows on by saying it was "unclear if she had sexual contact with KiAnte, but believes she may have or he may have been in the room."
Police talked to Djam first, who didn't have a lawyer with him. In his interview, he said all the sex he had with the woman was consensual. When they reached out to talk to the rest of the players, they were told that the players had an attorney, Lee A. Hutton III. Police arranged a meeting through Hutton and interviewed Ray Buford, KiAnte Hardin, Dior Johnson, and Tamarion Johnson. The police reports give very brief synopses of the statements each player made, as given on Sept. 9.
A summary of Tamarion Johnson's interview says that he "insists it was consensual."
Buford said that he got a FaceTime message from Djam telling him that he and another person had just finished a three-way with a woman. Buford went up to the room to see what was going on, and at some point, he said, was told by someone (the summary does not say who) that the woman was "down with it." Buford got a condom from Tamarion Johnson, but Hardin went in before him for about three to five minutes. After Hardin left, Buford went in. The student started rubbing Buford's leg, Buford dropped his pants, and she started giving him oral sex. They then had sex. She "was moaning in an affirmative manner" during the sex, Buford told police, and it was all consensual. Afterward, he went back to a different room and hung out with his friends.
Hardin said that he, too, had oral sex with the student after she began fondling his leg. "Hardin didn't hesitate during the interview," the police report says, "to state the contact was consensual." He stopped it, Hardin told police, because he started feeling guilty because he "was actually romantically involved with another woman."
Dior Johnson said that the student was awake and alert when he had sex with her, and that she never appeared unengaged. He denied assaulting her. He messaged her for future contact, he told police, and had "correspondence from the victim on this evening that indicated that she knew who he was."

Dior Johnson, the police report said, "insisted the sexual contact was consensual."
"I can't handle this many people"
The university report at one point describes what it calls "general recollections" from the student. She told them that she believed anywhere from 10 to 20 men had sex with her but that she couldn't remember all of them because of her limited memory, and that it was possible that some of the men had multiple sexual encounters with her.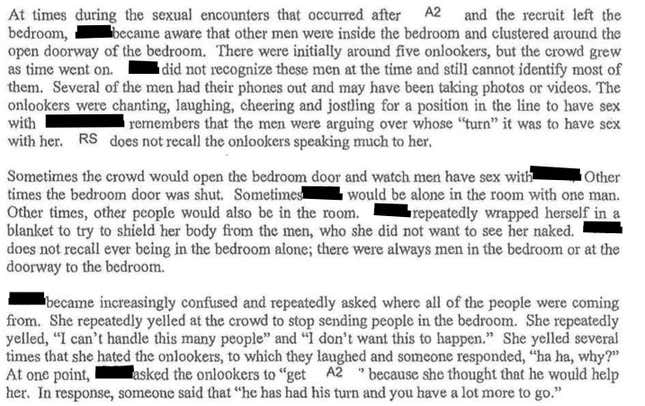 At one point, she said, she "told the onlookers that she hated them."
"She repeatedly told them to stop sending people into the room and that she did not want any more people. [She] repeatedly asked where are all the people coming from," the report says. "[She] believes that she communicated that she needed help, but the onlookers continued to laugh and discuss who would have sex with [her] next."
After it was over, she said, according to the report, she wondered how it was that she couldn't remember what had just happened. The last player with her, A5, looked worried, and said, "Oh my god." While he was distracted, she got her clothes and started getting dressed. Djam came in, she said, walked her out, and asked her if she was okay. When she asked what he meant by that, he responded, "I am the one who usually has to save girls from this situation and I wanted to know whether you were okay." She kept saying "I don't know."
He asked if she was going to tell anyone. She said she wouldn't.
None of the police summaries say much about what happened in this period. The most details come from a back and forth in Djam's interview with police.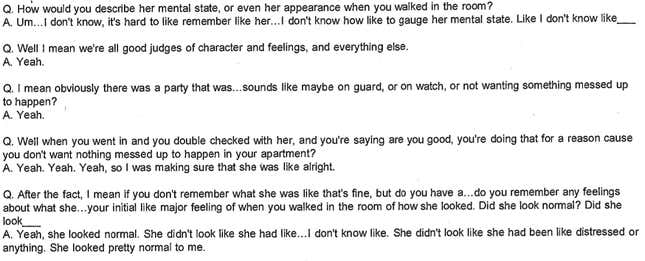 Three pieces of paper
According to the university report, after it was over the student went back to her apartment. On one piece of paper she wrote, "Hello it's after the 1st game I need help," followed by several names.
On a second sheet, she wrote:
Help I'm scared & hate everyone I need help this isn't okay
On a third sheet, she wrote:
(something unintelligible)
Where is everyone
PS Help
Who are they
She texted a friend at 4:28 a.m., saying "she had been in a horrible and scary situation" involving 12 men and didn't know if she had been raped. The student and friend agreed to talk more in the morning. She got an Instagram message from Djam, 20 minutes later, asking to talk to her and wanting to make sure she was "good."
She agreed to meet with him, the university report said, because she hoped he would tell her what happened. They did meet, briefly. She said she didn't know if she was okay, and she wouldn't tell anyone what happened. Another player sent her an Instagram message wanting her phone number, which she didn't give him.
Minneapolis police include the Instagram chat with Djam and the student talking to her friend at 4:28 a.m in their reports. They do not mention the paper notes at all, although they do say that the student provided them with several names of players she believed were involved.
The day after
The student told her roommate and several friends what she could remember, and told the university she felt sore in her pelvic region. One friend, called Witness 2, said that the student told her "something really bad had happened" that night but that she didn't remember many details past having gone with the two men, the appearance of a ton of football players, and the floor being covered in condom wrappers. Witness 1 said the student was "confused and not exactly sure what had happened to her" and told her, "I think I was raped but I'm not really sure." Witness 1 told her not to shower.
Witness 3 said the student told her that she remembered there being two men in the room, and that many more men entered and it "got overwhelming." She told Witness 3 that she "did not want to go to the police 'because she felt it was an in-between situation'" and she would "feel bad for the men if she told the police."
That day, the student reached out to Djam again on Instagram to try and find out what had happened. She told him, "I'm not meaning to come at you or anything, it's just you seemed like the most logical one of the bunch and I need to know this for peace of mind."


According to the university report, the rape exam found "some kind of injury" to her vagina that could* have happened from "non-sexual activity." There was some irritation in her breast. The student reported that the "medical professional did not find anything 'signifiant.'" The student did not provide the results of the exam to the university, which did request them from her.
---
Minneapolis police reports would later document an exchange between the student and Djam in which he talked "about them Fucking and him sending out a group message to the new players telling them about her and [redacted] doing it," but without going into nearly as much detail.

In terms of witnesses other than the student or football players, Minneapolis police records show them talking to one or two people. (Redactions make it hard to track if a name changed.) The officer talked to a friend of the student, who said the student looked "fine and wanted to go with them" when she left the couch with the two people for another apartment. When the student came back, the friend said she didn't talk about anything sexual but that it was alluded to "by several of the people within the room just based solely on the circumstances of her departure."
In the morning, via text message, the student told one friend that "she was involved in something horrible and was in a bad situation," according to the police report. They met the following day and the student told her that she believed she had been raped.
Police said they submitted the rape kit for testing on Sept. 8, with a "rush" order requested with it. The last update on the results is from a report dated Sept. 13, which says semen was discovered in multiple swabs from different parts of her body." No results from her exam, like bruises or injuries, are mentioned.
A police investigation starts
The police investigation started on Sept. 2. The first entry in the report is from Officer Sherral Schmidt.

Schmidt met the next day with the student, who said "she wasn't sure she wanted to report the crime and she had a lot of questions," according to the report. The officer answered her questions and she gave a statement. Her initial statement isn't as detailed as the final university account of what happened, but much of it, as Minnesota's final report would point out, is broadly the same. Schmidt's report says the interview was recorded, but that recording was not included in the documents released to me.
On Sept. 4, Schmidt identified several players by matching their first names from the football roster with those provided by the student: Merrick Jackson, Dior Johnson, Tamarion Johnson, Carlton Djam, Ray Dixon, and Ray Buford.
"Due to the 'higher profile' nature of the investigation'"
The narrative in the police report picks up two days later, on Sept. 6, when the case is assigned to Sgt. Mark Wente. That day, he gets a call from the student's mother asking "what I had done in support of her daughter's investigation." Wente responded that he was reviewing the initial report and asked that she bring in her daughter so he could talk with her. That day, Wente also told the athletic director, as well as on-campus police.
"Due to the 'higher profile' nature of this investigation I contacted the University of Minnesota's Athletic Director, Mark Coyle, and advised him of the investigation," Wente wrote in his report. "MPD Commander Chiodo contacted Chief Matt Clark, of the U of M Police Department, and advised him of the investigation."
(A Minnesota spokesman said that Coyle, as required by university policy, contacted the Office of Equal Opportunity and Affirmative Action, which investigates Title IX cases, after hearing from police.)
Wente talked to the student again; this interview was not recorded, according to the police report, which provides this summary.

According to police records, this was the last interview they document with the student. Wente ended the interview by saying he "explained the complexity of Sexual Assault investigations" to the student and suggested that "as time passed she keep notes of the items that may return to her memory.
"I told [redacted] she may remember more information as time passes," Wente wrote.
The student would later tell university investigators, according to their report, that police "led her to believe that her sexual activity" with Djam "was consensual because she never directly said 'no' and because she was not held at gunpoint or under some similar threat." She told university investigators, though, that she never consented to the sex, felt scared, and thought she needed to have the sex "in order to leave the situation."
The reports do not mention the 11-page narrative she told the university she gave police on Sept. 14.
They pick up Djam
Police found Djam on Sept. 7, with the help of campus police, outside one of his classrooms. He agreed to talk with them at City Hall. Their summary of his interview and several reports afterward would mention three videos he showed them.
Djam said he had video on his phone of what had happened with the student and showed them to show that the sex was consensual. He played three clips for them: one eight-second clip and two clips, both 92 seconds long, showing "the same video, but in different formats" of Djam, the recruit, and the student having sex, the police report said. He said "I'm pretty sure," when asked if had her permission to record, "cause she was like looking, basically, I think."
In his interview with police, one investigator points out to Djam the fact that these clips are short and only capture a moment. He tells him, "It doesn't seem like you have any evidence of anything that happened after the fact on your phone." That thought doesn't make it into the summaries of the videos.
In one summary, police said the longest one showed the student "engaged in what could only be considered consensual sexual interaction as she is performing oral sex on Djam and receiving vaginal intercourse from [redacted] at the same time. [Redacted] comments on the video that she has no place to put her gum and that the position of the bodies during the act is apparently awkward. At no time does she indicate that she is in distress or that the contact is unwelcome or nonconsensual."
Djam also told them in his interview that he understood what consent was because the team had multiple talks about it.

In its report, the university says the police didn't give them a copy of the 92-second video. Djam told them the police had removed it from his phone; Djam's lawyer, Lee Hutton, said he would provide it with the student's permission. The student did not consent to that because she had never seen the video and "feared it would be too painful." The university, it said, worked off the descriptions of the video provided in the police reports.

Review for possible prosecution
The police, after Djam, talked to more players. Unlike Djam, the other Gophers football players all talked with their lawyer present, and all insisted it was consensual. The Sept. 13 report closes with a list of what investigators have not found. They did not find evidence to support there being more people in the room, and a summary of other people contacted also doesn't reveal much.


After Sept. 13, the officers kept interviewing people. On Sept. 15 they talked to Kiondre Thomas. He said that he was standing in front of the bed, next to Tamarion Johnson. He told police that the student looked fine to him, not distraught at all, and that he left before Johnson had sex with her, according to a supplemental report. The police also asked him about what he would have done if something had seemed wrong.

On Sept. 21, police talked by phone to someone whose name is redacted but is described as being "involved in the video/audio recorded episode" with Djam. (The university report said it believed the "context of the report" from police made it clear when police talked to the recruit.) Sgt. Wente wrote this summary of the interview.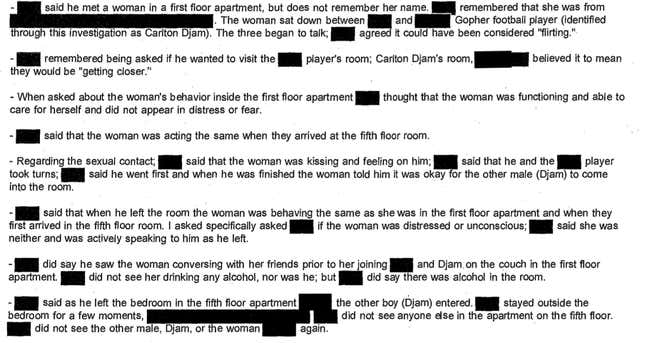 The final section concludes with a short explanation of how the case was sent to prosecutors and reviewed by the supervisor for the county attorney's sex crimes team, including senior attorney Therese Galatowitsch. On Oct. 3, the police got a "complaint denial" letter regarding five suspects, which is considered confidential, their report said. The sixth, police wrote, was "not charged." It ends with, "This case will be considered closed."

Hennepin prosecutors have only released one statement on their decision to not prosecute, which says, "Based on the evidence available, the county attorney's office is declining to file any charges. There is insufficient, admissible evidence for prosecutors to prove beyond a reasonable doubt that either force was used or that the victim was physically helpless as defined by law in the sexual encounter."
I requested a copy of their close-out memo explaining why they decided they didn't have enough evidence, but my request was denied, citing a Minnesota statute covering data held by attorneys.
Ten days after the last action documented by police, on Sept. 23, the student submitted a report to the university's Office of Equal Opportunity and Affirmative Action.
"A collective effort to conceal the identifies of men present at the apartment"
Unlike the police report, the university report doesn't show its work. It doesn't explain how it got players to talk or go into details such as how many times they were interviewed or whether they had lawyers present. It doesn't say how it found more witnesses. It doesn't provide a summary of every interview it did. It doesn't even clearly say on what date the investigation began. But it does say that university investigators talked to far more people than the police did—12 accused students and 16 other students, for 28 students in total—and somehow they got many more details from them.
The university report says that investigators believe the accused students "deleted relevant messages and videos from their phones" after learning that what happened had been reported to authorities. It also asserts that investigators believe football players "engaged in a collective effort to conceal the identifies of men present at the apartment." They point out that eight students had gotten messages from Djam but didn't have the messages on their phone when interviewed by university investigators. One football player, who was not accused, admitted that "he had encouraged team members to delete their Empire group messages from September 12."
"This suggests," the report said, "some degree of a collective, defensive effort to conceal relevant evidence by the accused students and other members of the football team."
One player is quoted as telling a university investigator, "I wish she didn't remember my damn name."
Why they found the student more credible
Minnesota's report starts out by noting that part of what made the student's case so credible to them was that she offered details that didn't obviously help her case, such as how she tried to help two men ejaculate so she could get the situation over with. Changes in some of the details as she recalled them, the university investigators wrote, were in their opinion due to "her gradual recollection of what she found to be a very traumatic experience, rather than to a lack of care or truthfulness."
They also gave her credit for "her willingness to admit that she initially remembered something incorrectly, despite the fact that such an admission could call her general credibility into question." In detail, their report explains why her behavior both during the night, when she didn't scream or try to get away, and afterward, when she spoke to one of the players, did not to them disprove the allegation.

They say that the football players, when their various accounts were pieced together, did in various ways corroborate different parts of her story. For example, according to the report, all the accused but one denied seeing a crowd of onlookers. But one, A12, said that "he and six other men gathered around the bedroom doorway 'saying things' and turning on and off the lights" at one point.

The report also includes an entire paragraph discussing whether they believed the student was drunk and if that was a factor.

Ultimately, Minnesota simply found her version of events more believable.
Two investigations, two conclusions
Over and over again, as the university rules on each football player's involvement, it repeats some form of a single phrase: "We find her account of this sexual encounter to be credible." The 82-page report boils down to this: For various reasons, investigators believe the student.
How the two investigations reached such different conclusions isn't clear. Part of it has to do with different evidentiary standards, but there are anomalies in the way the police handled the case. Police, for example, had the same text messages the university did, but barely mention them in their summaries; they gave the athletic director a heads up about the investigation; and they won't say if they got the later, more detailed statement from the student. Additionally, in a court hearing regarding a restraining order, a lawyer for the players emphasized how the student told police that the sex with Djam was consensual. She confirmed that but said it wasn't true, and that she was frozen in fear. The university report goes further; in it, the student is described as having said that the police made her feel as if the sex was consensual.
At least the police have released reports. Hennepin County prosecutors haven't released a single record relating to the case.
The university's report has its own dark holes as well. It doesn't say how it tracked down the extra witnesses, and it doesn't say why it talked to more football players or how it got them to talk. It's light on process, heavy on narrative. If the players sue—and their lawyer has said they will—they may well make an argument similar to the one the student made, and say that they weren't taken seriously.
All the while, Golden Gophers fans will fill the the San Diego stadium for next Tuesday's Holiday Bowl, and they'll cheer like nothing happened at all.