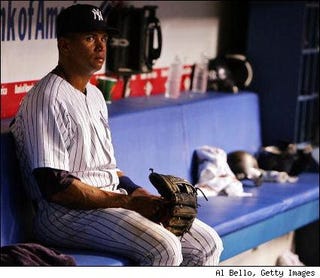 Thank God for the Yankees that their next series with Boston is in New York. With a separation from wife Cynthia and rumors of canoodling with Madonna thicker than Newman's Own Thousand Island dressing, Alex Rodriguez must have more on his mind than Jonathan Papelbon. But how will his own fans greet him? Will there be any cone bras in the crowd? Sean Penn masks? The theme from Evita being sung by a heavenly choir of visiting Red Sox fans? Nope, probably not. After the Yankees' bats woke up in an 18-7 win over the Rangers on Wednesday, Hank Steinbrenner is not in the mood to tolerate distractions. Please be upbeat and courteous tonight, Yankees fans, or prepare to be waterboarded in the security office. Just like any Yankee game, come to think of it.
Jason Giambi's grand slam and six RBI led the Yankees Wednesday, with Rodriguez contributing a three-run homer. It all helped New York avoid a series sweep. Meanwhile, the Red Sox are fuming after Evan Longoria went 3-for-4 and drove in three runs to lead Tampa Bay to a 7-6 win, its second three-game sweep of the Sox this season. Game time tonight, 7:05 p.m. Hopefully they can drag this rivalry off of the scrap heap.
• M-m-m-my Kuroda. Hiroki Kuroda, just back from the DL, tossed seven shutout innings for the Dodgers in a 4-0 win over the Astros. With Kuroda back on the roster, right-hander Homer Simpson was sent back to Class AAA Las Vegas.
• Wizard Cat Defensive Player Of The Day. B.J. Upton, Tampa Bay Rays. MLB.com is calling the catch "Willie Mays-like," and that's true, in that both occurred in center field. Other than that, not so much. But it's still a fine grab, robbing Boston's Kevin You Kill Us of extra bases as the Rays continue to withdraw equity from their Mortgage With The Devil (35-year fixed). Wizard Cat gives this catch: Five wands.