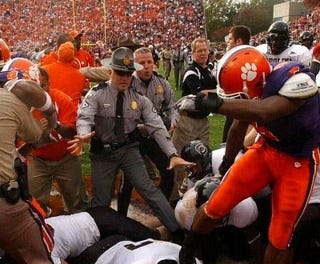 First, news: Sylvester Croom has resigned as Mississippi State head coach. The leading candidate for the position is... Sarah Palin? Silver, stop messing with us! And now your local angry young men in spandex...
• It's halftime in Missouri and 3-0 Kansas. Approximately 32490834290 turnovers have marred the proceedings.
• Clemson has already thrashed South Carolina 24-0 and it's not quite halftime. Approximately 21309092913809810 turnovers have marred the proceedings.
• 21-12 Dogs versus Yellow Jackets in Georgia late in the second. It's a rainy mid-afternoon in Georgia.
• 14-7 Virginia over Virginia Tech at the half as the nerd schools continue to find themselves looking up at their bully older brothers.
And now your thoughts on the matter:
drscooter19: I don't know what to do. Normally I start drinking around this time to get through Pam Ward calling some awful Big Ten game, but that whole season is over. I guess I can flip over to the Big East Pissing Contest of the Week and take Wild Turkey to the face. Because that's the only way Big East football is OK to watch. (If you can't embrace the hate this weekend, you don't get college football. Use your aggressive feelings, drscooter19. Let the hate flow through you. )
Signal to Noise: ESPN is part of the liberal media conspiracy and believes in gun control. YOU CAN HAVE OUR GUNS WHEN YOU PRY THEM FROM LEE CORSO'S COLD, DEAD HANDS!...oh....carry on. (Will do.)
kingdonut66: Steve Spurrier squares off against Dabo Swinney in the ultimate battle of "Who Embarrasses Our State More?" (And to think we would have gone with Dabo Swinney blindly in nearly every other comparison on name alone...)
Camp Tiger Claw:
There are two kinds of Florida Gator fans
Ignorant Sluts and Insufferable Assholes
(Are you watching, drscooter19? And even in poem form!)
jelloman4: Some parents in Tallahassee dressed their baby up like Bobby Bowden for Halloween. The baby crapped his pants and spoke baby talk/gibberish all night to complete the effect. (Sounds like someone's getting cranky without their bedtime.)
And now, without comment or the least bit of fact-checking, we roll the playoff grenade into the room and slam the door behind us...
MIke Tomlin's Afro Dent: We all agree the BCS sucks, but here's what makes it even harder to stomach. If you made an 8 team playoff using the current BCS Rankings, here are the first four games:
1. Alabama 11-0
8. Penn State 11-1
2. Texas 10-1
7. Texas Tech 10-1
3. Oklahoma 10-1
6. Utah 12-0
4. Florida 10-1
5. USC 9-1
It picks up all the "Good One Loss Teams". It leaves out the Big East and the ACC because the conferences are awful. I don't understand why we can't do something like this. All four of those games would be AMAZING. If you ran all 4 of those games on December 20, with the winners playing December 27, then the winners of that could play January 5 for the REAL national title.