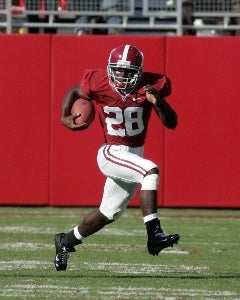 Florida 17, Alabama 10, 2nd Quarter. Javier Arenas just made the dumbest play I've ever seen a college football player ever make. After the Gators connected on a field goal to tie the score at 10 apiece, Florida kicked off to Arenas. The kick was about to go out of bounds UNTIL ARENAS FIELDED THE DAMN BALL AT THE 3 AND THEN STEPPED OUT OF BOUNDS. And Bama just went three-and-out, and sure enough, Tebow took 'em down the field. Unreal.
Other scores:
Southern Cal 14, UCLA 7, First Quarter winding down. Matt Sanchez already had 122 yards passing and a TD pass, and then found Damian Williams for another. But UCLA is already past midfield and looking to tie it up again.
Your noon finals:
Virginia Tech 30, Boston College 12.
Pittsburgh 34, UConn 10.
Navy 34, Army 0.
California 38, Washington 0.
And now for your stretch run of Hugh:
Pam Ward is doing a D2 playoff game this week. This might be a step up in quality from her weekly Northwestern game. —Scumdog0331
so President Bush sat on the Army side of the stadium for the first half...apparently he was the Army offensive coordinator the whole game —Jhar008