"Looks like you've painted yourself into a corner. It's all Louisville-Connecticut. Unless you are watching cartoons. If you're interested, Lilo and Stich is on Disney and some acid trip with claymation dinosaurs is on NBC." - Victoria Times
Yeah, I didn't really think that one through.
I had a party at my parent's retirement house where they aren't moving to for a few years. I woke up there this morning and I don't have cable or internet there yet, and there was vomit on the hardwood. My first thought was, 'Oh shit, this better not keep me from getting home for the Hugh Johnson Project.' " - Dynamic Hispanic
And THAT is why we do it, friends.
"I didn't see the Nebraska/Oklahoma game listed among today's festivities. What happened? Did the Sooners wake up and forfeit?" - the.munson
G/O Media may get a commission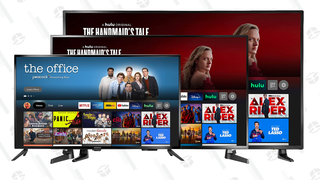 Up to 44% off
Prime Early Access - Insignia Fire TVs
Actually, no, that was just an oversight on my part. Funny, though.
UMass vs. UNH is on ESPN Gameplan at 2:30 from Amherst, Mass. Should be a pretty good game since UNH has a great QB in Ricky Sanos and Jerry Rice record breaker in David Ball... UMass beat UNH 28-20 early in November in Durham, NH. - Zlax45
I'll take your word for it.
"Every time I see the 'We Are Marshall' trailer I want Matthew McConaughey to say 'That's what I love about these Marshall girls, man. I get older, they stay the same age.' " - HackFleming
"On ABC, Georgia Tech and Wake Forest fight for the ACC Championship. On F/X, Hilary Swank is a space shuttle pilot flying over Dodger Stadium. The latter seems more likely. On another note - THEY LANDED THE SPACE SHUTTLE IN THE LA BASIN?!?!?! You have got to be kidding me." - Tuffy Rhodes
"I can't believe I'm actually waiting to see Wake Forest play Georgia Tech." - Rowan 2 FSU
"I just woke up to see Lou Holtz spitting about Army vs. Navy. It's gonna be a looooong gay. - Tarheelfan
"Overheard while watching the UConn/Louisville game, "And Gay got him from behind." Is it me or should that comment have been rethought? - Birdman
"Chris Spielman announcing the Louisville/UConn game is the closest thing to Big Ten football this week? I think I'll go pick out the Christmas tree today..." - M.C. in MD