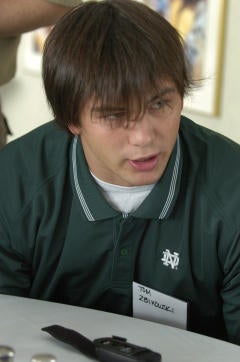 "Is it just me, or does Pam Ward look like a hairier, slightly more masculine version of Sean McDonough?" - Brock Landers
One day, I'm going to run into Pam Ward, and I'm going to have to apologize for all you bastards...
"Tom Zbikowski = Football JJ Redick." - J, Chapel Hill.
"This Just In: Apparently Jeff Samardzija also plays minor league baseball. Man, somebody should really do like a feature story or something on that. Amazing." - David Ubben
"Why is every bizarre play "something I did on the playground?" That's what the Auburn/ Arkansas announcer said about a player squatting down behind the offensive line. Who the hell plays playground football with an offensive line?" - phil
"Am I the only one who, for no reason what-so-ever, HATES Tom Hammond? And did you see that Danny Tanner has a new game show. Wasn't he getting high with hookers on entourage?" - BrianTMassingill
"I'm actually on the second floor of the University of Alabama library, 3 1/2 hours before their game... and you could hear the roar from outside every time Arkansas put up more points on Auburn. Of course, we haven't had a lot to cheer about recently." - Mac Thomason
"Ian just asked me for an HJ update. I hope he meant the Project." - Mikel, Lexington, KY
"I wonder how many dirty oldman looks Tracy Wolfson gets from Vern Lundquist during the pregame meetings." - Quack
"USC is starting to roll on my beloved Huskies, but the crowd shots of SC coeds joyously bouncing up and down make me happy. Does that make me a bad fan?" - jmcdoggy
"They just called the Yankees "Globo Gym" in the Yanks-Tigers game." - mmoosavi41
"Colt McCoy should switch his number from 12 to 45. He plays like he has malt liqour running through his veins - e. taylor price
"Thank you Jesus for letting Marcus Thomas play against LSU." - Unsilent Majority
"At 4 a.m. the street was relatively dry as I stumbled out of a car after a trip to Atlantic City and awkwardly kissed a friends friend who I thought was cute and had a nice rack. At 10 a.m. as I got up to get some water to prevent a hangover, I noticed there was about a foot and a half of water in the street from the rain and high tide and my roommates girlfriend's car was about to be consumed by it. I think pushing her car down the street, starting drinking at 10:30 a.m. and watching football is an appropriate way to spend today." - Birdman