"Georgia Tech's offense has one Ball and two Johnson's." - Rowan 2 FSU
"I think the best part of the ACC Championship game is the wistful yearning in Brad Nessler's voice when each offense takes the field. 'They'll try to get something going here...' Guess what, Brad? Both these teams suck something awful. They smell worse than the river in Jacksonville. It's not going to get any better... maybe you can McGuire to start funneling Jack Daniels to keep us entertained. 'I want you to watch something, watch this right here... see I keep my lips attached to the bottom of the tube no matter what, that way I don't spill a drop.' " - The Bullsaw
"Maybe someone out there can help with this question: In the Nissan commercials for the Heisman, I know what all the things chasing the truck correspond to a school, but what is the boulder?" - EPSKnows.blogspot.com
"They just took off the Army/Navy game in Columbus to show Ohio State vs Valpo. I can't wait to see about this on Bill O'Reilly's show next week." - sloptime
I'm pretty sure that's a giant Buckeye.
"This guy in the Dr. Pepper challenge is the best quarterback to see the field today." - Pharmy
G/O Media may get a commission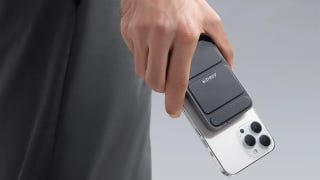 15% off
15% off Anker Top Ten Products
Take charge
Treat yourself to a portable power bank, a magnetic wireless battery for iPhones, or even a solar generator. There is a reason these are in the top ten. For instance, the Anker 747 Power Bank is a 4-in-1 charger utilizing USB-A and USB-C to be capable of charging up to four devices at once. Great to take with you when traveling and in need of keeping your phone, laptop, and even Nintendo Switch powered on.
"David Compton, our Dr. Pepper Challenge "winner" took lessons on his throwing motion from Reggie Ball. In a shocking move, he threw the last ball out of bounds, claiming he 'thought he had another shot at it.' " - Hebbard, Athens, GA.
"Chant being thrown at the Georgia Tech students: 'Go play with your legos.' " Nerds. - Simon
"If you're an Arena League coach, you gotta be salivating at all the guys that won't get NFL jobs simply because they were a part of this ACC Championship Game." - read 'em Theriot act
"I just looked up the weather in Jacksonville. 58 and Foggy. Those fucking pussies, why are they sitting in the stands shivering? I hate Florida" - sloptime
"3 straight fumbles in the ArmyNavy game. Here's hoping that only happens with footballs, as I doubt many BCS schools will be handling grenades in real life. Unless of course you are from Ohio State, gettin your Goose on." - charger fan128
"Are we sure 'This is Our Country' wasn't developed as a biological weapon? How sure?" - Holly
"You know, I'm pretty sure that having computer animated invisible goats scoring touchdowns is probably the most harm that's been done to Navy since the late 70s - the heyday of the Village People and Jimmy Carter." - Josh Da Cane
"Do the terrorists win if I admit that I don't give a flying fuck about Army/Navy?" - sloptime
"In a 6-6 game in the 4th Quarter, Wake just moved the ball down to the 12 yard line. If they can actually put the ball in the endzone, these two teams will have scored a point for every person in the stands." - Hebbard, Athens, GA.