The NHL Closer is written by the five Project Mayhem operatives at Melt Your Face-Off. Should Malkin start aiming his wristers at our eye sockets, and one of us doesn't make it out alive, you will henceforth know him as Robert Paulsen. Today, Hextall454 puts down the soap to give you the Keystone recap.
What is the First Rule of Elimination? You do not talk about Elimination, naturally. Rather than dwell on the likely inevitable, coach John Stevens ripped his lineup card into 18 pieces, threw them in the air and pieced together the remnants for a completely shuffled lineup. Vaclav Prospal joined Umberger and Lupul for some sweet checking line action, while Mike Richards got the taste of centering the top line. I swear, Sami Kapanen managed to see time on all four lines, and Patrick Thoreson returned, while Steve Downie was demoted.
To Central America. Forever.
The first period displayed a Flyers team that we had seen before, just not in the series with the Penguins. Aggressive play and desperate energy led them to a three-goal lead before the end of 20 minutes, while Braydon Coburn looked on from above (OK, kind of). All series long, Philly had managed to inflate the shot count with easily stopped fires from the blue line and beyond. The rule of averages propelled a Joffrey Lupul shot over Fleury's shoulder, a Danny Briere re-direct along the ice, and a Jeff Carter backhand all into the net. The good news: three goal leads are safer than two-goal leads. The bad: The Flyers may have used up all their scoring for the next game.
Now you may have noticed that I haven't talked about Pittsburgh much in this Closer. After all, had you sat down to watch this game and tuned in for the scoreless, largely penalty-free second period, you would have a tough time identifying the team in white. Versus' announcing team had so much research on the Orange and Black that they hadn't been able to use in Games 1-3 (thanks to Philly's inability to, well, play hockey), that we got Flyer Notes Overload in Game 4. You were lucky if they identified the Pen with the puck during the second. And when Chris Simpson interviewed Jarko Ruutu before the third, even the biggest Flyer fan was secretly hoping for a locker room corridor cross-check of the reporter in question.
What is the Second Rule of Elimination? Listen carefully. You DO NOT talk about Elimination. After Lupul's empty-netter sealed it for Philly, Ryan Malone likely invoked the "Scoreboard" taunt against the Flyers behind Biron with half a minute to play (and rightfully so -– even a 3-1 series lead is a relative safe one). Derian Hatcher countered his verbal volley with his own special oration titled "I will now punch you in the head repeatedly." Hellfire broke out, as Richards and Crosby exchanged...err...hugging before the final horn could sound. Now Barry Melrose has called out coach Therrien for having Sidney Christ taking the face-off after civility had headed to the parking lot (even though no lead is safe for Philly), but you have to forgive Barry. He's just trying to be heard over Don Cherry's wardrobe.
G/O Media may get a commission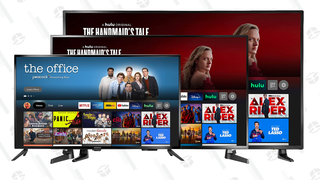 Up to 44% off
Prime Early Access - Insignia Fire TVs
Puck Dumps
This wasn't supposed to happen! The Philly paper saw the future, and it looked bleak. [The 700 Level]
The Masters of Photoshop are at it again. Penguins fans rejoice! [The PensBlog]
And because Helena Bonham Carter is too scary for the NHL Closer, MYFO offers a different Helena for your viewing approval. Happy viewing, and we'll see you Monday.